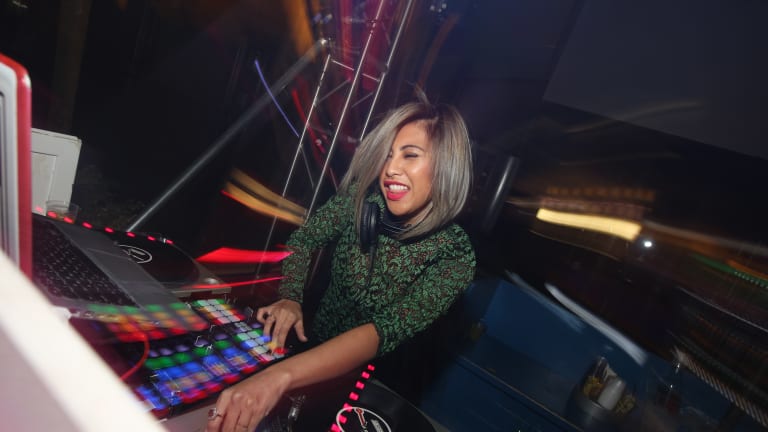 Top DJs and Brands Are Mixing More to Reach Millennials
Leading DJs can earn hundreds of thousands of dollars in endorsement deals.
Club fees for top DJs have never been higher. But DJs are also receiving international brand endorsement deals and achieving a wider cultural reach as brands try to engage Millennials and others on a wider and deeper level. 
"DJs hold a lot of power now because they are actually traveling the United States and have a better pulse on today's young generation than most other professions," explains Rodric J. Hurdle-Bradford a managing partner at VegasLuxuryVIP. "And booking fees have increased right along with this because social media platforms have made it a universal, not regional experience and fan following."
Top DJs can earn hundreds of thousands of dollars in endorsement deals. This comes as Millennials' purchasing power has grown in recent years. The trend is likely to continue. Companies know that their success will depend increasingly on their ability to convert Millennials into paying customers. 
DJs are in constant contact with this group. They not only understand Millennials' musical tastes, but can also offer clues into their wider tastes, including the consumer products they favor, or with which they are likely to bond. In many instances, DJs can play a major role in forging that relationship with a brand. 
Matt Colon, Co-President and CEO of Deckstar, which manages a number of superstar DJs including Steve Aoki, says that fees for top DJs over roughly the past five years have increased 500% to 600%. To be sure, the DJ profession is still evolving, and faces some of the same challenges as other industries, including a lack of opportunities for women. But the profession has a firm foothold in the cultural landscape. 
In the coming years, a wider range of industries, and even the public sector, are likely to build relationships with DJs. 
"DJs serve a dual role in the musical landscape," Colon said. "Whereas bands create music and then radio stations or playlist driven services then serve as curators, DJs typically are both," Colon said. "The biggest DJs are famous for the music they produce. Meanwhile as performers they can play to thousands (even tens of thousands) of people a night and more often than not, they are playing a mix of music they've created alongside music from their contemporaries. That dual role speaks directly to Millennials raised in a playlist driven society and as a result the demand for DJs as well as their influence has skyrocketed. Likewise the fees they command have skyrocketed. And corporate America has taken notice."
Entering the profession can be difficult, although not overwhelming. It's building a wide following that is the most difficult task and the key to success. "A DJ's reach, fan base, and ability will all be factors in sponsorship," explained Frank Catrambone, COO Center Stage Entertainment, Inc. "Types of endorsement deals include liquor companies, energy drinks, DJ equipment companies, just to name a few."  
Catarambone says that top DJs can make tens of thousands of dollars to endorse big-brand consumer goods and that even lesser-known ones often receive free equipment. 
Some of the top DJs, like the well-known David Guetta, are not only earning revenue by live DJing and producing records but also entering what could previously be considered model territory. Guetta was recently tapped for a Tag Heuer campaign for a large, undisclosed sum. DJ Calvin Harris is said to command more than $150,000 per night, although it's endorsement deals, including with Pepsi and Calvin Klein that have sent his annual earnings into seven figures annually. 
Avicci, with a combined social media reach of 21.5 million and counting can get up to $250,000 for one night and has signed endorsement deals with Coca Cola, Volvo and others. "Sponsorship deals vary widely but the biggest dance artists command 7 figure deals," Colon said.
There aren't many women among the big-earning DJs, but this is about to change.  
A few years ago, Nina Sky recorded the monster hit "Move Your Body" with her twin sister. Sky says that it's easier to become a DJ now because of easier accessibility to DJing tools. "In the 90's, you needed to need to have physical records, now you can download mp3's, play from an external hard drive, or your laptop by downloading software," Sky said. 
Sky is currently in residency at Harrah's Pool After Dark in Atlantic City. She said that she followed the lead of ground-breaking, female DJs. "I started DJing when I was 13 years old," she said. "As a teen, I would listen Cocoa Chanelle on Hot 97 in New York City. and admired how she scratched and blended so seamlessly. To hear a talented female DJ really inspired me. So I started to work toward that."
Experts say that around 2004, club DJs started to cross to software once DJ Jazzy Jeff and DJ AM endorsed the company Serato. Software has made it easier for aspiring DJs to enter the profession. 
Among the other female standouts are DJ Paola Shea, who drew kudos at a recent event from none other than the rap artist and actor Ice T. When asked why, he said, "Cause I could just tell that she's a 'dope' DJ, right away. It's great to see the energy of the club with her."
The petite Shea, who will spins in stiletto, over-the-knee boots, said that she was passionate about DJing right from her first experiences. "DJing came to me one day when my best friend was practicing, and I asked him to show me how to mix," Shea said. "I remember being on his equipment until 7 am in the morning until he told me to go home because he had to go to work. Three days after that, I got addicted and I went and spent 5k on a new equipment. The rest is history!"
She says that she faces bias in the male-dominated industry. "I always encounter different comments and judgment from other DJs and people in general," she said. "Little do they know I spend hours everyday practicing and scratching, and sometimes it gets annoying because you put in so much work and you feel like people judge you before they can even hear you play at the club, " Shea says.
Shea said that popular DJs appear before large crowds so frequently that it's logical for brands to work with them. She continued, "When kids go to festivals they see these big DJs like Martin Garrix, Afrojack, Calvin Harris, etc. And they think to themselves wow these guys are awesome! Most praise them as a music god. Electronic Document Management has transformed into one of the most influential music genres in history. The festivals, the concert, the clubs all of these are what is trendy to this generation. The success of this trend made it very attractive to a lot of investors and brands."
Some DJ observers say that the public sector will follow next in connecting with DJs. Colon says that until now, DJ/producers have traditionally stayed out of politics, although some of them have been outspoken about causes and candidates.  "Steve Aoki (whom I've worked with for 10 years, has always been politically active," Deckstar's Matt Colon said. "More recently he supported Eric Garcetti's run for Mayor of Los Angeles (he won) and is now supporting Bernie Sanders' presidential campaign. In fact Steve is attending the White House Correspondents dinner with Arianna Huffington."
This article is commentary by an independent contributor. At the time of publication, the author held no positions in the stocks mentioned.