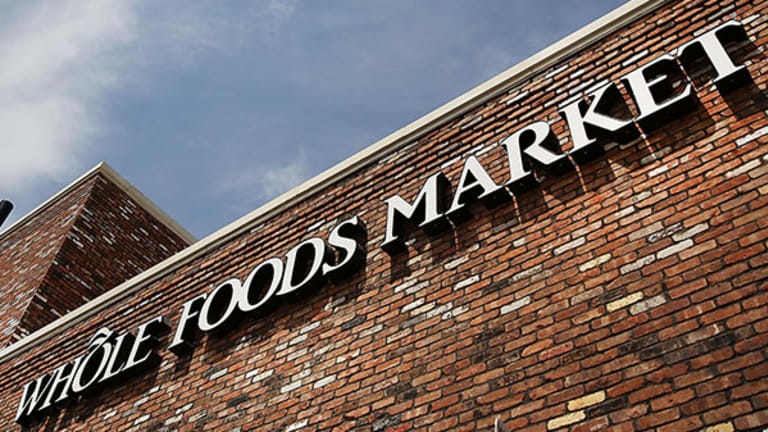 Top 3 Things Struggling Whole Foods Is Doing to Turn Itself Around
As the high-end grocer continues to lose sales to rivals with lower prices, here's what it's doing to try to compete.
Whole Foods' (WFM)  organic food empire is in trouble amid greater competition in the space, causing execs to outline several new measures in hopes of reversing declining sales and a cratering stock price. 
On Wednesday, the organic grocer reported another lackluster quarter, with fourth-quarter earnings coming in at 16 cents a share. Wall Street was anticipating 34 cents a share. Same-store sales, which began the quarter up about 0.6%, declined 0.2%, missing forecasts for a 0.7% gain.
The same-store sales drop marked the first decline since a 0.9% fall in the September quarter of 2009 according to Bloomberg data, when the U.S. was in a recession, and came despite the company slashing prices in departments such as produce, seafood and meat.
"After appearing to stabilize early in the quarter, our comps moderated over the last nine weeks driven by changes in both traffic and basket size," said Whole Foods founder and co-CEO John Mackey on a call with analysts, adding, "Our earnings-per-share miss was driven in large part by weaker-than-anticipated sales."
Wall Street promptly punished Whole Foods shares, sending them down by as much as 11% in after-hours trading. In early trading on Thursday, shares were down about 5%. Since the beginning of the year, Whole Food shares have declined about 39%.
Whole Foods added insult to injury by acknowledging same-store sales through Nov. 1 are down 2.1% and that earnings per share for the fiscal year are seen at $1.50 or greater -- Wall Street had been anticipating $1.74 a share.
"When I interviewed co-Ceo Walter Robb last night, he was abject that they need to do better," said TheStreet's Jim Cramer, Portfolio Manager of the Action Alerts PLUS Charitable Trust Portfolio. "They are going to buy back a billion dollars in stock; however, I wish they would use that money to reinvest in their stores and really ramp up their new 365 value store initiative trial."
Exclusive Look Inside:
You see Jim Cramer on TV. Now, see where he invests his money and why. Learn more now.
In an attempt to reconnect with customers that may still be unsure if Whole Foods is charging a fair price following an overhanging scandal last summer, and to become more competitive with Target (TGT) - Get Free Report , Kroger (KR) - Get Free Report and others now selling organics, the company is taking multiple actions. Based on the stock market's initial response, however, the consensus is that Whole Foods will have its work cut out for it in seeking to reignite sales and profits.
Reducing Costs
Whole Foods unveiled a plan to reduce expenses by about $300 million by the end of fiscal year 2017. As part of the plan, Whole Foods announced in late September that it will get rid of about 1,500 people, or 1.6% of its workforce. On Wednesday, the company said the actual number was "more than 2,000." The news is in contrast to Whole Foods adding 8,800 or so new jobs in fiscal year 2014, according to its annual report.   
Whole Foods is also looking at other cost-control measures, such as using a new technology tool that better helps schedule labor hours.
Investing in Lower Prices
The money saved from slashing jobs and running its operations more efficiently will be reinvested in lower product prices. Said Mackey, "We're re-examining our business, and we're systematically working, basically, to cut costs that aren't going to create value for our customers, and then we can invest a lot of that in promotions and into strategic lower prices."
The issue, suggests Mackey, is that people are not seeing why buying more expensive organic produce at Whole Foods is a good economic decision when cheaper options are now available at traditional supermarkets. "So one of the challenges Whole Foods has to do a better job at is communicating our superior quality," noted Mackey, suggesting that the company will also be marketing more aggressively in the future to attract shoppers.
Slowing the Pace of New Store Openings
Whole Foods plans to open 30 stores over the next twelve months, in effect growing its square footage by roughly 7%. In fiscal year 2015, the company opened 38 new locations, representing a square footage increase of 17%. According to the company, it has increased the number of new store openings in each of the past six years.
But with sales and profits coming under pressure at the company's 420 existing stores, Whole Foods execs have woken up to the fact that aggressively opening new stores may not be the best decision for shareholders.
"We plan to grow our square footage at a more moderate pace in fiscal year 2016, which will lessen the negative impact of cannibalization on our same-store sales and allow us to focus on other areas," said Mackey.
One of those areas of focus will be enhancing the selection of food from Whole Foods' numerous prepared food and bakery stations, which collectively make up about 19% of annual sales. Whole Foods has created a new Global Vice President of Culinary and Hospitality position, which it expects to fill in the coming months.
Whole Foods did not respond to a request for comment.