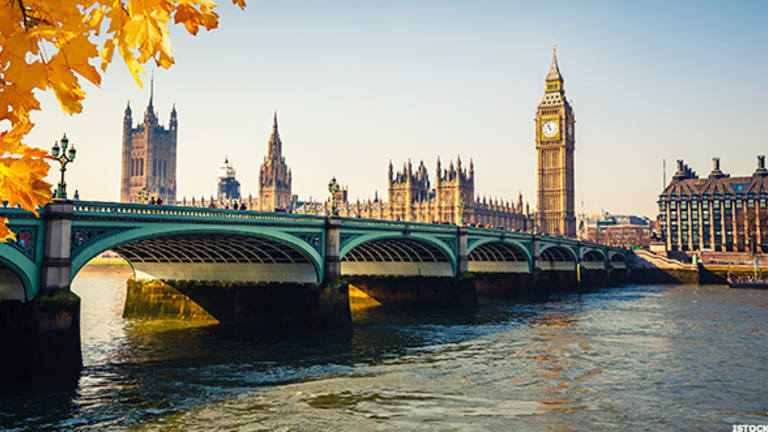 NEW YORK (TheStreet) -- Which cities around the world are most important for the world's wealthy?
Knight Frank's Global Cities Survey ranks them below. The survey considers how many ultra-high-net-worth individuals live in each city. These are people with net worth of more than $30 million.
The survey, which is included in The Wealth Report for 2015 from Douglas Elliman and Knight Frank Residential, also asks wealth advisers which cities their clients spend time in for business and pleasure.
Note: City rankings come from Knight Frank's Global Cities Survey. The prime residential changes were tracked by Knight Frank's PIRI Index, which is also the source for how much luxury real estate (apartments only) $1 million will buy in these cities. 
Multiple factors drive demand for luxury residential properties in these metropolises. Most importantly, the wealthier are getting wealthier. Between 2013 and 2014 the number of ultra-high-net-worth individuals, or UHNWIs increased by 3%.
Today the world has 172,850 UHNWIs. Billionaires number 1,844, while there are 17.8 million people with a net worth of more than $1 million.
The wealthy like to invest much of their money in tangible assets that they can own directly: real estate, art, wine, stamps, classic cars and other collectibles.
Main residences and second homes not owned purely as an investment account for 23% of the wealth of UHNWIs. They own an average of three homes. They like to diversify their real estate holdings geographically. More than one-quarter of UHNWIs are thinking of buying an additional house in 2015.
The wealthier people are, the less they feel confined to their countries of birth. They see the world as a network of global cities in which they would like to own residences, live at least part of the year, network, shop, socialize and educate their children.
Over the past 10 years, the U.K., Singapore and the U.S. have gained the wealthiest migrants. China, India and France have lost the most. Among the 10 most important cities, London has been the top recipient of the mobile wealthy. Singapore has seen a strong influx of the wealthy from China, India and Indonesia.
More and more UHNWIs want to craft global educations for their children: middle and high school in the U.K. or Australia, university in the U.S., postgraduate study or an MBA in Europe. A global education creates global citizens -- people who speak multiple languages and are at home in multiple locales and cultures. Many UHNWIs will buy a residence near every school their children attend.
London enjoys a reputation as the best place in the world to educate one's children. A decade ago Russian, Middle Eastern or European children moving into London schools would start their U.K. education at age 13. Increased competition for places at that age means a starting age of seven or eight is increasingly the norm. Competitive entrance exams at even these younger ages are creating a burgeoning industry for tutoring services.
The wealthy are concerned not only with educating their children, but also with handing over family wealth to them. Wealth succession is UHNWIs' number-one worry. Handing over wealth includes transferring title to residential properties.
When people become wealthy in politically and economically less stable countries, they often want to move their wealth to more stable countries. The wealthy of Asia are looking for safe harbors for their wealth more than they are seeking upside on their investments. Hence, they are drawn to markets such as London New York, which have good liquidity.
Some of the wealthy want to live in jurisdictions that have low taxes or no taxes. While Monaco is not among the 10 cities most important to UHNWIs, last year it enjoyed a 10% jump in its population of the super wealthy, an increase far greater than the European average of 3.2%. Monaco's tax-free environment and low entry hurdles for residency account for much of its allure.
Offsetting some of the forces of globalization, governments in some cases can constrain the movements of people and capital. In some jurisdictions, tightening of restrictions on immigration has dampened demand for prime residential properties.
Recent hikes in Stamp Duty (a purchase tax) have curtailed the rate of price growth for London properties worth more than 2 million pounds ($3.1 million). The latest changes to U.K. Stamp Duty mean higher costs for people purchasing a property priced at 937,500 pounds ($1.46 million) or more.
Over the past year, some previously strong markets such as Dubai (17% growth in 2013) saw prices slow markedly. (They rose just 0.3% in 2014). This slowdown is in part caused by the mortgage cap of the Central Bank of the United Arab Emirates, which is stricter for those purchasing properties costing more than five million dirham ($1.4 million).
Looking ahead, over the next 10 years, New York is likely to overtake London as the most important city for global UHNWIs.
In The Wealth Report 2015 Attitudes Survey, ultra-high-net-worth individuals said the best investment opportunities today are in New York, London, Berlin and Los Angeles.
Miami is one of the top 10 cities, and people are moving to this city from all over the world. There are a lot of new properties coming onto the market, but demand is strong, so prices should continue to rise.
Many wealthy people find they can get exceptional value in Miami. Prices are half what they are in New York. If you compare what you can buy in Miami for $1 million to $3 million to what you can buy for the same price in New York, London or Hong Kong, you'll find you can get a real bargain in Miami. You get luxury. You can live an amazing lifestyle. And you can live it on the sand.
Data and insights in this article come from the The Wealth Report for 2015 , an annual publication of Douglas Elliman and Knight Frank Residential. The report examines not just the top 10 global cities, but the top 40.
This article is commentary by an independent contributor. At the time of publication, the author held no positions in the stocks mentioned.