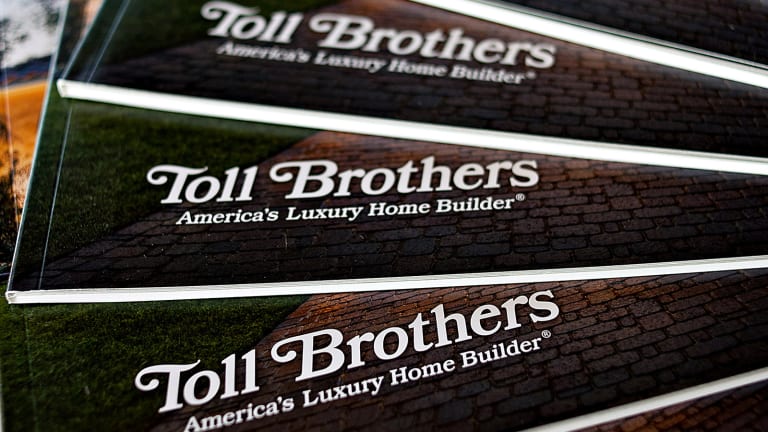 Toll Brothers Remains a Buy Despite Weak Second-Quarter Sales
The nation's top luxury homebuilder came out with mixed numbers for its quarter, and the market overreacted negatively. Here's why you should put Toll Brothers in your portfolio long term.
NEW YORK (TheStreet) -- Toll Brothers (TOL) - Get Free Report, the largest U.S. luxury homebuilder, didn't report breathtaking fiscal second-quarter results Wednesday, but that doesn't mean its shares lack value. While its 1% decline in quarterly revenue -- caused by fewer home sales -- was disappointing, the most recent releases of  homebuilder data should have prepared investors for a tepid report.
However, considering what we know, the more than 2% decline Toll Brother experienced Wednesday, when it closed at $36.16, was an overreaction.
While the shares are up roughly 5% on the year, TOL trades at just 18 times earnings. Not only is that three points lower than the average for the S&P 500, it's also three points lower than the SPDR S&P Homebuilder ETF (XHB) - Get Free Report. The XHB includes competing homebuilders like TRI Pointe Homes (RYL) , valued at a P/E of 25.
Why is the stock being discounted? Obviously, Wall Street didn't like last week's existing home sales report, which showed an unexpected sequential drop for April. The National Association of Realtors reported that April existing home sales fell to a seasonally adjusted annualized rate (SAAR) of 5.04 million, down from 5.21 million in March. Analysts -- on average -- projected a SAAR of 5.22 million for April.
It would have been tough for any homebuilder to overcome such tepid numbers. That housing market weakness showed in Toll Brothers' second-quarter sales, which came in at $852.6 million, down 1%, and falling short of estimates of average estimates by around $8.5 million.
Still, what's more important to focus on are the underlying fundamentals of the company, which showed improvements in multiple areas. During the quarter, the company's total number of signed contracts climbed 10%, reaching 1,931 units. That's $1.6 billion worth of home sales (up 25%) that are likely to hit the books in the quarters ahead.
Moreover, the average selling price of these homes sold during the quarter climbed 13%, reaching $826,000, compared to $729,000 a year earlier. This indicates that Toll Brothers is successfully up-selling features and add-ons -- extras that increase not only the value of homes sold, but also the company's profit margins.
In that regard, with a gross margin of 25.3% -- up 170 basis points -- Toll Brothers delivered second-quarter adjusted earnings of 37 cents per share, topping average estimates by 2 cents. The company's backlog of 4,387 units (buying commitments), which is up modestly at 1%, which was somewhat disappointing. But in terms of dollar value, that represents a 9% increase, reaching almost $3.5 billion. And this too indicates higher-priced homes and potentially higher profits.
In other words, "mixed numbers" don't necessarily mean underperformance. In this case, while sales did lag, management did what it had to do to make every home it sold count. Accordingly, there is still plenty of value in Toll Brothers' shares, especially since the company is projected to grow long-term earnings at an annual rate of 26% over the next five years. And based on fiscal 2016 earnings estimates of $2.67 per share (a projected 27% jump), the shares remain undervalued. Based on those numbers, TOL should reach $42 in the next 12 to 18 months, delivering 15% gains.
This article is commentary by an independent contributor. At the time of publication, the author held no shares in any of the stocks mentioned.