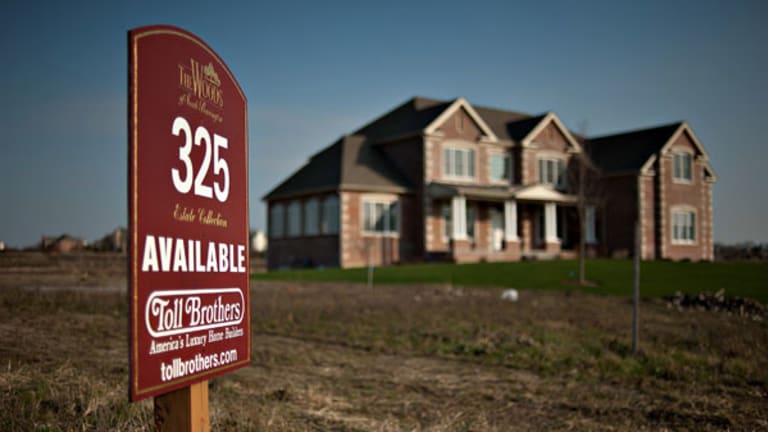 Toll Brothers' Impressive Quarterly Results Mask an Overvalued Foundation
Toll Brothers earnings got a big boost from rising prices for its homes but it can't raise those prices forever.
Toll Brothers earnings got a big boost from rising prices for its homes but it can't raise those prices forever.
NEW YORK (TheStreet) -- Luxury homebuilder Toll Brothers (TOL) - Get Report reported impressive quarterly earnings earlier Wednesday, helped primarily by a 22% increase in the average selling price of its homes, to $706,000. But if you take a closer look at the foundation, you'll see some cracks.
Like its competitors, TOL has benefited from rising home prices, but even more so due to its focus on the higher end of the housing market, specifically in New York and California. The company's recent purchase of California land development and home building company Shapell Homes has further enhanced Toll's presence in that part of the high-end market.
Although demand was solid for the quarter, it was relatively flat compared to the earlier stages of the housing recovery. For example, net signed contracts last quarter were flat in units but rose 7% in dollars to $1.27 billion compared to the same quarter last year.
Moreover, everyone is talking about Toll's year-over-year operating margin improvement from 3.2% to 7.9%. However, this was mostly helped by a 4% decrease in selling, general and administrative expense costs to 11.5% of revenue. Further, gross margin only managed to grow 30 basis points year over year, hindered by the delivery of some Shapell Homes in the quarter.
The company will likely benefit from low inventories -- currently 5.3 months for new homes -- that will allow Toll to raise prices further. Considering these inventory levels are hitting lows during the popular spring and summer selling seasons, demand will likely remain constrained for the next few months.
However, once inventory starts to grow again and this increased demand levels off, Toll's ability to increase prices will lessen, thereby impacting upon the bottom line.
Furthermore, compared to its competitors, Toll appears to be overvalued on a variety of metrics. For example, at a trailing P/E ratio around 30, Toll is among the highest in the industry and drastically more than its competitors D.H. Horton (DHI) - Get Report, Lennar (LEN) - Get Report, PulteGroup (PHM) - Get Report, Ryland (RYL) , M.D.C. Holdings (MDC) - Get Report, and even KB Homes (KBH) - Get Report, which is the closest at roughly 25.
The same is also true when looking at the price to sales ratio which shows that Toll's is much higher at 2.2 than the next closest of 1.5 for LEN, as well as double the industry average of 1.1.

WATCH: More market update videos on TheStreet TV | More videos from Keris Alison Lahiff
Further, based on Toll's price to book ratio, shares appear fairly valued compared to the industry, its competitors and its historical averages. Not to mention the fact that Toll Brothers is one of the few housing stocks that do not currently pay a dividend.
Lastly, Toll's balance sheet will be hampered because of the financing involved in the purchase of Shapell Homes. This includes a $485 million, five-year, senior unsecured floating rate bank term loan, $600 million of five- and 10-year senior unsecured debt, and $230 million of common stock.
Despite the capital intensive nature of homebuilders, increasing overall debt burden while diluting existing shareholders will likely hamstring shares of TOL at a time when overall demand is leveling off.
At the time of publication the author had no position in any of the stocks mentioned.
This article represents the opinion of a contributor and not necessarily that of TheStreet or its editorial staff.
>>Read more: Corning's Performance Is Lights Out