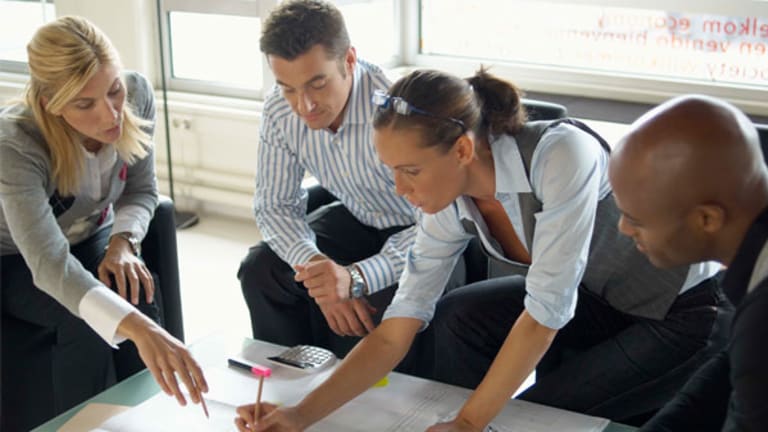 Today's Outrage: Justice for Madoff?
The Madoff sentencing is getting excessive attention in a slow week, but perhaps that's OK. We need a sign that justice will be served -- even in the financial sector.
The Madoff sentencing is getting excessive attention in a slow week, but perhaps that's OK. We need a sign that justice will be served -- even in the financial sector.
(Adds details on judge's sentence starting in second paragraph.)
Convicted swindler Bernard Madoff is dominating the financial news today with everyone debating what punishment fits the crime.
In the end, the judge sentenced Madoff to 150 years in prison.
Madoff's lawyer had pleaded for restraint in the punishment, saying 12 years in prison for a 71-year-old man is appropriate, while many victims of one of history's biggest Ponzi schemes wanted the judge to throw the book at him.
This is all we're going to hear about today. I guess that's because this is the rarest of moments amid all the recent financial mayhem -- someone is finally facing some consequences for his misdeeds.
As I type this, I am joining the hype and hysteria despite my intention of talking us all down. I don't mean to downplay the pain and financial suffering this man caused to so many people with his multi-billion dollar investment ruse, and I regret that some have even taken their own lives due to the ruination delivered so callously by Madoff. But the money is gone and this saga is played out.
Now that the sentencing is done, the angry mob should disperse and we should all get back to business.
Sadly, there is too little to distract us today.
The
$3.5 billion merger of Management consulting firms
Towers, Perrin, Forster & Crosby
and
Watson Wyatt Worldwide
(WW) - Get Report
hasn't been enough to divert our attention.
We're getting no buzz over reports that
UBS (UBS) - Get Report may be close to settling a civil case with the U.S. government
for allegedly helping U.S. citizens hide their money from the taxman.
Few are giving much heed to news that
Microsoft (MSFT) - Get Report is looking to sell its Internet ad agency Razorfish.
There is simply a dearth of financial news that can overshadow the Madoff sentencing.
Perhaps in the end, that's OK. This should not be treated as just another example of how excessive greed horribly screwed up our entire financial system.
We all need a reminder that there are consequences for bilking investors and that this is more than a mere white collar crime -- real people's lives were ruined. We haven't seen so much proof of the consequences during the bailout of our financial sector.
We plowed taxpayer dollars into
Citigroup
(C) - Get Report
,
Bank of America
(BAC) - Get Report
,
AIG
(AIG) - Get Report
and hundreds of other financial services companies without really holding anyone accountable for the mess they helped create.
So we're left with Madoff's sentence as a sign that justice will be served -- even in the financial sector.
For my part, I hope today's sentencing is the beginning of the end of all these financial lessons.
I want to know my investments will be protected from marauding scam artists, and I need to know that my money is safe in our financial institutions.
Glenn Hall is the editor of
TheStreet.com
. Previously, he served as deputy editor and chief innovation officer at
The Orange County Register
and as a news manager at
Bloomberg News
in Frankfurt, Amsterdam and Washington, D.C. As a reporter, he covered business and financial markets, worked in both print and television in the U.S. and Europe, and conducted in-depth investigative coverage at
The Journal-Gazette
in Fort Wayne, Ind. His work also has been published in a variety of newspapers including
The Wall Street Journal
,
The New York Times
and
International Herald Tribune
. Hall received a bachelor's degree in journalism and political science from The Ohio State University and a certificate in project and program management from Boston University.