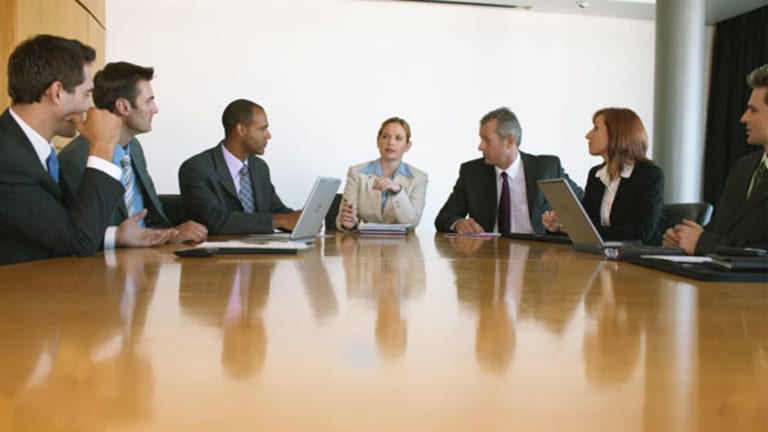 Today's Outrage: Judge Questions Bank of America Settlement
Bank of America isn't going to get off the hook so easily with a $33 million settlement of SEC charges that it misled investors about bonuses paid to Merrill Lynch executives.
Bank of America isn't going to get off the hook so easily with a $33 million settlement of SEC charges that it misled investors about bonuses paid to Merrill Lynch executives.
Judge Jed Rakoff isn't going to let
Bank of America
(BAC) - Get Report
off the hook so easily.
He's not going to rubber stamp the $33 million settlement agreement between the bank and the
SEC
that would have swept all the charges of misleading investors under the carpet.
Bank of America and the SEC are going to have to explain themselves -- and that's a good thing.
Judge Jed wants the truth to come to light about whether Bank of America told investors one thing and then did another.
The big question that the settlement would leave unanswered is whether BofA had already pre-approved $5.8 billion in bonuses for
Merrill Lynch
executives when it told investors in writing that no bonuses would be paid without its consent.
That would be pretty disingenuous. Why pretend like the issue is under review when in fact it is a fait accompli?
Investors have a right to know if they were duped by BofA management or not. It will inform their decisions about whether to trust those executives going forward.
But the settlement would let everyone off the hook because it doesn't require the bank to admit or deny the charges. The case would just go away.
That's not good enough for Judge Jed. And what's more, he wants to know how the SEC and BofA came up with the $33 million value and whether taxpayer bailout funds are caught up in all this.
It's good to see the checks and balances in our system working, and it's refreshing to see an advocate for the shareholders taking a stand.
I wish there had been such an advocate for
Citigroup
(C) - Get Report
shareholders when the whole decision to convert government preferred shares into common stock was shoved down their throats without a vote.
And what about the $50 million settlement that
General Electric
(GE) - Get Report
recently agreed to pay to wash away SEC charges that it padded financial results by bending accounting rules "beyond the breaking point," as one SEC official put it. Those are pretty serious charges, too. Will taxpayer money help pay that fine? Does the settlement serve investors best?
While I applaud the more aggressive enforcement actions of the SEC under new Chairman Mary Schapiro, I think Judge Jed is doing the right thing by questioning whether settlements are the way to go.
It comes down to this: Do investors deserve to know the truth or is the SEC right in thinking a settlement serves as a warning and that the market is better off not knowing the details?
Maybe Mary Schapiro agrees with the infamous quote by Jack Nicholson as Col. Jessep in the movie "A Few Good Men." She seems to be saying to investors:
You can't handle the truth.
Well, we all know how that drama ended, and Judge Jed seems to be following the script.
Glenn Hall is the New York-based Editor in Chief of
TheStreet.com
. Previously, he served as deputy editor and chief innovation officer at
The Orange County Register
and as a news manager at
Bloomberg News
in Frankfurt, Amsterdam and Washington, D.C. As a reporter, he covered business and financial markets, worked in both print and television in the U.S. and Europe, and conducted in-depth investigative coverage at
The Journal-Gazette
in Fort Wayne, Ind. His work also has been published in a variety of newspapers including
The Wall Street Journal
,
The New York Times
and
International Herald Tribune
. Hall received a bachelor's degree in journalism and political science from The Ohio State University and a certificate in project and program management from Boston University.