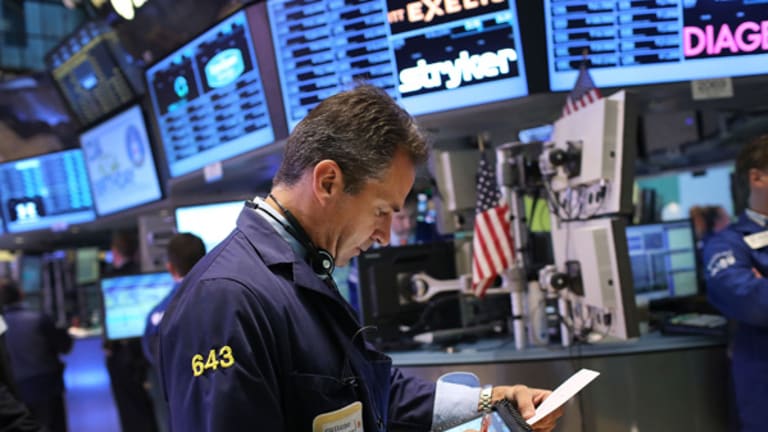 Today's Earnings Valued Attractively (Teva)
Israel-based Teva doesn't have to do anything spectacular to warrant a second look.
NEW YORK (TheStreet) -- Teva Pharmaceutical (TEVA) -- founded in 1901 and headquartered in Israel -- is a worldwide pharmaceutical company with a mission to be "the most indispensible medicines company in the world."
Teva works across the board to develop, produce and market a wide range of products within specialty medicines, generic and over-the-counter products, active pharmaceutical ingredients and new therapeutic entities.
In the United States alone, Teva markets approximately 400 generic products in about 1,300 dosage strengths. The company also operates in 59 other countries across Europe and the rest of the world, and is perhaps best known for Copaxone, which is used to treat multiple sclerosis.
For those unfamiliar with the business behind the company, we can instantly look at Teva's past operating results through the lens of
.
Here a picture is truly worth a magnitude of words. We see that Teva has grown operating earnings by nearly 24% a year for the past decade and a half and demonstrated a commitment to increasing the dividend while simultaneously keeping the earnings payout ratio quite low.
Additionally, it should be noted that Teva had exceptional earnings per share growth in the early 2000s and has since begun to moderate a bit. To be fair, even recently this pharmaceutical company has been able to grow earnings at a double-digit rate.
It follows that the return performance of Teva is also likely to be quite strong over the same period. This is precisely what we see: A shareholder beginning at the end of 1998 and holding until today would have seen capital appreciate over 15%, a dividend that grew by about 28% a year and total returns -- not to mention income provided -- that bested the
S&P 50
five times over.
There's a reason that Teva recently showed up on a Value Line screen titled "Stocks for Dividend Growth With Low Risk."
The company has an absolutely excellent track record of returning shareholder value. Given this history, coupled with a low payout ratio and above-average dividend yield, it would seem that Teva is well poised to continue churning out profits for its shareholders.
Yet, as impressive as those results are, an investor's returns still would have lagged the even-more-substantial business results of the company. The reasoning is relatively straightforward:
Teva's stock price has abandoned its once "normal" P/E around 20, sunk past a reasonable market P/E of 15, bypassed a "new normal" P/E around 13 in the last five years and has compressed all the way down to today's P/E of 8.5.
In viewing the earnings-and-price-correlated graph below, one can clearly see Teva's stock price and the company's earnings power becoming disconnected. In turn, one of two things is happening:
First, if the fundamentals of the company remain intact, this could be signaling an unjust reaction in the market. On the other hand, if the business behind the stock begins to falter, this could indicate a balanced view on discounting lower future earnings.
So the question is not,"Was Teva a strong company?" but, more aptly, "Will Teva continue to grow in the future?" To be honest, the answer isn't perfectly clear or straightforward, but there is some indication that the current undervaluation of Teva might be a touch overblown.
First and foremost, Teva isn't a one-trick pony.
Although roughly half of its profits are derived from treating multiple sclerosis, Teva makes about a quarter of its money from global generics, about 20% from other specialty brands and about 5% from over-the-counter products. Much of the low valuation is likely a resultant of Copaxone -- the world's leading MS treatment -- coming off patent sooner rather than later.
But there are two mitigating factors that suggest Teva won't lose half its earnings overnight. For one, much in the same manner that people still buy
Johnson & Johnson's
(JNJ)
Listerine instead of the generic, it's not as if your profits go to zero as soon as the patent expires.
But more important, the complications associated with both creating and getting approval for the drug would likely inhibit widespread generic competition.
As a corollary to the expiration of patents, Teva is in the generic business as well. So while the pharmaceutical business might suffer to a degree on the branded MS treatment side, it would concurrently benefit from the bevy of patents to expire in the coming years.
Given Teva's size, geographic scope and ability to deal in complex drugs, the company appears well-positioned in this regard.
In addition, Teva's management has indicated its enthusiasm for two additional business catalysts -- a quick-growing emerging market and its OTC partnerships. Within emerging markets, Teva estimates the pharmaceutical demand for the emerging population will double in the next five years. With regard to the OTC partnership, Teva has strategically aligned itself with
Procter & Gamble
(PG)
to offer products such as Vick's in over 20 countries.
Said differently, while the pharmaceutical business faces obstacles in the near term, the underlying future appears bright for those that can position themselves appropriately to provide global health assistance.
In viewing the Estimated Earnings and Return Calculator from F.A.S.T. Graphs, we see this picture being painted for Teva's stock price as well. Based on the consensus estimates of 27 analysts reporting to S&P -- along with a 3% long-term earnings growth rate and constant dividend payout ratio -- the calculator comes to an annualized total return number of roughly 18% over a five-year holding period.
But it's important to understand the limits behind the calculator.
For example, just a few years ago it certainly wouldn't have been unreasonable to assume a price to earnings ratio around 15. Today it might be wise to assume a slightly lower rate. In turn, the expected earnings and growth rate appear sensible.
to a higher consensus growth rate while Value Line predicts the same 3% intermediate-term rate that F.A.S.T Graphs shows. Given that Teva provided normalized earnings guidance in the $4.85-$5.15 range for fiscal year 2013, the default estimates appear to be within a reasonable range.
Interestingly, even a P/E around 10 in half a decade would equate to price appreciation of almost 10% -- and that's without considering the dividend, which has the potential to grow faster than earnings due to Teva's low payout ratio.
Overall, Teva Pharmaceuticals appears to be a very strong company that faces some near-term challenges. To alleviate these concerns, the Israel-based drug corporation has a geographic footprint that seems to be well-positioned in a variety of areas.
Especially appealing is that Teva doesn't have to do anything all that spectacular -- 3% growth for the next five years for example -- to provide above-average returns. Although it is always prudent to be on the look-out for a declining business, Teva's commitment to rewarding shareholders provides an exciting avenue for further due diligence.
At the time of publication, the author was long TEVA.
This article was written by an independent contributor, separate from TheStreet's regular news coverage.
Charles (Chuck) C. Carnevale is the creator of
.
Chuck has over 43 years of financial experience and is the co-founder of the earnings and price correlated, powerful fundamentals analyzer software tool - FAST Graphs. Chuck holds a Bachelor of Science in Economics and Finance from the University of Tampa. Chuck's work stressing sound valuation has been widely published on numerous financial sites and blogs. Chuck is passionate about spreading the critical message of valuation and prudence in fundamental investing. So much so that regular readers have dubbed him "Mr. Valuation". Chuck is a Veteran of the Vietnam War and was awarded both the Bronze Star and the Vietnam Honor Medal.
Chuck believes that correctly assessing fair value is one of the primary keys of successful stock investing, and he has dedicated his more than 40 years of experience in finance to its pursuit. Chuck agrees with legendary investors such as Warren Buffett, who recognize how important it is for investors in common stocks to possess an intelligent framework for making sound decisions that can keep emotions out of the equation. With making smart stock selections, there is no room for fear and greed.
Chuck was fortunate to learn at an early age that earnings drive long-term stock prices, and that dividends, if any, will be paid out of a company's earnings. This led him to develop FAST Graphs, the fundamentals analyzer software tool that reveals the long-term relationship between a company's earnings and its stock price and dividends over time. Chuck is most interested in the business behind the stock.