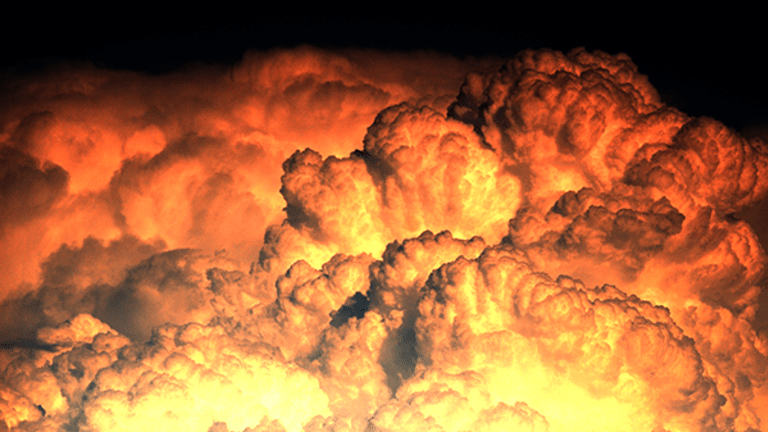 The Stock Market Is on Fire, Especially in These Sectors: Market Recon
There is only an official statement. No press conference, no new projections.
"Don't confuse brains with a bull market" -- Humphrey B. Neill; "Really, I'll take it either way" -- Your Pal
Stating the Obvious
Our plates are full as we head off into the melee of another day of creativity in the financial markets. Yes, our plates are nearly always full, but today is different. Today is "Fed Day". This one, though, is sort of like a diet FOMC meeting. Yes, in theory the committee could take action, but without a scheduled press conference, and without new economic projections, this meeting will almost certainly result in the use of the official statement in order to prep both the public and the marketplace for the next policy steps to be taken.
Watch:Who Is Gary Cohn -- Janet Yellen's Potential Replacement at the Federal Reserve?
Inflation is probably the most important factor facing policy makers as we steam toward 2pm ET. The FOMC is catching a break here, as crude oil prices have been spiking higher in recent days. In the absence of a breakdown that evolves as quickly as has this run, consumer level inflation should look far more aggressive (at least at the headline) in the July data than it has over the last few months. Cosmetically, however, we will see June PCE numbers this Tuesday, which will be ugly, and then July CPI on August 11, nearly two weeks later. Remember, consumer level inflation has been an ongoing problem for the FOMC not only over those last few months, but for many years. There are two lines from the policy statement that I will be watching for development.
1) The Committee will carefully monitor actual and expected developments relative to its symmetric inflation goal.
2) The Committee currently expects to begin implementing a balance sheet normalization program this year, provided that the economy evolves broadly as anticipated.
That second line covers a topic just as important to policy watchers as the first. The balance sheet. Yeah, that's the 800-pound gorilla in the room. When will the central bank actually start the process of allowing its massive $4.5 trillion portfolio of Treasury and mortgage backed securities to roll off? Will that change in policy impact the trajectory of tightening currently underway? I believe it is necessary for that trajectory of interest rate hikes to be put on hold, while this step is taken. Let the markets absorb this change in the monetary environment on its own merit. To try to do both would, in my opinion, be too aggressive, and present a significant headwind to economic growth. The truth is though that my opinion doesn't count here, so we better focus on the committee's statement. Odds of another increase in the feds funds rate as priced in by futures markets have increased from 47% to 52% over the last 24 hours.
Hamburgers and Bulldozers
Several areas of the equity markets are on fire for several reasons. Number one would be earnings. The season is quite simply off to a good start. Yesterday, shares of such old economy names as McDonalds (MCD) - Get McDonald's Corporation Report and Caterpillar (CAT) - Get Caterpillar Inc. Report ripped to the upside. What could hamburgers and bulldozers be doing different? Let's see; they both beat EPS and revenue projections, but so have a lot of other firms. CAT raised guidance. What do they do? A huge international business. Hey, that's where growth in MCD's numbers nearly doubled expectations. Hmmm. The dollar sure is plagued by weakness right now. That's if you call it a plague, which I am not too sure that U.S. multinationals, nor the current resident in the White House in Washington, would do. This is a trend that I would expect to continue as we move forward through the season. Then as the year progresses, this change in currency valuations will very likely act as a tailwind for corporate earnings just as year-over-year comps for many firms start to get tougher. Danger ahead? Always. Afraid? Never. Optimism? Yeah, dudes.
Watch:Jim Cramer: Caterpillar Could Rise to $120
More of What's Trending on TheStreet:
Apple Moving Closer to Selling an American Made $1,000 iPhone, Trump Hints
How Birchbox Took on Macy's, J.C. Penney and the $500 Billion Beauty Counter
Now, I know It's a Party
Anybody else out there still following Greek debt? No? OK, well if you find yourself in need of an update on that long-beleaguered nation, conditions are starting to improve. Don't get me wrong, the situation is still quite awful, but the ball may be moving in the right direction as the eurozone economy improves in general. Greece sold €3 billion worth of debt that matures in 2022 yesterday. The total was evenly split between new money and debt holders that agreed to push out maturity three years in exchange for a higher yield.
Greece is still unable to properly service its debt, and this auction totaled less than 1% of the nation's total debt picture. But while we weren't paying attention to Greece, that nation's unemployment rate improved from 28% to 22%. It also put up a positive number for first-quarter GDP (off a significantly reduced base).
Obviously, Greece has miles to go, but they did ease a significant debt burden that was looming in 2019, and they did it on their own. They say a rising tide lifts all ships. The tide is indeed rising, and Europe's most troubled nation economically has seen some positive development. More on this later on.
Black Gold
Strength in earnings, as well as improved guidance, has been there. Yields are rising ahead of today's FOMC statement. Oh, there is one other significant item that keeps on impacting the marketplace: black gold. Oil, that is.
1) Saudi Arabia announces that it will cut August exports to 6.6 million barrels a day.
2) Nigeria pledges to join OPEC's unified effort, limiting its production to 1.8 million barrels per day.
3)The UAE announces the Abu Dhabi National Oil Company will cut crude exports by 10% in September.
4) Anadarko Petroleum (APC) cuts investment guidance for full year 2017.
5) The American Petroleum Institute prints a massive weekly inventory draw-down last night ahead of today's weekly EIA print.
... and poof !! Suddenly, we have a ballgame. Rock and roll. A rally without any help from healthcare.
Macro
10:00 - New Home Sales (June):Expecting 616,000, May 610,000. We look for the third print at an annualized rate at more than 600,000 in the last four. This comes after having seen only one such print in the 2008 through 2016 period. Permits and starts came in strong for June, while existing sales for the most part held their ground. The housing market is more or less robust, and the data today should support that.
10:30 - Oil Inventories (Weekly):API -10.23 million , Last Week -4.7 million barrels.
10:30 - Gasoline Stocks (Weekly):API +1.9 million , Last Week -4.4 million barrels. The American Petroleum Institute reported a massive draw for headline crude last night, which forced prices for WTI much higher in after-hours trading after what had already been a good day for the commodity. Somewhat surprisingly, this draw that was far larger than expected itself accompanied an inventory build for gasoline. If the EIA reports a similar draw for crude this morning, this will be taken very well not only by the energy sector, but the broader marketplace as well.
14:00 - FOMC Policy Announcement. The statement will stand alone this afternoon. No press conference. No economic projections. Probably no change in policy. That leaves us with the language of said statement, and then of course the Fed speakers that will undoubtedly sneak out of their holes over the balance of this week and next. The silence over the last week and a half was quite nice.
Sarge's Trading Levels
These are my levels to watch today for where I think that the S&P 500, and the Russell 2000 might either pause or turn.
SPX: 2505, 2493, 2482, 2474, 2465, 2457
RUT: 1467, 1460, 1451, 1444, 1438, 1432
Today's Earnings Highlights (Consensus EPS Expectations)
Before the Open: (ALK) - Get Alaska Air Group, Inc. Report ($2.51), (ANTM) - Get Anthem, Inc. Report ($3.24), (BA) - Get Boeing Company Report ($2.32), (KO) - Get Coca-Cola Company Report ($0.57), (F) - Get Ford Motor Company Report ($0.43), (GD) - Get General Dynamics Corporation Report ($2.42), (HSY) - Get Hershey Company Report ($0.90), (HES) - Get Hess Corporation Report (-$1.29), (IR) - Get Ingersoll Rand Inc. Report ($1.46), (NSC) - Get Norfolk Southern Corporation Report ($1.65), (NOC) - Get Northrop Grumman Corporation Report ($2.85), (OC) - Get Owens Corning Report ($1.08), (TMO) - Get Thermo Fisher Scientific Inc. Report ($2.27), (TUP) - Get Tupperware Brands Corporation Report ($1.20), (WM) - Get Waste Management, Inc. Report ($0.81)
After the Close: (BWLD) ($1.05), (DFS) - Get Discover Financial Services Report ($1.45), (EFX) - Get Equifax Inc. Report ($1.57), (FB) - Get Meta Platforms Inc. Class A Report ($1.11), (LRCX) - Get Lam Research Corporation Report ($3.02), (ORLY) - Get O'Reilly Automotive, Inc. Report ($2.91), (PYPL) - Get PayPal Holdings, Inc. Report ($0.43), (NOW) - Get ServiceNow, Inc. Report ($0.20), (TMK) ($1.17), (TSCO) - Get Tractor Supply Company Report ($1.27), (WFM) ($0.33)
Get Morning Recon delivered directly to your inbox each market day. Click here to sign up for e-mail delivery of Stephen "Sarge" Guilfoyle's Morning Recon, Jim Cramer's Daily Booyah! or other great free newsletters from TheStreet.
More of What's Trending on TheStreet:
AMD Surges in Premarket Trading After Chipmaker Blows Wall Street Away
Advanced Micro Devices Could Explode Another 17% Within Hours: Chart
AMD's Strong Guidance Points to Market Share Gains and More Could Be On the Way
GM May Slash Six Car Models to Combat Slumping Sales, Avoid Plant Layoffs
At the time of publication, Stephen Guilfoyle was long KO, LRCX, although positions may change at any time.