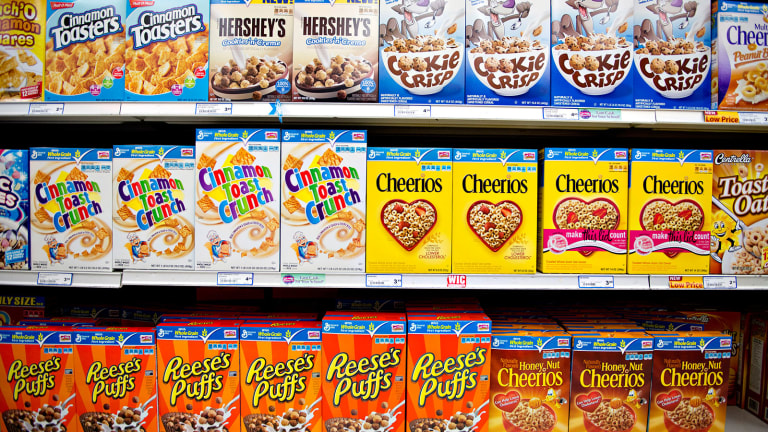 To Revive Sales, These Companies Must Think Outside the Box. Literally.
Classic cereal brands are suffering. Here's the weird reason why... and where the breakfast profits will be the tastiest.
Classic cereal brands are suffering. Here's the weird reason why... and where the breakfast profits will be the tastiest.
Shares of General Mills (GIS) - Get Report reached a new 52-week high this week, trending upward following the release of expectation-beating fourth-quarter results. However, now is not a good time to gobble up this cereal stock -- this corner of the food industry is facing continued headwinds for a very strange reason. In fact, to survive in the future, General Mills and its competitors are going to have to think outside of the box. Literally. Let me explain.
Millennials may be known as a "foodie" generation -- snapping pictures of meals for their Instagram and Facebook accounts, sending sales of "unhealthy" sodas from Coca-Cola in a downward spiral, and even causing fast-food icon McDonald's to re-examine its classic menu. But although 20-somethings are going to great lengths for trendy food like quinoa and kale, there's one thing they're refusing to do: wash dishes.
According to a survey released earlier this year by Mintel, an international research firm, about 40% of millennials skip breakfast because they find cleaning up afterward too inconvenient.
In 2010, sales of cereal clocked in around $13.9 billion. However, last year that number plunged to around $10 billion. Euromonitor expects sales to further fall to $9.8 billion in the next three years. This makes cereal companies look like unhealthy stocks for investors.
Which brings us back to General Mills. For the quarter, the cereal giant reported net earnings of $379.6 million, or 62 cents per share, versus $186.8 million or 30 cents per share in the same quarter last year. Wall Street had been expecting earnings around 60 cents per share. However, on an adjusted basis, these earnings represent a 12% drop to 66 cents per share from 75 cents per share in the comparable period.
And net sales fell by 8.6%, from $4.3 billion in the fourth quarter of the previous fiscal year to $3.93 billion.
The success General Mills saw that led it to beat expectations comes thanks to cost-cutting measures and by diversifying its product portfolio. The company recently snapped up organic food brand Annie's, which specializes in easy-to-prepare meals and snacks, and also launched its Yoplait brand in China.
In order for companies like General Mills and rival Kellogg (K) - Get Report to boost sales, they're going to have to think outside the (cereal) box. For General Mills, that will mean focusing on grab-and-go meals and snacks to complement the "snackification" of the American palette.
Kellogg is trying something new. The company, which has already seen some success with cereal snack bars, announced today that it will be opening a café in Time Square where customers can order bowls of cereal without having to do the dishes. Diners will be able to pick from the company's panoply of cereals -- Rice Krispies, Frosted Flakes, Froot Loops, etc. -- and add milk and a variety of gourmet toppings. Bowls will cost about $8.
On the surface, a pricey cereal café seems like a ridiculous joke. However, Kellogg has good reason to think this might boost sales. Greek-yogurt maker Chobani has seen a 40% sales boost since it opened a café in New York's SoHo neighborhood. The restaurant is currently quadrupling its original floor space.
For the cereal industry to survive until millennials learn to clean up after themselves, they're going to need to resort to seemingly wacky tactics such as cafes, as well as boosting their "convenience foods" portfolios.
In the meanwhile, while cereal stocks appear soggy, better profits can be made from restaurants that offer breakfast on the go. Look to McDonald's, which implemented its overwhelmingly successful all-day breakfast menu last October, and even Yum! Brands, whose Taco Bell restaurants just unveiled $1 breakfasts.
---
As you can see, cereal stocks face an uncertain future. But what if I told you there is a way to make $67,548 per year - or more - without stocks at all, just by following this simple step-by-step process? The trader who is sharing this secret has been right more than 8 out of 10 times, turning $5,000 into more than $5 million for himself. Click here to see how easy it is to follow his lead and collect thousands of dollars in "Free Money" every month.
This article is commentary by an independent contributor. At the time of publication, the author held no positions in the stocks mentioned.