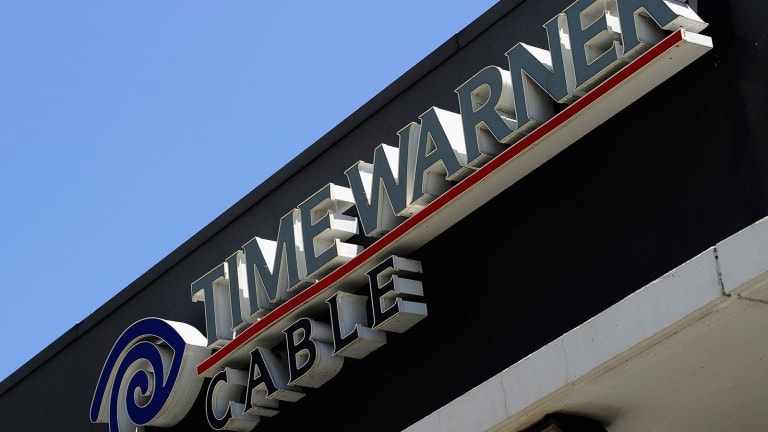 Time Warner Cable Beats Street View, Adds Customers as Charter Closes in on Acquisition Approval
The second-largest U.S. cable operator adds residential customers for a second consecutive quarter, it says, as revenue and earnings top estimates.
Time Warner Cable (TWC) gained video subscribers for the second consecutive quarter, providing a bonus for Charter Communications (CHTR) , which this week is expected to win final federal antitrust approval of its $67 billion acquisition of the nation's second-largest cable TV operator.
Time Warner Cable on Thursday reported first-quarter adjusted earnings of $1.81 a share, a 9.7% increase from a year earlier that beat analysts' expectations of $1.74 a share. The New York company reported revenue of $6.19 billion, beating analyst expectations of $6.14 billion, according to Thomson Reuters (TRI) . Profit for the period rose to $494 million, or $1.72 a share, up from $458 million, or $1.59 a share, in the quarter a year earlier.
The TV distributor said in the first quarter it served more than 10.8 million residential video subscribers, an important measure that Wall Street follows for cable operators. It lost residential video customers in the two quarters following the May 2015 announcement of the Charter acquisition but in the first quarter added 21,000 new customers.
Overall, Time Warner Cable served nearly 15.4 million customers with its video, data and telephone services in the first quarter, the company said, a 2% increase from the prior quarter. The company called the 236,000 new "customer relationships" its "best ever."
"Our first-quarter results are the clearest indication yet that our efforts over the last 27 months are paying off," Time Warner Cable chairman and chief executive Rob Marcus said in a statement. "We have made our network more reliable, our products more compelling and our customer service far better."
Time Warner Cable shares on Thursday morning were up $2.22, or 1.06%, to $211.41.
The improved metrics come as the federal government seems ready to approve Charter's acquisition of Time Warner. On Monday, the Justice Department and Federal Communications Commission signaled their intent to approve the merger by circulating conditions to which Charter had agreed to complete the deal. The conditions are aimed at spurring competition among Internet service providers and increasing the number of homes with broadband connections.
The DOJ, which reviewed the transaction to insure it didn't violate antitrust laws, proposed a settlement with Charter that restricts it from hindering online video companies such as Netflix (NFLX) and Amazon.com (AMZN) from securing video content from TV programmers.
The FCC imposed conditions that included requiring Charter to provide broadband services to lower-income families and to improve service in portions of its service area that have spotty service. FCC Chairman Tom Wheeler said he would vote to approve the transaction.
The full FCC is expected to vote in favor of formal approval this week, although the transaction can't close until California regulators also approve the combination. That approval is expected soon as well.
Charter shares on Thursday morning rose $4.28, or 2.07%, to $210.71.
Time Warner Cable executives credit the operator's improved subscriber counts with aggressive spending to upgrade its network and improve its customer experience. At the end of the 2015, the company's TWC Maxx program converted customers to all-digital service in seven of its largest markets, including Kansas City, Dallas and San Antonio. It said it continued work in the first quarter in Hawaii; Wilmington, Del.; and San Diego and began the work in Ohio, Kentucky and other markets. The conversion also includes adding faster Internet speeds.
This article is commentary by an independent contributor. At the time of publication, the author held positions in Thomson Reuters and Amazon.