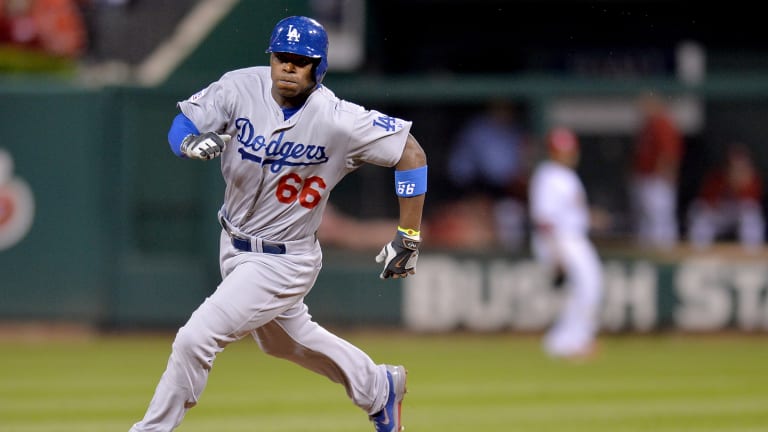 Time Warner Cable 'Actively Pursuing' Talks to Finally Lift Dodger Blackout
Cable operator isn't cutting its fees, dampening interest by DirecTV, Dish and others.
Cable operator isn't cutting its fees, dampening interest by DirecTV, Dish and others.
NEW YORK ( TheStreet) --  Time Warner Cable  (TWC) , the country's second-largest cable-TV operator, has begun talking with other pay-TV distributors in Los Angeles about ending an impasse to carry the Dodgers' SportsNet LA, which has been unavailable to most of the nation's second-largest market for more than a year. 
Talks are preliminary but people with knowledge of the discussions say New York-based Time Warner Cable isn't lowering its demand that cable-TV and satellite distributors pay just shy of $5 a month per subscriber to carry the Dodgers' SportsNet LA. The cost of carrying the games remains the largest stumbling block to a compromise, according to two people with knowledge of the talks. 
SportsNet LA, which is owned by the Dodgers and operated by Time Warner Cable, reaches about one-third of L.A.'s 6.8 million homes. The Dodgers, which were purchased in 2012 for $2.15 billion by an investor group led by Guggenheim Partners, begin the regular season April 6 with a home game against the San Diego Padres.
Pressure to resolve the impasse before the home opener comes as the cost of sports programming for cable and satellite operators has escalated in recent years. Teams such as the Dodgers, and college and professional sports leagues, have steadily increased the price they charge pay-TV operators  because they know that live sports delivers that rare piece of content that isn't often recorded or time-shifted.
Time Warner Cable has insisted that a fee of $4.90 per subscriber is justified to carry Dodgers' SportsNet LA, even though, according to video researcher SNL Kagan, it's a penny higher than the price the New York Yankees charges pay-TV operators to carry its YES Network, which reaches more homes. 
Last year, Dodger games were blacked out for customers of satellite operators DirecTV (DTV) and Dish (DISH) - Get Report, which together serve about 31 percent of the market. Cox Communications, Charter Communications (CHTR) - Get Report,AT&T's (T) - Get ReportU-verse video service and FiOS, and Verizon's (VZ) - Get Report video service, also didn't carry the channel.
"They've both got their heels dug in," said TV sports consultant Ed Desser, a former president of NBA Television and New Ventures, in a phone interview. 
Rather than pay a per-subscriber fee that exceeds $4, distributors have asked to put the Dodgers' SportsNet LA  on a special sports "tier" where only those who want the channel would be required to pay for it. Such "a la carte" arrangements have been rejected by Time Warner Cable.
"We are actively pursuing meaningful negotiations with operators," Time Warner Cable said in a statement. "We want all Dodgers fans to have access to SportsNet LA, so they can experience the exclusive, in-depth Dodgers programming and games they love." 

Time Warner Cable's faceoff with other TV providers in LA began in 2013 after it outbid 21st Century Fox (FOXA) - Get Report to win the rights to distribute the Dodger's SportsNet LA channel for more than 25 years at a cost of $8 billion. The Dodgers collected $210 million from Time Warner Cable last year, a fee that increases annually.
Last year, the stalemate was so intense that a group of seven congressmen from Southern California asked the Federal Communications Commission to mediate. But those overtures got nowhere. Representatives of Dish and Charter didn't return emails seeking comment.
"As the new Dodger season approaches, we hope to work with the Dodgers and Time Warner to find a creative means to provide fans an opportunity to see the games without burdening non-fans with a significantly higher bill," DirecTV said on a web site where it also posts comments from subscribers who don't want to pay SportsNet LA's fees.
Comcast, which is awaiting an FCC Ruling on its $45 billion bid to acquire Time Warner Cable, also wouldn't comment. If that deal is approved, Comcast would acquire the L.A.-area cable systems of Charter Communications (CHTR) - Get Report as part of a larger swap of cable-TV properties between the two companies. It's likely, but still not certain, that Comcast would carry the channel on its new systems that serve about 280,000 homes in the Los Angeles area.
A resolution of Comcast's $45 billion acquisition of Time Warner Cable, could force a re-evaluation of the company's position. A failure to come to terms has translated into lost revenue for Time Warner Cable, and lost customers for some of the pay-TV providers.
"That might  be the economic reset that everyone needs to get this deal done," Dresser added.
Time Warner Cable is the area's largest provider followed by two smaller operators, Bright House Network and Champion Broadband.