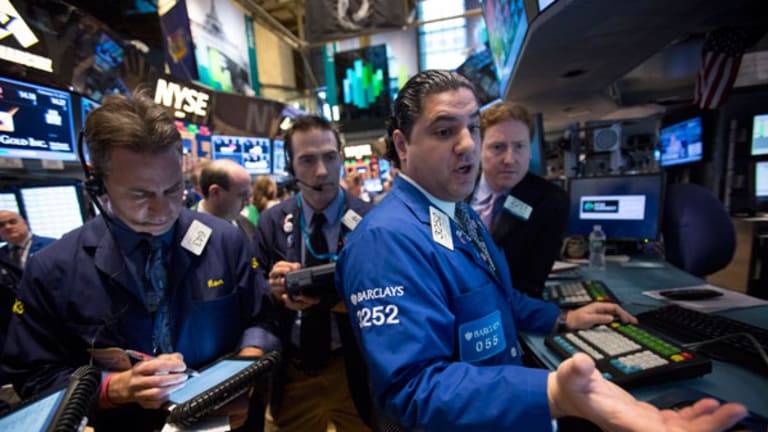 NEW YORK (TheStreet) -- Attention: Please be very careful when navigating around in this stock market. It is very treacherous right now and extreme caution is warranted.
The DJIA closed to the downside on Thursday, losing 21.97 points to 16558.87 and the S&P 500 closed down 0.27 points to 1883.68. The Nasdaq finished on the upside by 12.90 points to 4127.45 after being up more than 34 points early on. The Russell 2000 closed down 0.89 point at 1125.97.
As I mentioned in the Wednesday article, the DJIA and the S&P 500 were in overbought territory according to my proprietary algorithm process. The down day today did nothing to alleviate that overbought condition. I am still looking for that selloff to take place at anytime now. The selloff could very well have started today and we get a continuation on Friday. The DJIA and the S&P simply cannot continue to be in the current overbought condition.
On Thursday the Nasdaq showed signs of the hedge funds that were short technology stocks covering those positions by buying the tech sector. The old momentum stocks from Appleundefined to Facebook (FB) - Get Facebook, Inc. Class A Report to Netflix (NFLX) - Get Netflix, Inc. (NFLX) Report carried the day higher for the Nasdaq.
If the Nasdaq should happen to open to the upside on Friday, that index will join the DJIA and the S&P in overbought territory.
That would leave only the Russell 2000 index as the only index that will not be overbought according to my internal numbers. The Russell 2000 has some serious issues, being Trend Bearish for a long while now.
The S&P 500 Trust ETF (SPY) - Get SPDR S&P 500 ETF Trust Report, to which I refer on many occasions as a volume indicator, showed continued lack of buying conviction. Volume on Thursday came in at 90 million shares, less than Wednesday's volume.
Thus, there are many crosscurrents in this stock market at the present time.
Traders and investors alike need to have a repeatable risk management process that works. This is critical when it is time to enter and exit an individual stock or index. Unfortunately, many do not have that process.
An individual trader or investor should always want to enter their long trade at the most oversold level possible. The same holds true for entering a short trade at the most overbought level possible.
Again, the algorithm process that I employ is able to flag these types of conditions and reduce the amount of risk that an individual will assume. Feel free to find out more about my process at my Web site.
I added to a position in the ProShares Ultra VIX Short-Term Futures ETF (UVXY) - Get ProShares Ultra VIX Short-Term Futures ETF Report that I started on Wednesday. I also started a short position in Cabot Oil & Gas Corp. (COG) - Get Cabot Oil & Gas Corporation Report. This position has an extraordinarily overbought condition.
At the time of publication the author held a long position in the UVXY and a short position in COG.
This article represents the opinion of a contributor and not necessarily that of TheStreet or its editorial staff.
>>Read more: Markets Mixed on Higher Jobless Claims, Better Consumer Spending