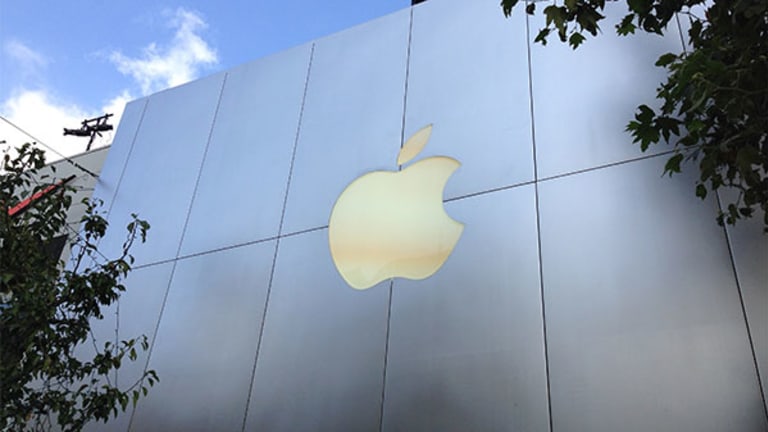 Time to Think of Apple as a Global Luxury Brand
Apple's margins don't line up with other tech giants and its high-end appeal is the reason why.
NEW YORK (TheStreet) -- I'm not an Apple (AAPL) - Get Apple Inc. (AAPL) Report expert, nor do I read many blogs or reviews about each new product that the Steve Jobs co-founded company casts onto the market. However, every holiday season, as I pass Apple's flagship Fifth Avenue store in Manhattan, I wonder the same thing: Is Apple a technology company or is it the fastest growing luxury brand in the world?
This Thanksgiving, Black Friday and holiday shopping binge, I would challenge Apple investors to think about the company in an entirely new light. Would you invest in Apple if you compared it against the world's prominent luxury brands? Would that hurt or improve expectations on Apple's long-term prospects?
Apple's obvious competitors are Google (GOOG) - Get Alphabet Inc. Class C Report, Microsoft (MSFT) - Get Microsoft Corporation (MSFT) Report and Samsung. Nevertheless, every quarter I comb through Apple's results and see few similarities between the profit margins and earnings of the iPad and iPhone manufacturer vs. its supposed competition. Mobile devices, which drive astronomical earnings and margins at Apple, have so-far proven to be a cost center for direct competitors such as Google, Microsoft and Amazon (AMZN) - Get Amazon.com, Inc. Report.
Still, Wall Street analysts can't help themselves from comparing one unit of Apple iPhone sales to those of Windows or Android. It does little to explain why Apple has become one of the most profitable companies in the history of the world, while other device manufacturers languish with volatile and razor-thin margins.
I wonder whether it's time to evaluate Apple as one of the premier global luxury brands and find a set of comparable companies with similar margin and growth characteristics.
Maybe Apple's better comparable's would be Burberry apparel, LVMH Moet Hennessey Luis Vuitton goods, Diageo (DEO) - Get Diageo plc Sponsored ADR Report alcohols, Tesla (TSLA) - Get Tesla Inc Report electric cars, Lululemon (LULU) - Get Lululemon Athletica Inc (LULU) Report yoga pants and Estee Lauder (EL) - Get Estee Lauder Companies Inc. Class A Report perfumes.
Basically, are margin characteristics of one unit of iPhone sold closer to a unit of Windows Phones sold or a unit Johnny Walker whiskey? After all, margin is a percentage, and it's easy to do common size analysis of companies with operations of vastly different scale.
OK, fine. Comparing Apple, the most innovative Silicon Valley giant of this generation, to a maker of British trench-coats is a bit ridiculous. Those comparable would also likely create error messages in the Excel spreadsheet models of sell-side Wall Street analysts.
But here's the kicker: Buyers of the products from the aforementioned luxury brands are also more than likely to be Apple iPhone and iPad users, relative to Samsung or Microsoft.
Why do we relentlessly seek ways to compare Apple with a narrow universe of tech sector giants?
Google can take whatever global market share it wants from Apple, and yet when investors see both firm's earnings it is clear who is winning the battle for mobile device profits.
More importantly, as investors and analysts speculate when Apple will compete in emerging markets, where Google and Samsung products dominate, few appear to wonder what it would do to Apple's brand and luxury-like profit margins.
Should Apple be chasing device manufactures into China and India, or should Apple wait for those markets to come to its products?

Is it really that crazy to think global users will increasingly flock toward Apple's products as the middle and ultra-rich classes grow in emerging markets across Asia, EEMEA and Latin America? Does Apple really have to engage in a price war to win new customers, or may patience be rewarded?
I go back to Apple's Fifth Avenue flagship, which will be a zoo of U.S. and foreign shoppers through New Year's. What would happen if Samsung, Google, Microsoft or Amazon opened up a flagship in the Plaza Hotel across the street from Apple's flagship or in the retail space directly above it?
I'm skeptical such as store would be successful. I'm also skeptical that the store would be filled with European, Asian and Latin America tourists lugging shopping bags filled with items from Bergdorf Goodman, Gucci, Coach (COH) and yes, Abercrombie and Fitch (ANF) - Get Abercrombie & Fitch Co. Class A Report.
We will get an interesting comparison when Intel (INTC) - Get Intel Corporation (INTC) Report opens a flagship SoHo store in Manhattan that will be in proximity to Apple's retail turf.
Apple has yet to strike its long-awaited partnership with China Mobile (CHL) - Get China Mobile Limited Sponsored ADR Report and the iPhone 5C is generally considered to be a weak and dilutive product launch. The company is probably going to end 2013 with weaker emerging market performance than Google, Samsung and maybe even Microsoft.
Apple may have a more patient strategy for emerging markets. The company recently hired Angela Ahrendts, a former Burberry's CEO who transformed the apparel maker from a niche British brand into a global icon.
I wonder whether Apple's growth strategy will increasingly become the domain of executives like Ahrendts who may have the skill to subtly push new consumers to the company's products, as wealth rises across Asia, Africa, Eastern Europe and Latin America.
Next time you wander into Apple's Fifth Avenue flagship store don't just look at the products on Apple's shelves and their layout. Also consider the shoppers in the store as insight into Apple's next generation of users.
I would suggest such perspective would be an important gauge of Apple's long-term prospects and possibly, a better way of thinking about the company than whatever one can glean from quarter-over-quarter sales results versus lower-cost competition.
--Written by Antoine Gara in New York