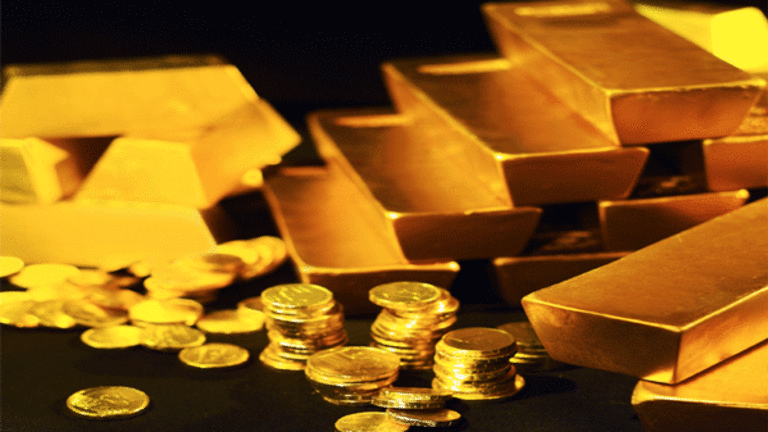 Time to Buy the Hated Gold?
Gold has tanked for more than a year. Now could be the time to buy this unloved asset.
NEW YORK (TheStreet) -- Gold, gold miners and, really, anything to do with precious metals had a terrible year in 2013. The evidence is obvious in the 27% decline in the SPDR Gold Trust (GLD) - Get SPDR Gold Trust Report and the 53% drop in the Market Vectors Gold Miners ETF (GDX) - Get VanEck Vectors Gold Miners ETF Report.
After years of poor performance, gold started to rally early in the last decade. First it was an under-owned, oversold asset. Then it became more accessible thanks to exchange traded products like GLD. Gold continued to rally as fear mounted that the Fed's zero percent interest rate policy and asset purchases would debase the U.S. dollar and cause price inflation. After 12 years in a row of gains, gold finally had a big drop last year.
[Read: Greenberg New Year Report: Herbalife and More]
Regardless of expectations of how markets are supposed to work, the government reported that inflation has not skyrocketed. If anything, deflation is a bigger near-term threat, and the U.S. dollar came nowhere close to meeting the worst debasement fears. The PowerShares DB US Dollar Bullish ETF (UUP) - Get Invesco DB US Dollar Index Bullish Fund Report was down 1.1% last year and 3.9% for the last two years.
Gold's prospects don't look good going into the New Year, either. Price inflation has only appeared in the cost of food, health care and education. While those are real expenses for everyone, headline CPI will just continue to limp along below 2%. If and when CPI begins to go up, whether because of Fed policy or anything else, then this would be a positive catalyst for gold.
Earlier this week Barron's cited a more fundamental headwind for the miners. They may need to write down the value of assets related to the business of mining gold. That would include any inventory of the metal they may have, the value of the mines they own and the expected value of the gold they hope to pull out of the ground.
[Read: How Diversified ETF Portfolios Can Make You Feel Like a Loser]
As gold has gone down, investors have been selling out of their gold positions. Gold ETFs have sold down their holdings by 33% to 1764 metric tons to meet fund holder redemptions.
One gold bull for 2014 is David Lutz from Stifel Nicolaus. In an interview at Yahoo! Finance, he cited Chinese investment demand as a factor. The gold ETFs listed on the Shanghai exchange last summer would serve as a positive catalyst, he said.

Typically there are two reasons to own gold. One is simply to speculate on the price of a volatile asset. The other is to buy some protection or insurance for a portfolio of other assets.
Speculating on gold can be difficult because the price can be driven by emotions like fear or by fundamentals tied to the value of currency or threats of instability. The thing driving the price of gold today (emotion or fundamentals) might not be driving the price tomorrow.
[Read: Tax Tip: Starting the New Year Right]
The need to protect a portfolio in the last couple of years has not been great. Therefore the price of gold has trended lower. GLD peaked at $183 on September 2, 2011. Since that high, it has declined by 33%. Meanwhile the S&P 500 has gone up by 54%.
If the idea is to own gold because it can go up when the equity market goes down, then the opposite should be true too. It should not be a surprise when gold drops while stocks rally, which is, of course, what has happened.
Predicting what gold will do in 2014 is really a guess. But gold is in a two-year down trend, while stocks are in a five year uptrend. And all trends reverse at some point. Gold has taken heat for going down so much in 2013. But an asset with a low or negative correlation to stocks should struggle when stocks go up a lot.
Gold is beaten down and disdained, and the equity rally is long in the tooth. Now could be an excellent time to initiate a position in gold as a contrarian trade.
At the time of publication, the author held a position in GLD.
This article represents the opinion of a contributor and not necessarily that of TheStreet or its editorial staff.