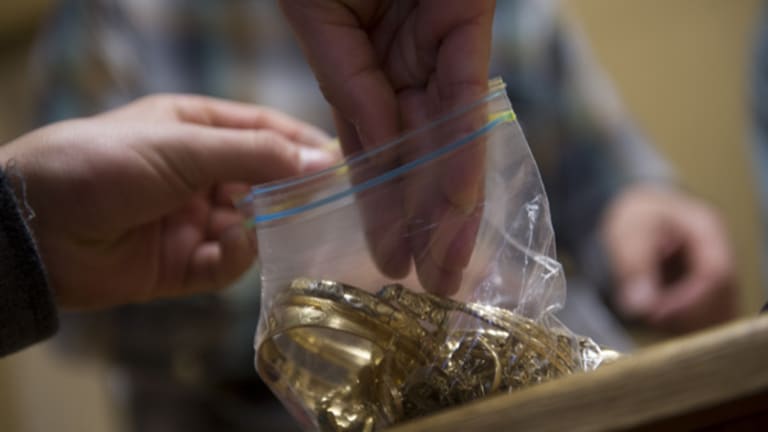 Time to Buy Gold?
The bigger picture is still pointing to higher prices.
The bigger picture is still pointing to higher prices.
NEW YORK (TheStreet) -- Gold futures have been trending lower in recent weeks after failing to breach the heavy band of overhead resistance from $1,790 to $1,800. Gold put in a swing low of $1,698.70 during Wednesday's session.
Now, I do not think that fundamentally anything has changed. What we have seen recently is a general period of "risk-off" trade which has affected everything from the equities markets to gold to grains.
And as I have stated, this should come as no surprise. After all, we are looking at a very tight presidential election, we have the "fiscal cliff" issue to deal with and earnings have largely been a disappointment at this point.
So why would one buy gold here? Well, for a few reasons I think.
Although gold has been trending down on the daily chart, it Is still in a solid uptrend on the weekly as well as monthly timeframes. Therefore, the bigger picture is still pointing to higher prices.
On the daily chart, gold has retraced approximately 50% of the breakout move from $1,590.40 to $1,798.80. The "half-back" trade is a common setup, and if the market can hold this level then some upside in the coming days is likely.
The market remains above the 100-day exponential moving average on the daily timeframe.
At some point, I feel that shorts will look to cover -- possibly starting Friday -- and prices will benefit from a good old-fashioned short covering rally. Besides, with everything going on the world right now who wants to go into the weekend short?
The market has reached a technically oversold condition.
Money printing and stimulus measures by global central banks I feel are likely to keep a floor under gold prices as faith in fiat continues to dwindle.Time will tell if the longer-term trends turn bearish in gold or not, but I think at a minimum some short-term upside is likely.
So, how does one take advantage of this upside should it materialize? Well there are numerous ways. I think one could look to sell deep out-of-the-money puts or put spreads here. Something along the lines of the January $1590 puts looks attractive. Feel free to contact me for option setups or help in structuring a position.
For those wanting more instant gratification, here is a futures set up below: Please note today is Oct. 26, 2012 and all trade information is based off the most recent data.
Buy 1 December gold future at $1721 Stop Good Until Cancelled
If filled, place a protective stop at $1693 Good Until Cancelled
Target $1780 or higher
Stop may be trailed based on an individual's risk tolerance and money management preferences
Risk-On Trade
: As stated above $2845 including a $45 R/T commission inclusive of all fees.
Profit Potential
: theoretically unlimited to the upside. If target above is reached then profit would be $5855 after subtracting a $45 R/T commission inclusive of all fees.
Please note
: A mini contract may be substituted. Amounts stated above would be one third.
Futures and options trading is inherently risky and isn't suitable for all investors. Past performance isn't indicative of future results. Stop-loss orders meant to limit losses may not be effective because market conditions may make it impossible to execute such orders.
This article is commentary by an independent contributor, separate from TheStreet's regular news coverage.
Matt Zeman is a trader at
. He began his trading career as a runner in the grain pits at the Chicago Board of Trade before becoming an arbitrage clerk. Eventually he started trading equity options and stocks. Matt now is a full-time futures broker. He has been a frequent guest on CNBC, Fox and Bloomberg, and provides his views on the stock, bond and futures markets for financial media including Dow Jones, the L.A. Times and The Associated Press. Matt is a member of the Chicago Board of Trade, and carries series 3, 7 and 66 licenses.