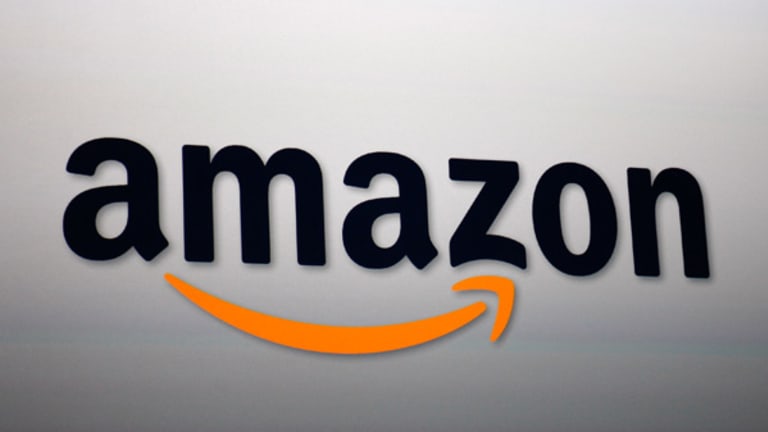 Time to Buy Amazon
As Amazon's momentum slows and its earnings rise, it becomes a stock investors can believe in.
NEW YORK (TheStreet) -- After selling my Amazon.com (AMZN) - Get Amazon.com, Inc. Report shares for $230 a few years ago, I finally broke down and bought some new ones -- for $370.
I decided to splurge after Amazon's "disappointing" quarter, profits of $239 million, 51 cents a share, on revenue of $25.59 billion. The numbers trailed estimates of earnings of 66 cents a share and revenue of $26.06 billion.
But I took a look at Amazon's PDF file concerning the numbers.

WATCH: Jim Cramer on Amazon: No Reason to Panic, Buyers Will Come Back
Cash flow and the company's cash position were both up about $500 million from a year earlier. Where Amazon seems to have come up short is in media sales growth -- U.S. media sales rose only $600 million year-over-year, and international media sales were up just $100 million, or 3%.
[Read: Amazon Plunges: What Wall Street's Saying]
These are problems, and analysts who turned negative on the stock focused on those problems. But these are problems that are easy to fix with price adjustments.
Amazon got into streaming media through Prime, a $79-a-year service that also includes discounts on shipping of Amazon products. Most Amazon media is not included in Prime, although movies can be rented over several days for just a few dollars, meaning they can also be watched offline.
The company talked in its conference call about raising the price of Prime by $20 to $40 a year. It could also separate streaming from shipping. Netflix (NFLX) - Get Netflix, Inc. Report, at $8 a month, is a $96 a year product.
[Read: We're in the Table Age; Microsoft Is in the Stone Age]
Amazon Prime Plus at the same price point, with shipping at another price point, is a huge win, and many customers will pay it gladly. Plus there's that offline rental income, and direct sales of media files, which competitors don't offer.
The point is that Amazon has an enormous base of customers and enormous pricing flexibility. It can add more products to a bundled streaming service, create different types of bundles and use the same feedback loop Netflix has to respond to changing customer tastes.
Another important point are capital expenses. Amazon increased its invested capital by 41% during the year, adding $4.5 billion to its total. That is less than the $5.48 billion in operating cash flow it reported for the period. Amazon is still a capital juggernaut with no need to borrow -- total long-term debt rose just $100 million during the year to $3.2 billion.
Left unremarked in the sales numbers was Amazon's first $1 billion quarter for its Amazon Web Services, the cloud rental operation listed under "other" in the income statement. For the full year, there was "other" income of $3.72 billion, up 58% from the year before.
Even if you take a conservative valuation, that's $18 billion in equity you can attribute directly to cloud, and with a growth rate almost double the rest of the company's. The other $71 billion in sales is thus worth about $150 billion to investors, which is high but increasingly higher-profit digital rather than lower-profit merchandise.
Amazon remains the dominant rented cloud platform, and it continually cuts its prices to maintain that advantage. It is killing older technology companies such as IBM (IBM) - Get International Business Machines Corporation Report and Microsoft (MSFT) - Get Microsoft Corporation Report with this strategy.
I didn't buy Amazon's stock as a speculation this time. Momentum investors are notoriously fickle. Their quick trigger could cause the stock to go lower, and over time the stock will be evaluated more conventionally, based on metrics such as price-to-earnings ratios. It could fall from here, and I could get more stock at a lower price.
But I think it will justify an investment at its current price.
Before the latest quarter, you really couldn't calculate such a thing as a P/E for Amazon. It never made enough to make the calculation relevant. Everything was based on growth. But now we do see a profit, and I have confidence the company can turn on the profit spigot practically at will.
[Read: Super Bowl Ticket Prices Take a Quarterback Slide]
This is still an aggressive growth company, in other words, a high-cap tech stock moving from an insane valuation to something approaching sanity.
It still has enormous room to grow, especially internationally, and the "problems" sellers found in the numbers can be easily fixed. Sales are still lower than for Target (TGT) - Get Target Corporation Report, Costco (COST) - Get Costco Wholesale Corporation Report and Kroger (KR) - Get Kroger Co. Report, and still less than one-sixth those of Wal-Mart (WMT) - Get Walmart Inc. Report.
Amazon is becoming an investment.
At the time of publication the author owned shares of Amazon and Costco. 
This article represents the opinion of a contributor and not necessarily that of TheStreet or its editorial staff.