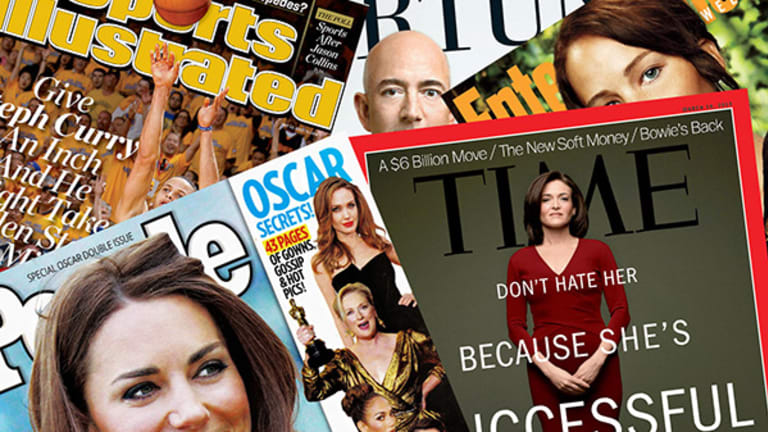 Time Inc. Shakes Up Leadership to Bolster Advertising Sales
The legacy print magazine company announced changes to its advertising, brand development and editorial groups.
The legacy print magazine company announced changes to its advertising, brand development and editorial groups.
Time Inc. (TIME) editorial leadership is getting a shakeup.
The New York-based media company, which owns People, Sports Illustrated and its flagship Time magazine, said it was reorganizing its advertising sales teams across its publications and digital operations to boost sales and trim costs.
Time's national sales, marketing and development teams will report to Mark Ford, the company's chief revenue officer for global advertising, the company said in a statement. On the editorial side, Time said Alan Murray, editor of Fortune, another Time publication, would replace Norman Pearlstine, the former Bloomberg and Dow Jones executive, as the company's chief content officer.
"Under Alan's leadership, Time Inc. will maintain its commitment to quality journalism and storytelling," Time CEO Joe Ripp said in the statement. Murray, formerly the deputy managing editor of the Wall Street Journal, will be charged with growing usership on its magazines' mobile, social and video platforms, Ripp said.
All U.S. editors will report to Murray who will remain as Fortune's editor until a successor is named.
The changes across the company's advertising and editorial departments mark Ripp's latest effort to remake the company to better appeal to digital advertisers and become less reliant on print advertising sales, which have been steadily declining.
Reversing an overal decline in revenue has been a struggle for the company which was spun-off from Time Warner (TWX) in 2014. Revenue grew 1% in the first quarter, marking the first quarterly sales increase in in six quarters.
Digital advertising revenue inthe quarter jumped 23% to $90 million while print and other ad-revenue categories dropped 4% to $270 million. Circulation sales dropped 5% to $238 million in the quarter ended March 30 amid a 12% decline in newsstand sales.
Murray is tasked with growing the digital side of the legacy print publishing company. About 20% of its ad revenue currently comes from digital sales, the company said in May, 2015. Shares in Time rose 6 cents in morning trading to $16.69 per share, adding to its six-month rebound of about 25%.
Time recently introduced a video app called Instant, which covers the lives of new and upcoming social media stars, and another from Sports Illustrated called Play, which debuted in June. Both are aimed at younger audiences.
In February, Time said it would acquire marketing platform Viant and in October acquired HelloGiggles.com, the lifestyle site run by actress Zooey Deschanel. However, the company said yesterday it was shuttering web site's editorial offices in New York and recently laid off staff members prior the restructuring, according to MinOnline.
Pearlstine will remain the company's vice-chairman. Time is scheduled to report its second-quarter earnings on Aug. 4.