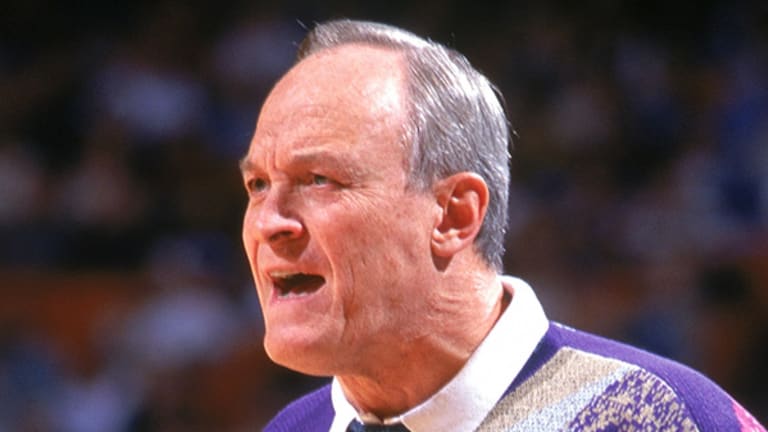 Time for Nike and Under Armour to Pay College Athletes
Adidas and Reebok have moral obligation to the NCAA players they sponsor.
NEW YORK (TheStreet) -- In the cover article for The Atlantic Monthly from October 2011, "The Shame of College Sports," it is detailed how Sonny Vaccaro, who has worked for Nike (NKE) - Get NIKE, Inc. Class B Report and Adidas (ADS) - Get Alliance Data Systems Corporation Report, used the allure of big bucks to force university heads to allow for sponsor advertising. As Vaccaro put it directly to many in a meeting, "We want to put our materials on the bodies of your athletes, and the best way to do that is to buy your school. Or buy your coach." It has worked well for Nike, Under Armour (UA) - Get Under Armour, Inc. Class C Report, and the others.
Now it is time for Nike, Under Armour, Adidas, and others to do the right thing and pay the college athletes, rather than just buying the coach or the school.
It is difficult to think of a more inequitable system involving billions in revenue with millions going to coaches than having players who do not have the money to go to the movies or take a bus home to visit their parents, according to Don Curtis, a trustee for the University of North Carolina. In the words of Dale Brown, who used to coach basketball at Louisiana State University, where Shaquille O'Neal and Pistol "Pete" Maravich played, "Look at the money we make off predominantly poor black kids. We're the whoremasters."
Events are moving in the right direction for college athletes being paid and Nike, Reebok, Under Armour should get out in front.
A multi-million settlement was just announced for video game proceeds. The Ed O'Bannon case, an anti-trust lawsuit against the NCAA by a former UCLA basketball player for use of images, is moving forward. In that matter, University of San Francisco economist Daniel Rascher testified that football and basketball players could make hundreds of thousands of dollars, if not more, over their college career if paid based on a percentage of revenues like those in the pros (NFL players get 55%).
Nike, Under Armour and Adidas should escrow a large percentage of the millions that go to schools until players are allowed to receive payments, preferably in the form of contributions for an annuity, retirement plan or trustee account for future expenses like buying a home. Coaches such as Steve Spurrier at the University of South Carolina have advocated paying their players. As the chart below shows, there is plenty of money to go around at many schools:
| | | | | |
| --- | --- | --- | --- | --- |
| School | Sponsor | Amount | Football Coach Total Pay | Football Staff Pay Total |
| University of Michigan | Adidas | $6 million, plus $6.5 million signing bonus | $4.154 million | $3.072 million |
| University of Texas | Nike | $5.76 million | $5.45 million | $4.11 million |
| Florida State | Nike | $4.2 million | $2.75 million | $2.874 million |
| Auburn | Under Armour | $4.2 million | $2.44 million | $3.495 million |
| University of South Carolina | Under Armour | $3.1 million | $3.32 million | $2.744 million |
Sources: USA Today for coach compensation; different sources for sponsor compensation.
Just as Under Armour and other companies have an obligation to make sure that workers are treated well in their factories, it is the same with the players at the schools they sponsor. But as a cover article on Bloomberg Businessweek for March 3-9 2014, "No Class," reported, that is not happening at the University of North Carolina. That piece focused on forged signatures, changed grades and "phony courses" at Chapel Hill. Obviously that degrades the value of the "education" received at UNC.  That is undoubtedly the case with many other schools. CNN had a show earlier this year based on an investigation with the title, "Some College Athletes Play Like Adults, Read Like 5th Graders."
Escrowing money to pay players will not address the myriad of ways that these teenage athletes are mistreated by adults who should know better.
But it will allow for savings for retirement, buying a home, and other future expenses. Under Armour, Nike, and others are great companies who have done much to upgrade college athletics in the United States. Paying the players will do even more to allow for a higher quality of life for those whom the fans come to root for and watch perform.
8 Big League Team Owners Employing World Cup Talent
Kraft, Kellogg, Hershey and Mondelez Whet Appetite for Food Stocks
Jonathan Yates does not have a position in any of the stocks mentioned in this article.
This article represents the opinion of a contributor and not necessarily that of TheStreet or its editorial staff.