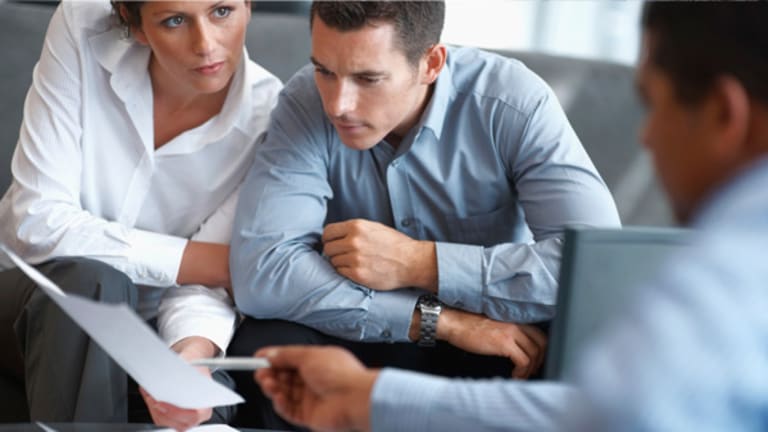 Time for Gay CEOs to Take a Stand: Opinion
Following the National Hockey League's lead, high-profile names could help break down the stigma attached to homosexuality.
NEW YORK (TheStreet) -- Ever since Felix Salmon wrote about Apple (AAPL) CEO Tim Cook's sexuality for Reuters last year, I have been thinking about the subject.
Salmon framed Cook's homosexuality as common knowledge in Silicon Valley. Cook himself has never spoken about it publicly.
Editor's Note: At the time of publication, the original blog by Salmon is inaccessible due to technical issues at Reuters Opinion Web site. A good summary can be found at The Advocate.
The article hit about a year after the death of Toronto Maple Leafs General Manager Brian Burke's son, Brendan. Brendan died in a car accident shortly after coming out in a very public way.
A hockey guy from a hockey family put himself out there -- big time. That remains, by and large, unprecedented in sports.
Though Brendan never played in the National Hockey League, he has strong ties to the sport at several levels. In particular, hockey people know his Dad, Brian, as a no-nonsense, tough-as-nails Irish American. When Brendan appeared on national television to discuss the issue, Brian was right there next to him. As a member of this collective called humanity, I felt pride and had hope for society while watching the elder Burke stand by his son.
But he did not stop there. As this excellent
explains, Burke has become an advocate for open, no-strings-attached acceptance of gay athletes. He participated in Toronto's gay pride parade this year. He regularly speaks to colleges, youth groups and other entities.
Brendan's death led his brother, Patrick, a scout in the Philadelphia Flyers organization, to conceive the
You Can Play
project. Since its formation, Patrick has enlisted the support of the NHL, all of its franchises and a whole host of its most high-profile players. Promotional announcements air online and during NHL telecasts.
Brendan didn't have to do it, but he assumed a massive responsibility when he came out. Simply put, he answered the call.
After he died, his father and brother carried the torch for their son. Both men took on considerable personal and professional risk, but, as Brian Burke explained, he felt like it was something he needed to do.
He told
GQ
that he's not very good at being an activist. He doesn't have the same "poise and natural charm" that Brendan possessed:
I'm very proud of Brendan. If I had to pick, I would have picked him to go second. Let someone else go first. It's not the message that he has, which is a wonderful one, but pioneers are often misunderstood. You don't wish this on your son. You wish that someone else carries that burden first, but this is what he wanted to do, and we support him.... It takes a lot of jam to take this step. He's obviously a fearless kid. But he's a real bright kid and a sweet kid, and I'm very proud of him.
At day's end, as uncomfortable as he might feel being a spokesman for a cause, Brian is just doing what he feels he needs to do. As the
GQ
writer Mary Rogan put, Brian felt had no choice but to "go second."
The Burke story continues to move me. Salmon's coverage of Cook, which received considerable criticism from people who felt it was irrelevant, reignited the emotion. Over the weekend, an openly gay Silicon Valley entrepreneur, Scott Allison, the founder and CEO of startup
teamly
, wrote a fantastic piece for
Forbes
,
Gay in Silicon Valley: A Founder's Perspective
.
In it, Allison wrote:
... even if you're straight, sexuality should matter to you too. If you want to really know me then you need to know a major part of my identity. Being gay isn't the same as being straight ...
In a work context it's awkward. People always assume you're straight, and there's never an ideal time to come out to new work colleagues or acquaintances ...
... In the whole of the Fortune 1000 there isn't a single openly gay CEO. It's a shame there's so few role models for young gay entrepreneurs.
And, with few exceptions, the media refuses to broach the subject.
In "Don't Ignore Tim Cook's Sexuality," Salmon argues that the media subscribes to an unofficial "don't ask, don't tell" policy that only serves to further the stigma associated with homosexuality:
Keeping his referring to Tim Cook sexuality a secret is no longer an option. And so the press shouldn't treat it as though it's something to be avoided at all costs. There's no ethical dilemma when it comes to reporting on Cook's sexuality: rather, the ethical dilemma comes in not reporting it ...
So incredibly well-stated.
I'll take Allison and Salmon's statements a step further. If Tim Cook, or somebody of the same or similar status, discloses their sexuality publicly, they save lives.
I'm convinced Brendan, Brian and Patrick Burke and the You Can Play project has done just that. They bring hope and support to young hockey players across Canada and the U.S. who struggle with playing the sport as gay men (and women) in small towns to large cities across North America.
The Moral Dilemma
That raises the question: Do gay CEOs have an obligation to come out?
In sports, Brendan Burke didn't ask for the responsibility. Neither did Brian or Patrick. They flat took it on. Imagine the global impact of a Tim Cook doing likewise.
As strongly as I feel about the subject, I'm just as uneasy.
I'm not gay. I don't know how it feels to be in a gay hockey player's or a gay CEO's shoes. All I can do is try to relate with the old standard (but true) lines, such as
I have tons of gay friends
. In fact, our very best friends are a lesbian couple raising three wonderful children in the Bay Area. That association, of course, does not give me the right to assign responsibility to another human being.
I do not know the circumstances of another person's decision to come out or not come out, to be an activist or to keep quiet.
That said, it's a worthy debate. And, with no fear whatsoever of melodrama, I submit that lives are on the line. That's not hyperbole; that's just the unfortunate reality of the world we live in.
Amazon.com
(AMZN)
CEO Jeff Bezos, who, as far as I know, is straight, recently upped the ante. He and his wife donated $2.5 million to a political campaign fighting for marriage equality in Washington State. He doesn't appear concerned that this will impact Amazon's business. Bezos wasn't available for comment, but, I presume he just thought it was the right thing to do.
Again, it's easy for a straight guy to feel that way. But, without a greater number of high-profile names from across the gay community putting themselves out there, the question of who is and who isn't might never become irrelevant. You can't break down barriers by playing it safe and keeping your mouth shut.
At the time of publication, the author held no positions in any of the stocks mentioned in this article
.
This article is commentary by an independent contributor, separate from TheStreet's regular news coverage.
Rocco Pendola is a private investor with nearly 20 years experience in various forms of media, ranging from radio to print. His work has appeared in academic journals as well as dozens of online and offline publications. He uses his broad experience to help inform his coverage of the stock market, primarily in the technology, Internet and new media spaces. He has taken a long-term approach to investing, focusing on dividend-paying stocks, since he opened his first account as a teenager. Pendola, 37, is based in Santa Monica, Calif., where he lives with his wife and child.