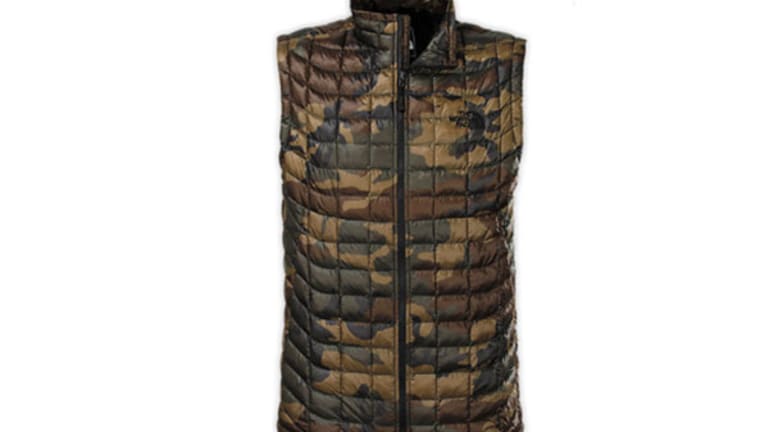 Timberland Owner VF Corp. Is 'Looking Hard' for More Acquisitions
VF Corp just reported earnings, but the company may be about to make a big splash via an acquisition. Brian Sozzi talks with VF Corp.'s CFO Bob Shearer.
NEW YORK (TheStreet) -- VF Corp. (VFC) - Get V.F. Corporation Report announced relatively strong third-quarter earnings and full-year guidance on Monday amid of sea of warnings from retailers in recent weeks, headlined by dismal accounts by J.C. Penney (JCP) - Get J. C. Penney Company, Inc. Report and Walmart (WMT) - Get Walmart Inc. Report . To keep the good times rolling, the owner of Timberland and North Face brands may be on the verge of making a splash via a major acquisition.
"We're very active on the M&A front, that we can tell you for sure," said VF Corp. senior vice president and CFO Robert Shearer in an interview with TheStreet. He added, "even though we haven't had a lot to show for it since Timberland, that was a particularly big one, we have been very active on the looking part."
VF Corp. completed its $2 billion acquisition of boot and apparel maker Timberland in September 2011, and has since completely rebooted the brand once known only for a yellow boot worn by hip-hop stars. Amongst the laundry list of things done to Timberland post acquisition, VF Corp. has more selectively shipped Timberland products to retail partners to boost average unit retail prices and improved the shopping environment at the brand's retail stores. Further, Timberland is simply releasing better product, a seen in its Earthkeepers boot line made from recycled and sustainable materials.
Timberland revenue in the third-quarter rose 15%, led by a 22% surge in the Americas division. VF Corp. increased the brand's revenue growth outlook for this year to 13% from 12% previously.
VF Corp. appears to be inclined to staying within its higher margin outdoor and actions sports division to add its next acquisition. "Most of our hunting is done in the outdoor and action sports space, it's where we have a lot of experience, and we've had a lot of success," said Shearer.
The actual criteria is finer than that, as Shearer said, "we don't look for a brand that doubles up our business or goes head to head with North Face today." According to Shearer, VF Corp. "looks for complimentary brands" that could "reach new consumers" and that stand to bring the company into a "different channel of distribution."
Shearer did not divulge specific product categories of interest. VF Corp. chairman and CEO Eric Wiseman stated back on the second-quarter earnings call in July that "our interest in footwear is obviously growing."
But not all acquisitions have to be huge to be transformative. A small purchase that bolsters capabilities in technology and social media could also be in the cards. "We could do an acquisition that would bring a capability to us that we don't currently have; it would be to leverage the skillsets against our existing brands," noted Shearer. Ultimately, VF Corp. is "looking hard" on the acquisition front, according to Shearer.
Meanwhile, VF Corp.'s imagewear segment, 50% of which provides uniforms and career occupational apparel for private and government workers in North America and internationally, has been growing. The brands sold are Red Kap, Bulwark and Horace Small brands. According to VF Corp.'s 2013 10-K Securities and Exchange Commission filing, revenues in the segment are, "significantly correlated with the overall level of manufacturing and oil and gas industry employment in the U.S."
Although the company has won new business in the segment, and "had really nice growth in this last quarter," investors should take heart in Shearer's comments regarding the underlying business. "The current business is in line to overall economic trends."
Must Read:Dunkin' Donuts Chief Innovation Officer: 'We Are Rolling Out Steak'