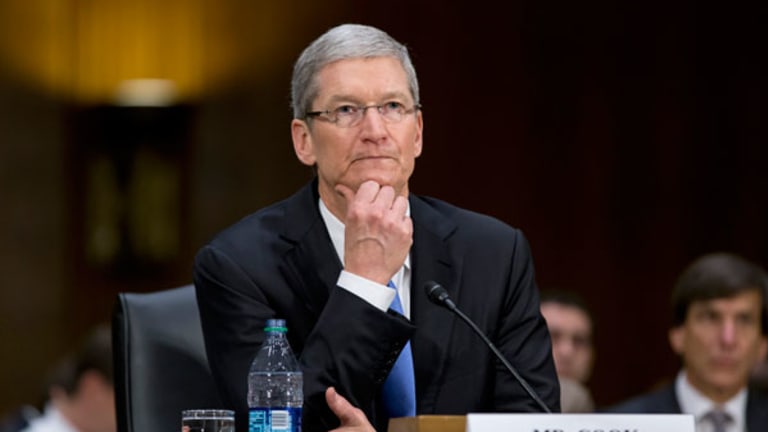 Publish date:
Tim Cook Should Tell Congress to Kiss His Ass
To the extent that Senators should take advice from Cook, Tuesday's hearing on taxes wasn't a complete waste of our everybody's time.
To the extent that Senators should take advice from Cook, Tuesday's hearing on taxes wasn't a complete waste of our everybody's time.
NEW YORK (TheStreet) -- The spectacle on Capitol Hill Tuesday highlights, first and foremost, what's wrong with our country and, secondarily, what's wrong with Apple (AAPL) - Get Report.
Second point first. There's no question Tim Cook is killing it in front of that Senate panel. In so many words, he
is
telling legislators to kiss his ass. I applaud him for that.
Meantime,
Microsoft
(MSFT) - Get Report
unveiled its next generation Xbox today. It looks pretty impressive. A serious play to take control of the social living room.
That's where the CEO of Apple's focus should be. On products. On hardware. On producing the next big thing. Not preparing to sit in front of a bunch of know-nothings and do-nothings in Washington who should be ashamed of themselves for wasting Cook's, Apple's and the American people's time. If our elected representatives know how to do anything right, it's kill productivity.
Rand Paul, a Republican from Kentucky said it best, via
:
"I'm offended by the spectacle of dragging in Apple executives," said Senator Rand Paul, a Kentucky Republican. "What we need to do is apologize to Apple and compliment them for the job creation they're doing."
Instead of "bullying" Apple executives, Mr. Paul said, "we should have brought in a giant mirror to look at the reflection of Congress. If you want to assign blame, look in the mirror and see who created this mess.
"Apple hasn't broken any laws, yet Apple is forced to sit through a show trial," he said.
When you think about the resources -- time and money -- Washington wastes, it should make you want to cry.
Congress should take some of those minutes and that cash they throw down the drain everyday and give it to homeowners in places such as Moore, Okla., where it's cost-prohibitive to build proper tornado shelters.
But, on a lighter and more important note, leave Apple the hell alone.
Amazon.com
(AMZN) - Get Report
receives similar treatment from government, at the federal and state level.
Here's a company that, along with Apple, creates thousands of jobs and showcases American technology and ingenuity at home, while exporting it around the world, yet politicians go after them.
Should Apple have to adjust its tax and accounting practices because of outdated and poorly conceived laws and regulations? Amazon reinvents the entire retail space -- transforming the way a nation and the world shops -- yet government thinks it's the corporation's responsibility to close budget deficits?
Government at all levels tends to create its own problems. At times during Cook's testimony, it appeared that the panel was asking for advice. Trying to figure out how to run government more like a business. To that extent, I guess Tuesday's spectacle cannot go down as a total waste of time.
--
Written by Rocco Pendola in Santa Monica, Calif.
Rocco Pendola is
TheStreet's
Director of Social Media. Pendola's daily contributions to
TheStreet
frequently appear on
CNBC
and at various top online properties, such as
Forbes
.