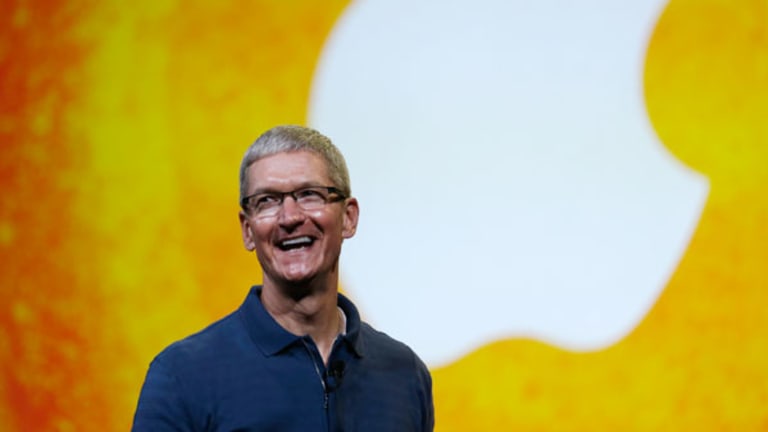 Tim Cook Seeks to Be Apple's Augustus
Apple CEO Tim Cook is taking a bunch of little-noticed steps that could be crucial for the tech giant's continued success.
NEW YORK (
) -- After a territory is conquered, it falls to the conqueror's successor to civilize it, to build institutions around it, to make the new into part of the common fabric.
The best known civilizer was Augustus Caesar, who took the name of the conqueror, Julius Caesar, and made that name a synonym for "emperor" or "king" in many languages, including the Russian "Czar" and the German "Kaiser."
Tim Cook is bidding to be Apple's Augustus Caesar.
Also see: Cramer Greets the 21st Century: Airbnb
When we talk about a "business moat," we're talking about a permanent advantage a business has, which acts the way a moat protected a medieval castle. Moats aren't usually built by conquerors, but by the managers and engineers who follow them into power.
The civilizer is not usually lauded, as the conqueror was, but his or her role is just as important. Tim Cook's role as
Apple
(AAPL) - Get Free Report
CEO is that of a civilizer, an organizer, a manager, someone transforming the market territory Steve Jobs conquered into permanent business advantage.
It's not exciting, it's not sexy, and it doesn't make headlines, but for investors it's just as essential.
Thus Tim Cook has worked to build infrastructure around the success Steve Jobs created and make Apple part of our common business fabric.
Part of that involves building a competitive cloud. Apple's content sales make its iCloud a popular consumer cloud destination, but Strategy Analytics now reports Apple had 27% of the "cloud media" market last fall, nearly twice the share of
Amazon.Com
(AMZN) - Get Free Report
.
in publishing a
Strategy Analytics
press release, describing a six-month old study that company is now sharing with the press via its email list.
To serve that traffic, Cook has Apple investing in renewable energy, an idea pioneered by
Google
(GOOG) - Get Free Report
.
its aims to make its North Carolina facility independent of the local electrical grid. The company is three-quarters of the way there, so more investment is coming.
Also see: 10 Ways Your Credit Can Betray You
And what's the biggest issue on the cloud? It's security. Apple's market share is giving it the same security vulnerabilities that plagued
Microsoft
(MSFT) - Get Free Report
for a decade, and Apple's response is being carefully measured by enterprise buyers.
Thus, Apple support is rolling out
a two-step authentication process
, in which a password gets a verification code sent to a separate preregistered device, and thieves can't get in simply by stealing the password.
The change had to be rolled out carefully, because the old system was already being exploited. To assure this would be seamless, Apple temporarily took its
off line.
The security problem was a test, not only of Apple's own security but of its systems for reporting on problems, dealing with the media and keeping it all quiet. The fact that this story didn't go far beyond the trade press confirms Apple's success.
The most important thing Apple can do to make itself an institution is to crack the enterprise market. Consumers can change their preferences on a whim, but businesses have to plan for change, and the "bring your own device" concept, with employees now using their iPhones regularly for work, is a beachhead Apple must exploit to make its success permanent.
Also see: 7 Things You Should Be Doing to Live to 100
Apple has been quietly building its enterprise credibility with security, business apps, and an iOS developer program
is aimed directly at the enterprise. It doesn't get reported in the news, there aren't even press releases on it, but it's vital to Apple's future success that the enterprise beachhead be secured.
All of these quiet steps, launched across a broad front, don't make headlines the way having an entrepreneur standing in front of a room, holding a cool new device shown as "just one more thing," makes headlines.
They're not the kinds of moves a driven market conqueror like Steve Jobs would make. They're the moves a civilizer would make, someone who makes market gains permanent. There have been stories about this since 2011, soon after Cook took over, but they largely went unnoticed because they're just not exciting.
Not exciting to reporters, perhaps. Not exciting to consumers, certainly. But exciting to business, and exciting to investors? They should be.
At the time of publication, the author was long AAPL.
This article is commentary by an independent contributor, separate from TheStreet's regular news coverage.