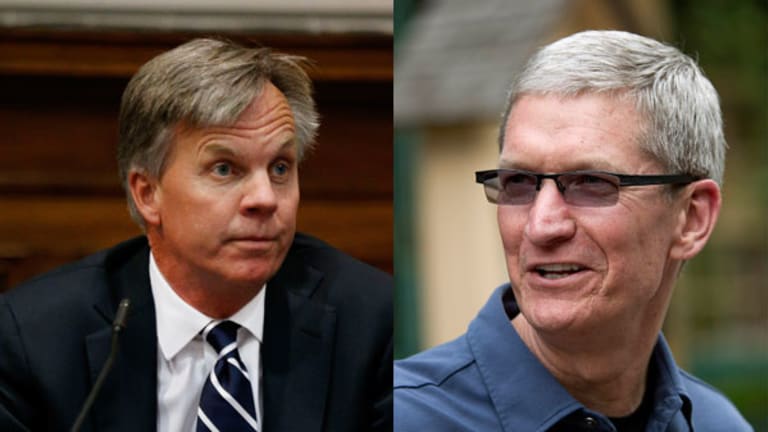 Tim Cook Must Go, He's No Better Than Ron Johnson
If you examine the facts of the past six months, it's clear Tim Cook is only slightly more competent than Ron Johnson.
NEW YORK (TheStreet) -- Critics from the peanut gallery of emotion will claim this article hits to coincide with Apple's (AAPL) plunge below $400. From a symbolic standpoint, maybe so, but I have been weaving parts of this narrative together for months.
Skim this article from March 13, 2013 --
Tim Cook Might Have Made an Absolutely Devastating Mistake
. It hammers home the core of the thesis AAPL bears chose and choose to ignore. On
Page Two
, it links to two more key pieces that do what few others are willing to do. Call into question the decision to consummate and continue Tim Cook's tenure as Apple CEO.
October 1, 2012: If Steve Jobs Were Alive He Would Fire Tim Cook
CNBC
made a big deal about that one:
And then ...
February 25, 2013: How What David Einhorn Is Doing Foreshadows the Beginning of the End at Apple
In isolation -- in the emotional vacuum that is part and parcel with being hyper-bullish a battleground stock -- the things I bring up in the above-linked articles and
CNBC
video feel insignificant. In and of themselves, Tim Cook's missteps appear benign.
Capitulating to the public on how to allocate capital. Butchering the release of Apple Maps. Allowing people such as David Einhorn to control the conversation that surrounds Apple. Ending the incredibly effective practice of sandbagging guidance. No big deal on their own. Put them together, however, and you look back on each as signs that Tim Cook got in over his head and might ultimately beat Apple into the ground.
When you think about it -- how is the situation with Cook at Apple any different than what went down with Ron Johnson at
J.C. Penney
(JCP)
?
There's one significant difference: Johnson took over a mess, whereas Cook inherited a company firing on all cylinders. The trajectory of the two names, by and large, has been about the same. Of course, relative to JCP, AAPL enjoys a slight bit of cushion.
data by
But there are so many similarities.
Apple and J.C. Penney hired men who performed admirably under Steve Jobs. Both boards of directors went all-in, convinced that Cook and Johnson delivered true unfiltered results. At this point, however, it's all but an objective statement of fact -- these cats enjoyed the rare thrill of riding shotgun with Steve Jobs.
Take his orders. Implement his vision. Focus on your strengths as managers and MBAs. He will make you better. More people can get that admittedly difficult and high-level job done than the chosen few who can lead one epic organization without missing a beat or another in need of wholesale transformation.
While I still hold out hope that Apple has real innovation up its sleeve
, I'm losing hope. Tim Cook has done absolutely nothing to prove he has any idea how to run Apple in the aftermath of Jobs's death. It's one thing to have a blueprint left behind by the man, it's entirely another to be able to implement and execute it.
It wasn't broke. Tim Cook tried to fix it.
Now it looks as if he might be screwed
.
--
Written by Rocco Pendola in Santa Monica, Calif.
Rocco Pendola is
TheStreet's
Director of Social Media. Pendola's daily contributions to
TheStreet
frequently appear on
CNBC
and at various top online properties, such as
Forbes
.