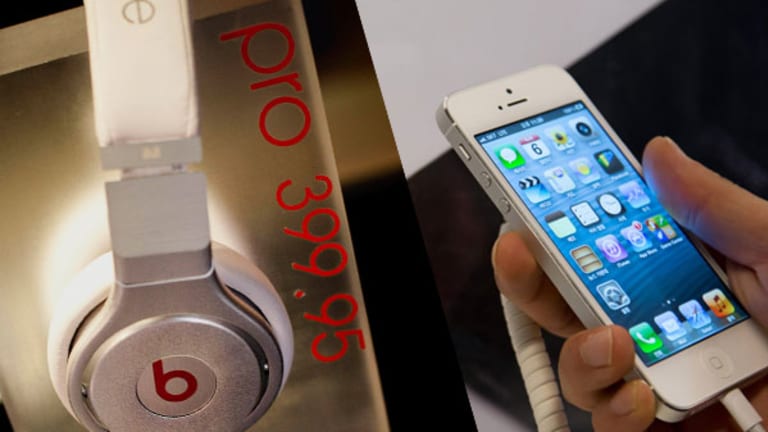 Tim Cook Just Took Apple Away From Steve Jobs
With the Apple, Beats deal done, Cook will execute Apple's digital music strategy, getting it right where Jobs got it wrong.
NEW YORK (TheStreet) -- With the Apple (AAPL) - Get Apple Inc. Report/Beats Electronics deal done, there's not much new to report.
It comes as no surprise to me, however, that the official press release focused on music. Because that's what this deal is all about -- music. The power of music.
Apple CEO Tim Cook took the words right out of my mouth (or one of my previous articles!) when he said:
Music is such an important part of all of our lives and holds a special place within our hearts at Apple ... Thats why we have kept investing in music and are bringing together these extraordinary teams so we can continue to create the most innovative music products and services in the world.
Outside of a formal mention or two, Apple pushed the fact that Beats makes headphones to the end of the press release. That's telling. It was all about the music as a sales and marketing driver across devices and platforms inside and outside of Apple (if you read critically between the lines or have read my work on the matter).
In the week-old, but still quite cognitively fresh Apple Can't Lose Unless It Beats Itself, I make it clear ... music provided the primary impetus for this deal:
... as I have pieced it together via my own noodling as well as on-the-record conversations with people in the know and off-the-record winks and nods with other people also in the know ...
... Beats pitched Apple on its view of the world, particularly as it pertains to music. And Apple bought it. Expect Apple to hyper focus on being that central spot on the Web for musicians to locate and build their brands. And, in typical Steve Jobs-fashion, expect Apple to bring people what they want (the value of subscription-based streaming) before they know they want it ...
... While I'm skeptical that Beats Music can succeed as positioned -- even inside Apple -- I'm impressed not merely that they want to try, but how deeply they believe in the righteousness of what they're doing ... I'm impressed that Apple, as it seems to me, wants to give Beats Music the opportunity to realize its vision. That says a lot about Tim Cook, who appears, at least in this regard, to be every bit the dreamer as Steve Jobs.
And Beats will be better off inside Apple, particularly if Apple gives it the resources it needs alongside some breathing room. Beats Music can lose money under Apple and it won't matter because it will be subsidized by Apple. Like a coach who faces the media for his players, Apple will provide cover for Beats Music. It will be part of Apple's larger ecosystem strategy, which provides both the aforementioned cover and opportunity.
I wrote that a week ago. With the deal official and the press release printed and minted, my thesis of music as the almost sole catalyst for the Apple-Beats deal will become the central theme. Tim Cook said as much. And I am 100% behind his vision. It's not merely about hiring Jimmy Iovine and Dr. Dre. Apple didn't have to spend $3 billion to do that. It's about buying the people and buying the vision. A vision that Apple not only bought, but believes in. High-margin headphones that talk and walk like Apple's beautiful devices make the deal even sweeter. 
Pandora (P) should lock in the price on a cemetery plot while it's low. Apple just annihilated that company. But it's so much more than knocking off a Pandora ripe for the picking. It's much, much bigger than that now. Much more profound, wide-ranging and all-encompassing.
Apple is Tim Cook's company now. Apple will reinvigorate the music industry and take dominant ownership of the digital space. And it will have been accomplished on Tim Cook's watch, not as a leftover of Steve Jobs's regime. As much as Jobs loved Apple, I have to think he'll be happy watching these events unfold. He won't roll, he'll dance in his grave as he officially hands the symbolic reigns of control to Cook. Finally.
--Written by Rocco Pendola in Santa Monica, Calif.
>>Read More: Apple and Tim Cook Critics: It's Time to Shut Up
>>Read More: The Seven Deadly Sins of Biotech Investing
>>Read More: Palo Alto Networks Is Too Good to Be Left Alone

WATCH: More tech videos on TheStreet TV | More videos from Ruben Ramirez
Rocco Pendola is a full-time columnist for
TheStreet
. He lives in Santa Monica. Disclosure: TheStreet's editorial policy prohibits staff editors, reporters and analysts from holding positions in any individual stocks.