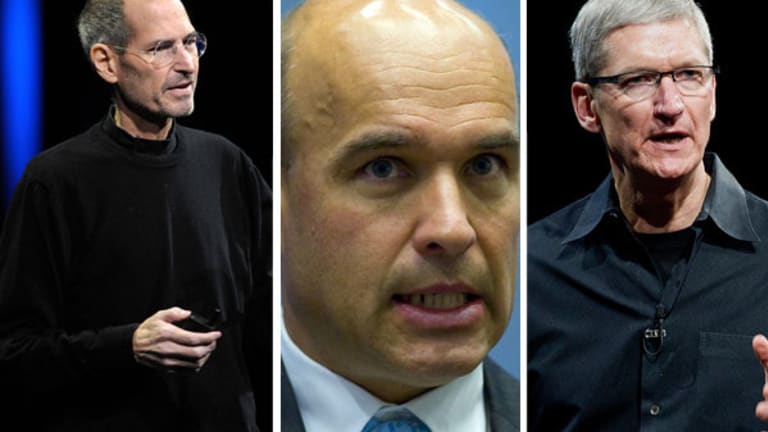 Tim Cook Is Not Steve Jobs, He's Jim Balsillie
We don't need to know exactly what's coming from Apple, we just need to know that something is actually coming.
NEW YORK (TheStreet) -- In "The unbearable lightness of what Tim Cook says," Fortune's Adam Lashinsky nicely summarizes what makes many of us uneasy about Apple (AAPL) - Get Free Report:
It is a strange sight to see the CEO of Apple, a company known for its brilliance and vision, decline over and over to discuss just about anything in any detail. It was the second year in a row Cook opened the prestigious AllthingsD conference and the second year in a row he divulged precious little about what is going on at Apple.
But then, Lashinsky takes a step back:
What frustrates about Tim Cook is that while Steve Jobs was every bit as persnickety about revealing Apple's product plans -- hell, Jobs was downright untruthful about Apple's plans -- Jobs would say darn interesting things in the process. Cook, on the other hand, is completely confident in his ability to out-wait his inquisitors because he, after all, presumably knows what's coming. He also seems perfectly content with the knowledge that this isn't about him, despite the world's great desire to make it so.
Also see: Apple: Keep Tim Cook's Feet to the Fire >>
While I will always maintain that Lashinsky wrote
on Apple, we part ways when he chalks Cook's "misdirection or perhaps delusion" up to the notion that the CEO doesn't want to make it all about himself. By using something other than imprecise language, Cook doesn't make himself the spectacle; he just might, speaking
as
Apple, inspire confidence. You do remember when Apple used to do this on a regular basis, right?
But wait ...
I really don't want Tim Cook to be exactly like Steve Jobs. That said, I don't want the opposite. A CEO who more closely resembles the one-time leader of
the artist formerly known as RIM
-- that's
BlackBerry
undefined
-- James Balsillie. Cook sounded a lot like Balsillie Tuesday night.
Also see: The Digital Skeptic: Best Battery-Powered Car May Be a Bike >>
Contrary to popular meme, most of us really don't care to know the details about what's actually going on at Apple. I don't need specifics. I didn't require them when Jobs was in charge; they're not necessary now. I just want some type of reassurance -- even if it's intangible -- that something really is actually indeed up.
in January 2013 after Apple reported Q42012 earnings:
... tucked into the specifics was a Balsillie-like vagueness from Cook we never would have received from Steve Jobs.
I remember listening to RIM calls where Balsillie imprecisely quantified Blackberry Playbook demand. With fifth grade comprehension skills you could have sniffed out the trouble at RIM. It was apparent. Nobody cared about the Playbook, Balsillie knew it and he was floating overly optimistic and wholly random numbers.
While Apple, as usual, delivered plenty of specifics, Cook's contention that the product pipeline is "chock full" of "incredible stuff" concerns me. I wasn't expecting a product announcement, but I wanted something that inspires confidence. It was great to hear that Apple will not slap its logo on some random product just to generate revenue, but why bring up the "product pipeline" at all if this is all you have to say about it?
Now, four months later, at
All Things D
, we get the same non-speech from Cook.
Something's just not right. Convince yourself otherwise all you want, but even if Cook thinks he has something special coming, the odds of it measuring up, given what came before it, are slim.
--
Written by Rocco Pendola in Santa Monica, Calif.
Rocco Pendola is
TheStreet's
Director of Social Media. Pendola's daily contributions to
TheStreet
frequently appear on
CNBC
and at various top online properties, such as
Forbes
.