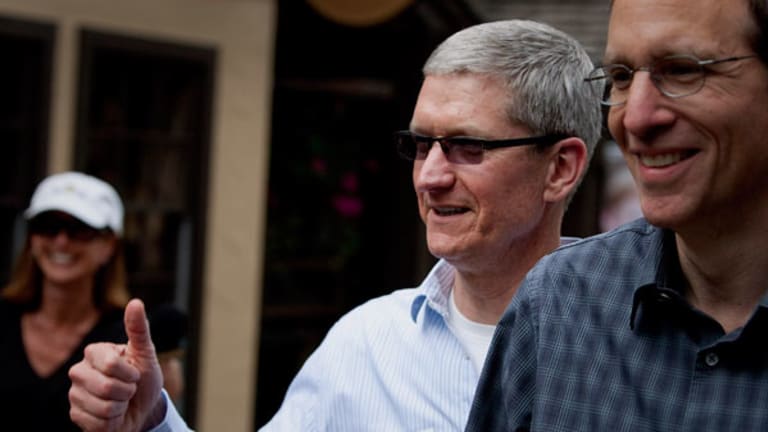 Tim Cook Is Killing Apple
Unless it finds a new, visionary CEO sooner rather than later, Apple risks becoming mediocre ... or worse.
NEW YORK (TheStreet) -- Ad hominem slur notwithstanding, The Fly said it best at his always-entertaining blog, iBankCoin:
FIRE TIMOTHY COOK . . .
After (AAPL) had shed more than $300 BILLION in market cap, Timothy Cook announced "big news" (Tuesday). It wasn't a flashy conference, where he'd unveil a new product, whether it be a teevee or a Dick Tracy styled watch-a bone of sorts to the hounds who follow Apple. Instead, he announced the company would buyback $50 billion worth of its shares, borrowing from the playbook of the incompetent idiots at HPQ ...
This man is an outsized idiot.
While I'm not prepared to call Cook an "idiot," it's within the realm of decency and due respect to label him incompetent as
Apple
(AAPL)
CEO.
Cook continues to urinate on Steve Jobs's grave and slowly run the company Steve built into the ground by barely executing an average strategy dozens of average companies have run through the motions for years. Apple is becoming something that resembles
Microsoft
(MSFT)
. And, if it doesn't
sooner rather than later, it risks turning into
Hewlett-Packard
(HPQ)
.
In recent months, I have made my position clear. Now, my worst long-term fears about Apple's demise appear to be coming true. With Tuesday's earnings release, Cook sheepishly scribbled the writing on the wall.
Also see: Apple Shells Out the Cash: Live Blog Recap >>
But let's be clear about something . . .
In
Apple's Fine Even As It's About to Die
, I took the position I always take: One -- quarterly reports, as independent entities, do not matter; and two -- Apple, in the moment, remains best of breed:
Because, there's no question about it, the sell-off in AAPL, assuming you judge the company on its present dominance, is way overdone. You mean to tell me that the competition is so fierce and formidable that it justifies an implosion in Apple?
No way. For as successful as Samsung and Google (GOOG) have been, they play a completely different game than Apple. They gobble up marketshare; that's not the Apple way, nor should Tim Cook or whoever ends up CEO make it the Apple way.
It doesn't matter to me -- never has -- what Apple's EPS, revenue or margins are. Even when they "miss," they're damn, world-beating good. A decrease in profit . . . who cares? As it stands -- amidst feeble competitive threats -- you cannot beat Apple.
Also see: Facebook Home Has Followers, and Critics >>
However, Apple does not trade on present-day reality, it trades on future concerns. I outlined what I think they are -- ahead of earnings -- in
Here's Why Apple Is Really Screwed
:
Some companies require good managers -- MBAs such as Cook -- to run the show. Others must have a visionary to lead and set tone with the textbook guys taking orders and executing in the background. Apple needs a visionary.
... If Apple believes in the fairy tale that it -- a company that derives about 90% of its revenue from hardware sales -- is a software company, it better start coming through with top-notch software and services.
It's the beautifully designed, premium-quality, intuitive hardware that makes the Apple user experience second to none. The OS and iOS provide the foundation that makes it all tick, however, beyond the broad ecosystem, Apple software and services are run of the mill.
So what did Cook spew on Tuesday's call?
Nothing and everything we expected all at the same time. Apple will
return more cash to shareholders
via a pumped-up dividend and increased buyback. One that -- gasp -- Apple will finance by taking out debt.
This "plan" didn't work the first time.
Doing it harder
certainly will not make it work the second time around. It's akin to Ron Johnson telling us he was doing something new at
JC Penney
(JCP)
when all he really did was pull the same tired and dead tricks out of a failed and beaten down retail tool bag.
Also see: Gastro-Lounge EVR Taps Into Bitcoin Craze >>
Cook continues to sound like Jim Balsillie during
BlackBerry's
undefined
not-quite-as-subtle implosion as he dazzles us with adjectives --
exciting
and
great
-- to describe that which shall only be named "new product categories," "features," "capabilities," "opportunities" and "roadmap(s)."
The imprecision makes me want to vomit as I pound the keys on one of Apple's $3,000 MacBooks. Tim Cook is killing Apple. Yet, shareholders will continue to ask for poison tonic, the seemingly innocent things -- dividends, buybacks, lower prices and larger smartphone screens -- that crush Apple's biggest differentiator . . . its culture.
All the while AAPL permabulls will misdirect anger at powerless messengers in lieu of having an actual impact by joining in on calls for Cook's head.
--
Written by Rocco Pendola in Santa Monica, Calif.
Roberto Pedone, based out of Windermere, Fla., is an independent trader who focuses on stocks, options, futures, commodities and currencies. He is also an outside contributor to Beconequity.com and maintains the website Maddmoney.net, which he sold to Blue Wave Advisors in 2008. Roberto studied International Business at The Milwaukee School of Engineering, and he spent a year overseas studying business in Lubeck, Germany.