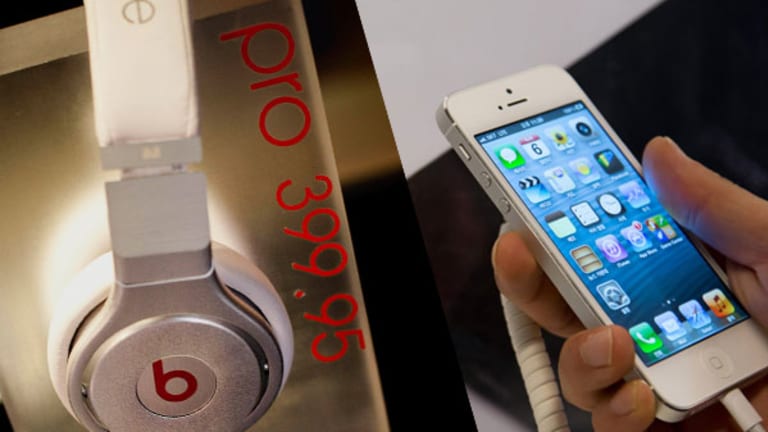 Tim Cook Is a Stinking Genius If Apple Buys Beats
Apple and Beats -- the perfect marriage of strengths and weaknesses.
NEW YORK (TheStreet) -- Nobody can seem to figure out why Apple (AAPL) - Get Free Report would buy Beats, which reinforces two things that have been obvious for a while:
Nobody understands Apple; and
Nobody understands the value of music.
Because we should never deal in absolutes, "nobody" is a poor word choice. So let's just say a lot of people don't understand Apple or the value of music.
Ever since Steve Jobs blew our minds with the iPod, we have seen one end of Apple's trademark white earbuds connected to the device (which morphed into an iPhone) and the other two-pronged end slithered through sleeves, coats and hoodies into people's ears. It's a sure sign of warm weather when these connections aren't quite so concealed -- iPhone in hand with white cord dangling in front of a t-shirt or sheer blouse up to your free and easy wax collectors.
What have people been doing in this pose for the last seven or so years? Listening to music. So you have Apple buying a company that makes stylish high-quality headphones, including earbuds, and runs a struggling on-demand steaming music service. Speaking of struggling ... Apple's struggling in a world where downloads (we might as well now just say) have gone the way of the CD. So they need to ensure that millions of people continue to do what has become ubiquitous -- listen to music via Apple devices -- be it iPhone, iPad or Mac.
Pure obviousness that's lost on the puzzled and confused.
Apple and Beats have lots in common. And they can scratch one another's backs to completion.
First, lots of people say Beats headphones suck. That what they lack in quality they make up for in marketing. That sounds familiar. The truth of the matter is that Beats makes a quality pair of headphones (I own their earbuds and love them) they can charge a style premium for on top of the quality premium. That's not all that different from how Apple prices its high-quality, yet somewhat aspirational products.
So expect Beats headphones -- in some way, shape or form and in some situations -- to replace those white earbuds when you buy an Apple product. But that's mere icing on the cake.
High-margin products meet high-margin products. No-brainer (unless you're puzzled and confused).
Second -- and I'll take my hits on this one -- Beats Music will make Apple's music platform better. Granted, I've been critical of Beats Music. But that all changes under the Apple umbrella. I would assume Apple swallows its pride, ditches iTunes Radio and makes Beats Music the default choice across its ecosystem.
Apple can help Beats clean up its God-awful user interface. And Beats, led by the brilliant Jimmy Iovine, can help Apple navigate a world where downloads are dead and, more importantly, where what you do with the data you collect is more important than doing radio or playing music.
There was a time when I was high on the notion of a streaming service from Beats. It was when the old All Things D interviewed Iovine early last year. The interview, conducted by Walt Mossberg, is well worth your time. But if you're short on time scroll ahead to around the 35:00 mark. You'll hear Iovine discuss what Internet radio can do with data vis-a-vis the music industry.
The stuff Iovine was talking about there extends out to what Tim Westergren of Pandora (P) has been talking about, but barely acting on, since like 2008 (if not earlier). Here's hoping that, as part of Apple, Iovine and Beats build a multi-billion dollar data business that not only helps drive Apple's mobile advertising ambitions, but unleashes the value of music for the benefit of everybody from record labels to musicians to songwriters to major brands.
That's where it's at. In the data. And there's so much more Apple can do with data with Beats. And there's so much more Beats can do with data as part of Apple.
Fantastic move by Tim Cook for reasons few of us have begun to comprehend. But, really, the two reasons I scratched the surface on here are enough to call the man a genius for doing this deal. 
And, as a not-so-aside, if you're a fan of creative endeavors ... this one could be the ultimate creative endeavor. A couple of companies confident about what they're doing, teaming up to accentuate one another's strengths and mitigate their respective weaknesses. That's what M&A should be all about. 
>>Read More: 3 Top Secret Weapons Apple Gets Buying Beats by Dre
>>Read More: Beats Doesn't Make Sense For Apple
>>Read More: Why Apple's Beats Deal Is a Sound Strategy
--Written by Rocco Pendola in Santa Monica, Calif.
Rocco Pendola is a full-time columnist for
TheStreet
. He lives in Santa Monica. Disclosure: TheStreet's editorial policy prohibits staff editors, reporters and analysts from holding positions in any individual stocks.