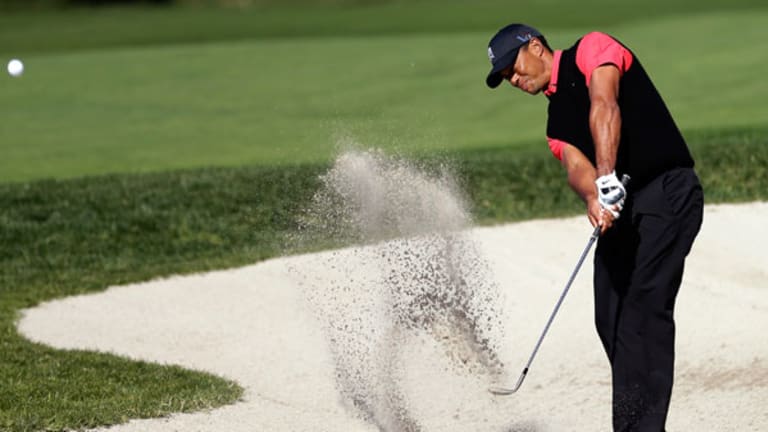 Tiger Woods Gets Raw Deal From Haters
As he gets set to make a run at <I>The Masters</I>, we have yet to give Tiger Woods the benefit of the doubt he deserves.
NEW YORK (TheStreet) -- It's quite fascinating what's happening on Twitter the last couple of days.
There's tons of Tiger Woods hate as he makes a serious go of it at
The Masters
. And there are just as many folks coming to his defense.
But it's not just Twitter. I was in an airport bar Friday night. At JFK. Brits debated the merits and morality of Tiger over light beer (Why come from London and order Bud Light?). Some dude from San Jose started going on about Tiger as a role model. On the streets and on the blogs, we're still questioning whether
Nike
(NKE) - Get NIKE, Inc. Class B Report
made the right move sticking with Woods.
Funny how we don't debate
Oracle's
(ORCL) - Get Oracle Corporation Report
decision to give Marc Hurd a job. And there's nary a public peep from folks at
Best Buy
(BBY) - Get Best Buy Co., Inc. Report
as the company welcomes Richard Schulze back into the fold as some flavor of symbolic board member. And then, of course, there's the ongoing scrutiny of everything
Yahoo!
(YHOO)
CEO Marissa Mayer does.
But I digress from what end up pointless and ignored thoughts over double standards and inconsistencies
vis-a-vis
women's issues in our society.
I want Tiger Woods to win. I like Tiger Woods. Always have. Most likely always will. When (If) he wins, as much as I want him to be as classy as he has ever been, it would be nice to see him combine "the arm" and "the middle finger" right in the camera's "face" after closing the deal on the 18th hole.
Sure, he's apparently a bit of a pervert in the bedroom. He cheated on his wife. He's dating Lindsey Vonn. And, without doubt, like the rest of us, he has plenty of other flaws (not that dating Vonn is a flaw!). For better or worse, when you're in the public eye to the extent Woods is, the intensity, coverage and water cooler debate over the outcomes these flaws help prompt rages beyond any reasonable shelf life and tenor.
There's no context. No look at the man's history. No benefit of the doubt.
I am the same age as Tiger Woods.
I remember when I was 14 years old, my classmate Rocky Casero (that's really his name) told us all about this "kid named Tiger Woods" who "is our age" and is "going to be the best golfer ever."
Relative to the rest of us Rocky was a great golfer in his own right. He was no Tiger Woods, but he loved the game and was damn good for his age. In many ways, golf was Rocky's life.
At times he wasn't available to play after school or on weekends because he was practicing. Like me, working in radio as a teenager, Rocky made some sacrifices for his love of golf. But that was pretty much the extent of it. He was still a regular kid like the rest of us.
He was an awkward teenage boy. He was as uncomfortable being around other awkward boys, naked as we changed for gym class, as any other awkward naked teenage boy. His parents helped facilitate his golf passion, but they never pushed it. There was never really concern over turning Rocky into "the best golfer ever."
You can't say the same for Tiger Woods.
From a very young age -- much younger than 14 -- he had his life's journey prescribed for him. He was going to be "the best golfer ever."
Imagine that type of childhood. And then imagine waking up one day in your 20s or 30s. Maybe you start thinking about this image you have. This image that others, particularly your father, created for you. You need to find ways to break free. To experience being somebody other than Tiger Woods.
The guy who can leave naughty messages for seemingly sex-obsessed women, but get away with it because nobody would really care that some random dude is trying to score in the dirtiest of ways. You know -- or maybe you don't because you have never thought about it this way -- you attempt to create two lives for yourself: Tiger, the buttoned-up and proper golf phenomenon vs. a generic human who can get away with stuff because nobody's looking, mainly because they have no reason to look. It wouldn't be sensational enough if they did.
I'm not making an attempt to justify the things Tiger Woods did. That's not my point. I'm just saying it's not all so simple that we can merely hate the guy and root for him to lose because he made mistakes. A few college-level psychology classes really should provide enough support for my notion that what went on, goes on and will likely continue to occur in Tiger's head is incredibly complicated with a history rooted in a relatively odd childhood.
No matter how you feel about all of that -- assuming you (speaking generally when I say
you
, by the way) actually do think about these matters above some basic level -- Tiger bringing much-needed publicity back to the game of golf should have very little to do with the mindless publicity we (speaking as a
collective
there) like to claim he brought on himself.
-- Written by Rocco Pendola in Santa Monica, Calif.
Rocco Pendola is
TheStreet's
Director of Social Media. Pendola's daily contributions to
TheStreet
frequently appear on
CNBC
and at various top online properties, such as
Forbes
.