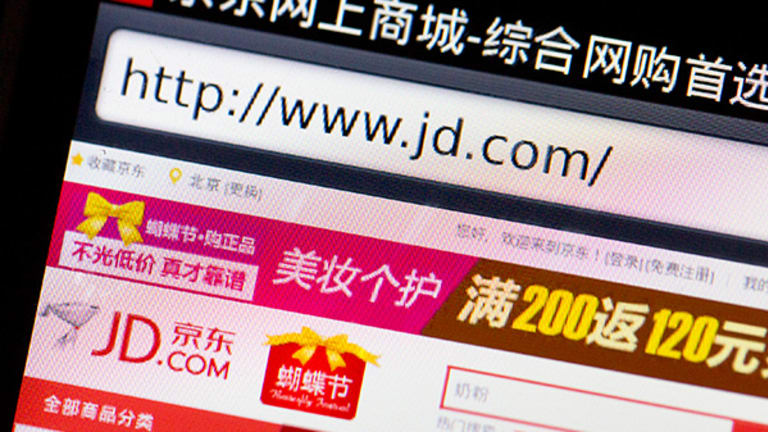 Tiger Global Likes These 5 China Tech Stocks
If there's one angle Tiger Global Management knows how to play, it's technology -- perhaps especially in China.
NEW YORK ( TheStreet) -- If there's one angle Tiger Global Management knows how to play, it's technology -- perhaps especially in China.
Tiger Global got a foot in the door early on Alibaba (BABA) - Get Report, investing $200 million in the e-commerce company before its IPO. In 2014, its investment in VipShop (VIPS) - Get Reportproved one of its top picks of the year, with the stock gaining more than 120% for the year through October alone.
In its first-quarter letter to investors, reported by ValueWalk, Tiger Global outlined its enthusiasm surrounding the Chinese tech market, especially in the realm of e-commerce. "Between 2014 and 2022, we expect Chinese e-commerce penetration to roughly double from 20% to 40%, implying an addressable market size of approximately $1.3 trillion in 2022," the firm wrote.
A management shakeup has put Tiger Global in the headlines recently, as firm founder Chase Coleman told investors in a letter Monday that two of its partners, Feroz Dewan and Caleb Watts, plan to leave in June. He also said Tiger would be combining its two long-only funds, merging its Internet Opportunities fund, launched at the start of the year, with its Long Opportunities fund.
Changes and reorganization aside, Tiger Global has an investment portfolio worth noting -- perhaps especially when it comes to the Chinese tech companies it's betting on. Here's a look at five of them.
JD.com

Tiger Global likes JD.com (JD) - Get Report, which just edged out MasterCard (MA) - Get Report as its top stake in the first quarter. The firm increased its stake in China's second-largest e-commerce business from 5.1 million shares at the end of the fourth quarter of 2014 to 20.9 million shares at the end of the first quarter. As of March 31, the position is valued at $614.7 million.
Tiger dedicated a significant portion of its first-quarter letter to JD.com, which it believes is positioned to "retail leapfrogging" in emerging markets. "While the stock has performed well and expectations have risen, we continue to believe that JD is attractively valued over the long term and well-positioned within a large and growing e-commerce market," Tiger wrote. "As with other rapidly growing retail businesses, we expect JD's incremental margins to increase with time as the company leverages fixed costs, resulting in an attractive net margins once the company reaches scale."
Tiger Global isn't the only organization with an interest in JD.com. Bloomberg reports that hedge funds hold 44% of the company's American depositary shares. Lone Pine Capital, run by fellow tiger cub Steve Mandel, has a $1.1 billion stake in the company as of the end of the first quarter.

Alibaba
Tiger Global increased its position in Alibaba (BABA) - Get Report from 5.8 million shares in the fourth quarter of 2014 to 6.7 million in the first quarter of 2015. As of March 31, its stake is valued at $556.7 million.
Tiger has been in on BABA since before its IPO, the largest U.S. listed initial public offering to date. Since hitting the market, Alibaba has climbed has high as $120. It has fizzled, however, in recent months and closed Thursday at $93.88.
Alibaba topped analysts' expectations with its May 7 earnings report and announced the same day that its chief executive, Jonathan Lu, would step down and be replaced by Chief Operating Officer Daniel Zhang. Alibaba has also increased efforts to combat the sale of counterfeit goods on its platform after facing increased pressure. Luxury company Kering filed a lawsuit for the second time in a year regarding the sale of fake items through Alibaba.
VipShop
One of Tiger Global's best-performing investments of 2015, VipShop (VIPS) - Get Report continues to be one of the firm's favorites. It scaled back its position slightly in the first quarter with the sale of about 1.3 million VIPS shares; however, Tiger Global still holds nearly 15 million shares, and its stake is valued at $470 million.
Vipshop has come under scrutiny recently regarding its financials. J Capital Research and Mithra Forensic Research have published reports suggesting the company is manipulating its filings, citing major discrepancies between numbers reported in the U.S. and China. VipShop has responded to the allegations, which it says are "based on unsupported speculation and contain numerous errors."
VipShop continues to climb in 2015 and is up more than 26% year-to-date. It remains to be seen whether this recent round of allegations will have a real impact on its business or performance.

Autohome (ATHM) - Get Report
In September 2014, an SEC filing revealed that Tiger Global had upped the ante in Autohome (ATHM) - Get Report significantly to 6.7 million shares -- an 18.5% stake. Since then, it has expanded that position even more to 8.7 million shares, valued at $384.1 million at the end of the first quarter.
A China-based automobile information platform, Autohome went public in December 2013 and immediately popped, its shares climbing more than 75% after hitting the market. The stock has continued to gain since, and has rallied nearly 29% year-to-date.
Autohome reported earnings on May 6, including an 82.1% increase in net revenue year over year as well as a 50.7% jump in cost of revenue. Bank of America initiated coverage of the stock on May 11 and gave it a buy rating and price target of $66.
BitAuto

In September 2014, Tiger Global disclosed a 14.9% stake in BitAuto (BITA) - Get Report, an online content and marketing services provider for China's automotive industry. It has since reduced its BITA holdings slightly, though it still holds 5.9 million shares -- a $301.4 million stake.
BitAuto reported earnings on May 8. Its first-quarter revenue increased 98.4% year over year, and gross profit climbed 66.3%. Although it exceeded analysts' expectations, shares slipped slightly in the immediate aftermath.
The stock has declined more than 12% in 2015.
This article is commentary by an independent contributor. At the time of publication, the author held no positions in the stocks mentioned.