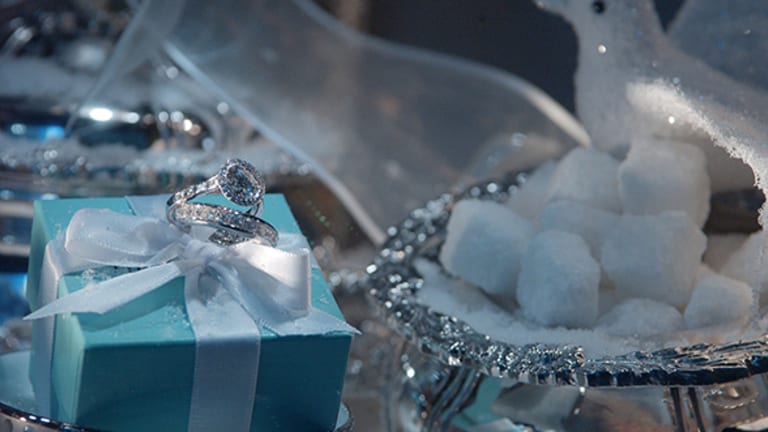 Tiffany Stock Too Expensive Despite Revenue and Earnings Beat
Investors would be better served taking Wednesday's profits as a gift and moving on to companies with better revenue and earnings prospects.
NEW YORK (The Street) -- Shares of Tiffany & Co (TIF) - Get Report rose more than 11% Wednesday after the New York-based of high-end jeweler posted fiscal first-quarter earnings results that beat analysts' average estimates for both revenue and profits. But investors shouldn't get too carried away just yet.
While Tiffany's first-quarter profit was $104.9 million, or 81 cents a share, did beat estimates, it still marks a 16% decline from a year ago when it earned $124.6 million, or 97 cents a share. The strong dollar weakened revenue, which came in at $962.4 million. Although that was enough to top estimates, it's still down year-over-year by almost 5% from $1.01 billion.
Sure, the company did what it had to do to beat it's targets. But don't ignore that those targets were much lower than where they were several months ago. Because of revenue struggles in markets like the Americas and lack of improvement in traditionally weak areas like Japan, analysts have had no choice but to cut estimates for the just-ended quarter by almost 12%.
What's more, the full-year earnings estimate of $4.17 a share has been lowered by 6.7% just over the past three months. When the quarter began, the average analyst estimate was $4.47 per share. And as for fiscal year 2016, estimates have also been lowered by 6.5%, down from $5.07 a share three months ago to $4.74.
In other words, Tiffany will operate from lowered expectations in the quarters ahead. While that's good for the company and its ability to meet/beat those expectations, it doesn't incite confidence in Tiffany stock -- which is still too expensive, by the way.
Prior to Wednesday's surge, Tiffany stock was down more than 22% on the year, meaning after just one quarterly result, the company has recovered more than half of its 2015 declines.
While these shares are still down more than 11% on the year, against flat gains for the broader averages, there's nothing about Tiffany stock that screams value -- not at 25 times earnings. That's four points higher than the average multiple of companies in the S&P 500, which trades at a P/E of 21.
Even if Tiffany does reach analysts' revised target of $4.74 a share for fiscal year 2016, Tiffany stock will still trade at 20 times projected earnings, compared with a P/E of 17 for the S&P 500. This means investors are still paying too much for a company whose estimates are on the decline.
Tiffany may also have difficulty meeting those estimates in the future. Given Tiffany's exposure to markets like Asia-pacific, Japan and Europe, the strong U.S. dollar that devalues sales in overseas markets is an added risk.
Accordingly, investors would be better served taking Wednesday's profits as a gift and moving on to companies with better revenue and earnings prospects. 
This article is commentary by an independent contributor. At the time of publication, the author held no positions in the stocks mentioned.