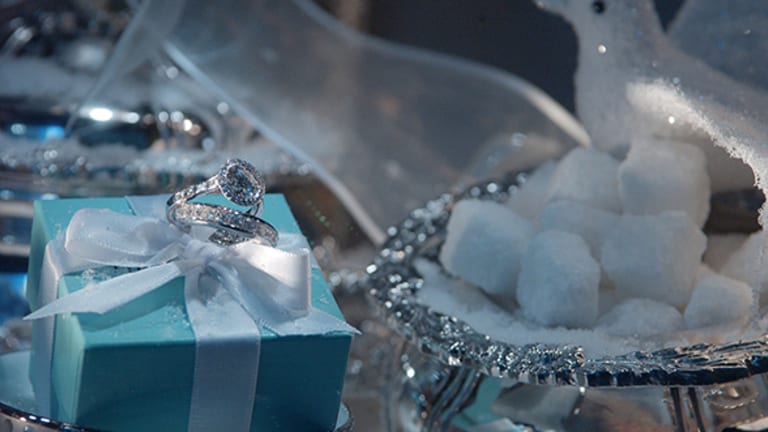 Tiffany and Signet the Latest to Show Fewer U.S. Rich Buying Pricey Jewelry
Even upscale shoppers may be reigning in their discretionary spending judging by the results from jewelry stores.
Updated from May 25 to include Signet earnings.
There was very little sparkle to the latest results from jewelers Tiffany (TIF) - Get Tiffany & Co. Report  and Signet (SIG) - Get Signet Jewelers Limited Report , especially when it comes to sales of super pricey pieces. 
High-end jeweler Tiffany & Co reported first-quarter earnings excluding one-time items came in at 64 cents a share, down 15% from the prior year. Wall Street expected 68 cents a share. Total sales declined 7% to $891 million, badly missing forecasts for $915 million.  
Much like last year, Tiffany continued to battle weak sales in the U.S. as tourists shunned visits to its flagship destination in New York City because of the strong dollar and as local customers deal with a volatile stock market. Same-store sales in the Americas division excluding the impact of the strong dollar fell 9% year over year.
On a conference call, Tiffany executives said the store had tepid sales in the U.S. for its more expensive, statement and fine jewelry categories where product prices average about $5,700 but could reach well over $50,000 for a ring. The category represents roughly 23% of the business for the Americas segment. 
Trends for Tiffany outside the U.S. weren't much better elsewhere. Same-store sales in Europe and Asia-Pacific declined 14% and 12%, respectively, when excluding the effects of the dollar. The bright spot for Tiffany continued to be Japan, where the economy has managed to avoid a recession and gain some steam. Same-store sales in Japan rose 5% on a constant currency basis.
Tiffany's sluggish start to the year caused it to take a more cautious stance for the balance of the year. The company is now forecasting full-year earnings per share to fall by a mid-single digit percentage. Previously, Tiffany expected earnings between flat and down by a mid-single digit percentage.
Second-quarter earnings are seen falling about 15% from the year year. Wall Street was expecting an 8.1% drop.
Weakness at the high-end of the U.S. jewelry market in the first couple months of the year wasn't just a Tiffany thing.
Signet, which operates jewelry chains including Kay, Jared, and Zales, experienced a 9.3% sales drop at its higher end Gordon's Jewelers concept. More broadly, Signet said its strongest sales were in the affordable fashion jewelry category and secondarily, in bridal offerings.
Similar to Tiffany, Signet approached the second quarter with caution. The company outlined a same-store sales increase of 1% to 2%, below Wall Street forecasts for a 3.5% gain. Earnings adjusted for one-time items are planned in a range of $1.49 to $1.54 a share. Wall Street anticipated $1.55 a share.
Meanwhile, online jeweler Blue Nile (NILE)  saw sales of products with price points more than $25,000 fall by $3 million from the prior year for the quarter ended April 3. About $2 million of the decline stemmed from sluggish demand for jewelry priced above $100,000. Meanwhile, upscale department store Nordstrom (JWN) - Get Nordstrom, Inc. Report said it experienced "notably tougher trends in jewelry" in the first quarter.