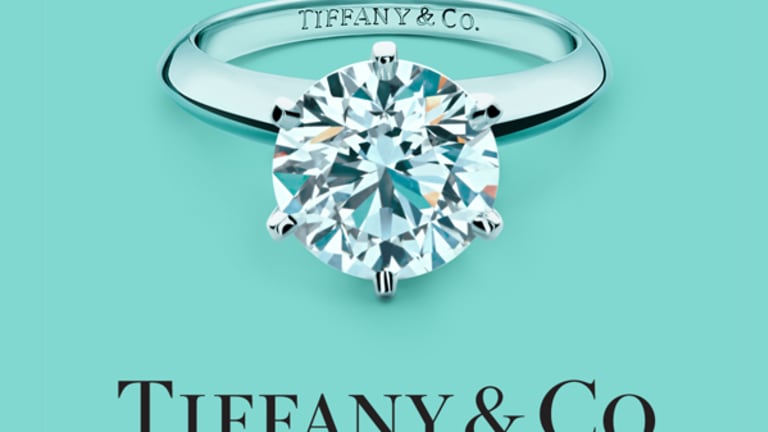 Publish date:
[video] Tiffany Indicates Higher-End Strength
Tiffany & Co. jumps on strong guidance, takeaways for the entire retail space.
Tiffany & Co. jumps on strong guidance, takeaways for the entire retail space.
NEW YORK (TheStreet) -- Shares of Tiffany & Co. (TIF) - Get Tiffany & Co. Report moved sharply from the upside on Tuesday morning following a strong third quarter. As we make our way to the end of earnings season in preparation for the holiday season, a number of retail favorites have reported recent results. For the most part, these results have been mixed in terms of year-over-year comparable and guidance. Even the most experienced economists still can't figure out their exact strategy for growth, just look at the Federal Reserve. You would think after five years of turbulence those guys would have figured things out by now.
Questions regarding the strength of the consumer this holiday season have surfaced as a number of prominent retail names have reported weaker than anticipated guidance for the fourth quarter. Some on the street including myself feel the higher end space will outperform the lower end this season as a result of a couple of key themes. Here's a quick look at the recent strong results from Tiffany in contrast to the results from one of the biggest lower-end names and my rationale for why the higher end should outperform the lower side of the retail market this holiday season.
The renowned jeweler reported its global revenues rose 7% to $911.5 million in the third quarter ended Oct. 31. These results came in well above analysts' consensus estimates of $890 million. Moreover, on a comparable-sales basis, Tiffany generated a 7% increase in revenues driven by standout Asia-Pacific sales. On the bottom line the company reported its net income rose an astonishing 49%. Tiffany's net income of $94.6 million, or 73 cents per share, was well above the $63.2 million, or 49 cents per share, reported for last year's third quarter.
Tiffany would go on to ensure its shareholders strong results for the remainder of the year. The company raised its full-year profit forecast by 15 cents per share to a range of $3.65 to $3.75. Tiffany believes it will see its net sales worldwide increase by a mid-single-digit percentage rate for the fiscal year.
In stark contrast to Tiffany's results, the nation's largest retailer reported below analyst estimates on the top line, negative same-store comparables, and guidance below analyst expectations. On the top line, revenues increased 1.7% to $115.69 billion, below the Street's view of $116.81 billion. U.S. same-store sales at Wal-Mart (WMT) - Get Walmart Inc. Report dropped by 0.3%, missing the expectation of flat sales. Wal-Mart issued fourth-quarter projections of $1.60 to $1.70 in earnings per share, a midpoint of $1.65, below analyst estimates of $1.69 per share. In addition, for the full year, Wal-Mart narrowed its estimates to $5.11 to $5.21 per share, below the $5.20 estimate.
Tiffany caters to the higher end as its products carry hefty price tags, to say the least. Strong results from Tiffany in contrast to weak results from a low-end consumer favorite, like Wal-Mart, showcases the division in economic strength this holiday season. Strong equity markets and real estate prices have helped the higher-end consumers bolster spending for much of the year.
The S&P 500 is higher by nearly 28% over the last year. Typically, the lower- and middle-tier consumers carry far less of their assets in the global equity markets. Moreover, housing prices have soared double digits in some key markets. Case-Shiller reported on Tuesday that 12 cities saw double-digit annual returns in home value. Higher home prices equate to higher confidence and spending out of those who own them. Higher home ownership out of the higher income tiers points again to higher spending in relation to the lower-tier classes.
Higher payroll taxes, lower consumer confidence, and slow job growth in general weaken the prospects for lower-end retail. In November, consumer confidence dropped to the lowest level in seven months as a result of these concerns. On Tuesday, the Conference Board announced consumer confidence dropped to 70.4, from 72.4 in October.
In my eyes everything points to a better holiday season performance for the higher end market, and poor performance from the lower-end retailers. Positive asset appreciation has helped the higher-tier consumers to a greater degree than the lower class. Headwinds including payroll taxes, confidence, and slow job growth should continue to weigh on the minds and wallets of the lower-tier consumer. Lastly, tough competition within the lower end space could lead to greater than anticipated discounts and affect the margins of those within the space. Following Black Friday, we will get an early indication of the strength of the American consumer in particular. At the time of this writing, shares of Tiffany were higher by a remarkable 8.6% to $88 per share.
Nate Matherson is currently a student at the University of Delaware where he is pursing degrees in Finance and Economics. Over the last year, Nate has actively produced investment analysis and opinion for a number of financial media companies including TheStreet.com. Upon graduation in 2016, Nate would like work within asset management.