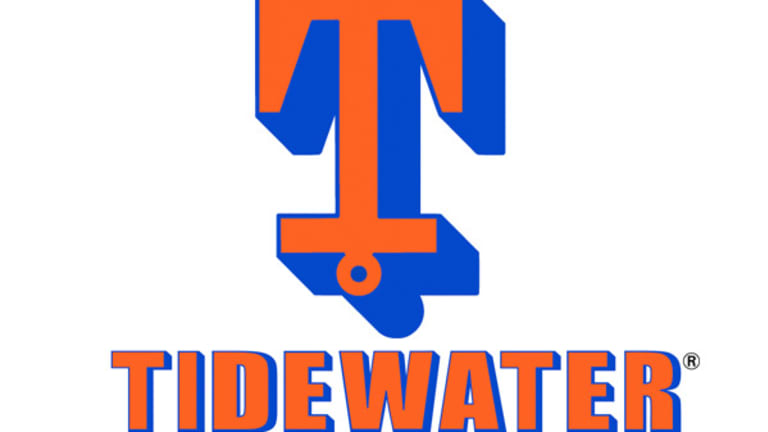 Tidewater Closes Off 36% on Earnings, Possible Covenant Breach
The company said it may no longer be in compliance with its interest coverage ratio requirement under its loan agreements by June and a covenant violation could occur by mid-August.
Updated with new video by Jim Cramer and closing price.
Shares of offshore oil drilling vessel provider Tidewater (TDW) fell more than 30% in early trading as the company missed analysts' earnings expectations and warned of a possible covenant breach by mid-August.
Stocks closed Friday at $3.91, down $2.20 or 36%.
After the markets closed Wednesday the New Orleans company announced a net loss for the three months ending March 31 of $81.8 million, or $1.74 per share, on sales of $184.2 million. Excluding a $55.5 million non-cash asset impairment charge and a $8.7 million foreign exchange loss, it lost 69 cents per share, 23% more than what analysts anticipated.
For Tidewater's fiscal year, which ended in March, the company lost $160.2 million, or $3.41 per common share, on revenue of $979.1 million, versus $65.2 million, or $1.34 per common share, on revenues of $1.49 billion for the previous fiscal year.
Tidewater also forecasted that as early as June 30 the company may no longer be in compliance with the 3 times minimum interest coverage ratio requirement under its loan agreements. It said a covenant violation could occur as early as mid-August, which could lead lenders to declare that the company was in default and accelerate its loans.
The company also said it obtained limited waivers, including the requirement for an audit opinion without any modification related to its ability to continue as a "going concern," until Aug. 14.
During the company's conference call on Thursday, executive vice president and CFO Quinn Fanning said that the company may be required to give concessions to its lenders to successfully secure amendments to its credit facility, which could include a reduced borrowing base or granting the lenders collateral.
 According to Fanning, if the company grants collateral to the lenders, it would be done on a pro-rata basis and would be shared between the banks and the noteholders. Currently all of the company's debt is unsecured, including its $900 million credit facility with Bank of America NA, which consists of a $600 million revolver and a $300 million term loan.
 The revolver is priced at Libor plus 200 basis points and the term loan is priced at Libor plus 137.5 basis points. The debt matures on June 21, 2019. In March the company drew down the entire $600 million available on the revolver.
 The company also has various notes that come due in the next five to 12 years, including $500 million in 4.86% senior unsecured notes, $382.5 million in 4.35% senior unsecured notes, $165 million in 4.42% senior unsecured notes, $29.61 million in 3.81% senior unsecured notes and $16.34 million in 5.38% senior unsecured notes.
Tidewater is on Real Money's Stressed Out watch list.
The news came as a surprise to analysts at Seaport Global Securities Inc., who were expecting an interest coverage violation not until the second quarter of Tidewater's 2017 fiscal year. They noted, however, that the company's operating performance was better than expected with 45.5% vessel margins driven by a 20% operating expense reduction quarter over quarter but noted that the company's average utilization and dayrates continued to trend downward for both its deepwater and towing-supply vessels.
Analysts at Tudor, Pickering, Holt & Co. said they expect that "battle royal-style" negotiations between Tidewater and its lenders will take center stage on the company's conference call later today given its impending interest coverage covenant violation and the associated going-concern risk if a relief agreement isn't reached. "Tense negotiations with lenders shouldn't be super surprising given Mar-16 press release highlighting full drawdown of TDW's $600 million revolver due to this same near-term covenant violation risk," they said.
They noted that Tidewater's sales were soft as its overall fleet utilization approaches 50% and dayrates dropped to $900 per day over the last quarter. They said the company sits toward the bottom of their oilfield services stock preference list as they believe around 1,000 offshore support vehicles need to be retired or scrapped to get to a potential line of sight on a market recovery.