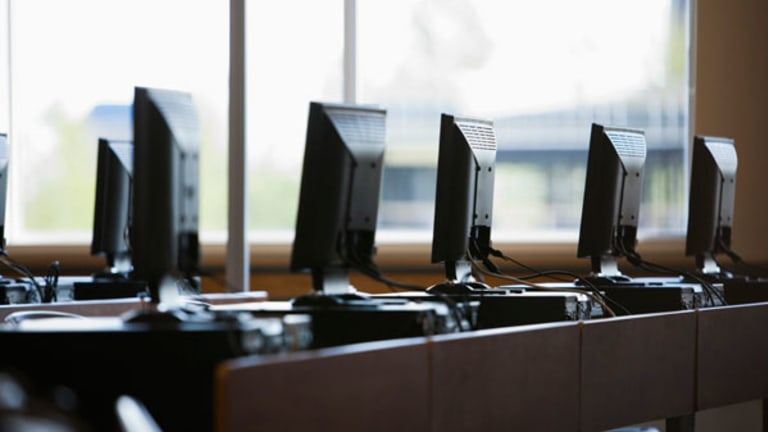 Tibco Is Making a Strong Statement
With long-term revenue growth that should outperform both IBM and Oracle, I'm upping my target on this stock to $32 per share.
NEW YORK (TheStreet) -- Given the weaker-than-expected earnings results recently released by Oracle (ORCL) - Get Oracle Corporation Report and Red Hat (RHT) - Get Red Hat, Inc. Report, there's no question that the long-awaited return of IT enterprise spending has yet to materialize.
When you combine the prolonged weakness with recent political wrangling about "debt ceilings" and "government shutdowns," this makes the results from
Tibco
(TIBX)
, which I recommended back in July
, all the more impressive.
While the macro environment has certainly taken a toll on the likes of
Microsoft
(MSFT) - Get Microsoft Corporation (MSFT) Report
and
IBM
(IBM) - Get International Business Machines (IBM) Report
, Tibco's outperformance makes it tough to keep using what's become cliched excuses. I'm not suggesting these exterior macro factors don't play a key role in declining revenues, I'm nonetheless warming up to the idea -- at least in this sector -- that Tibco is beginning to steal meaningful share from its rivals.
Read: Palmisano Sees No Innovation Slowdown at Apple
What makes this story even more impressive is the company has fought a long arduous battle to build itself into a formidable cloud operation. Given all of the hoopla that surrounds
Salesforce.com
(CRM) - Get salesforce.com, inc. Report
and
Workday
(WDAY) - Get Workday, Inc. (WDAY) Report
for their SaaS (software as a service) capabilities, Tibco has felt disrespected. But you don't get the Street's attention by being bitter.
To that end, prior to the company's announcement, I told investors that if management of this company wanted to be taken seriously, it needed to
. And with adjusted profits coming 33% above management's prior guidance, sending the stock upward by 6%, Tibco's statement was heard loud and clear.
Revenue jumped 6.2% to $270.9 million, helped by strong demand for each of the company's three main segments, which includes licenses, service and maintenance. Equally impressive was that revenue in the U.S. and Europe advanced 11% and 12% year over year, respectively.
What's more, Tibco has figured out ways to differentiate itself from Oracle and IBM, with Tibco's CEO Vivek Ranadive stating proudly,
"We won every single deal."
In other words, even though Tibco's prices were moderately higher than some of its rivals, the company was able to convince customers why its products were better.
So, unlike the June quarter where Tibco lost business due to price, management has been working to grow Tibco's capabilities in areas like real-time business intelligence, visualization and complex event processing. These are technologies that are specifically targeted to capitalize on the growth of big data. With revenue growing more than 6% compared to Oracle's 2%, clearly customers are responding.
As noted, Tibco is still in the midst of restructuring its business. So I'm not suggesting the company is completely out the woods yet. In that regard, bears are correct to point out that the company is still experiencing some margin weakness. That gross margin narrowed to 71.2% from 71.7%, while total operating expenses jumped 12%, is a perfect example of the work there is left to do at Tibco.
Even though
I've been bullish on this stock
for several quarters, to say Tibco's growth improvements weren't surprising wouldn't be true. Granted profits are still unspectacular. But there's no denying that management's recent investments in the cloud and data analytics have begun to pay off.
Read: Peer-to-Peer Lending As an Investor
To the extent that Tibco can build its capabilities in specialized areas like integration, while shoring up its core infrastructure business, this stock still has plenty of room to run. For now, though, investors have to credit the management team for having navigated this weak patch and getting this company back on track.
With long-term revenue growth that should outperform both IBM and Oracle, I'm upping my target on this stock to $32 per share, which represents a 30% premium from current levels. How's that for a strong statement?
At the time of publication, the author held no position in any of the stocks mentioned
.
Follow @saintssense
This article was written by an independent contributor, separate from TheStreet's regular news coverage.
Richard Saintvilus is a co-founder of
where he serves as CEO and editor-in-chief. After 20 years in the IT industry, including 5 years as a high school computer teacher, Saintvilus decided his second act would be as a stock analyst - bringing logic from an investor's point of view. His goal is to remove the complicated aspect of investing and present it to readers in a way that makes sense.
His background in engineering has provided him with strong analytical skills. That, along with 15 years of trading and investing, has given him the tools needed to assess equities and appraise value. Richard is a Warren Buffett disciple who bases investment decisions on the quality of a company's management, growth aspects, return on equity, and price-to-earnings ratio.
His work has been featured on CNBC, Yahoo! Finance, MSN Money, Forbes, Motley Fool and numerous other outlets.
Follow @saintssense