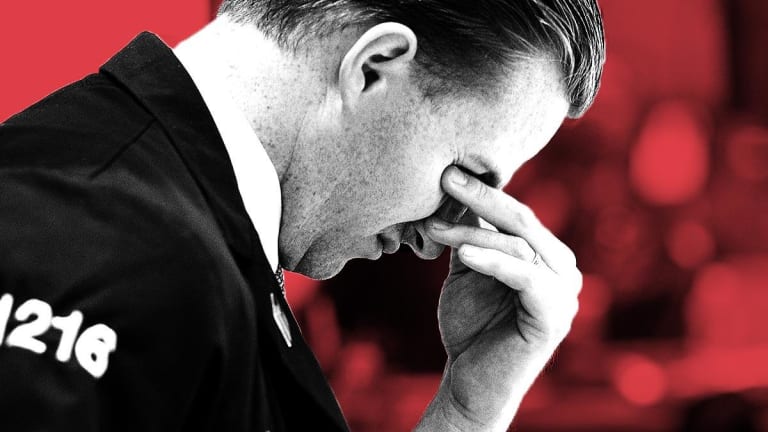 Throwback Thursday: Tesla's Risky, Broadcom Slips, Papa John's Jumps
Here's what you missed on Thursday.
Whew. 
It's almost the weekend, right?
Happy Thursday.
Before you head out the door, catch up on the top stories from today.
Tesla, Tesla, Tesla
TheStreet's contributor, Bret Kenwell breaks down Tesla's Inc. (TSLA) saftey record. 
Recent reports talk about 12-to 16-hour shifts at times, where workers look like zombies. Another report says that a handful of employees had to walk through raw sewage in order to "keep the line going." Perhaps the most glaring revelation came from November 2016 (a while ago, but unknown until this morning), where a worker was goofing around on a forklift and ended up injuring another employee. Tesla says both employees were horsing around, although the injured one ended up having his leg amputated as a result.
State agency Cal/OSHA fined Tesla $800 for what it described as a fractured ankle. They also did not speak with the injured worker. That's an interesting assessment, unless of course a fractured ankle is equivalent to a surgically removed leg in these parties' eyes. Tesla says it's not aware that management had workers walk through sewage. It also argues that the company tried to arrange an interview between the injured worker and Cal/OSHA.
Additionally, there are always two sides to every story. For its part, Tesla did enact increased safety training after the forklift incident and CEO Elon Musk spoke of Tesla's improving safety environment during the company's annual meeting in June. He says Tesla is now below the industry average for injury rate and that the company's goal is to reduce its injury rate by another 50%.
Of course, some of the tactics outlined above may make some investors question how accurate Tesla's self reporting is. Worth mentioning is that Tesla is not a part of the United Automobile Workers (UAW) union and not surprisingly, the two have disagreed about Tesla's course of action. Musk has said his company's workers could unionize if they want to, but even that's been up for debate.
Investors aren't happy with Broadcom's deal
"People are saying, you know what, this is a mainframe buy—the mainframe is basically slowing and going away and what they would have preferred is something like a VMWare (VMW - Get Report)," Jim Cramer noted.
Hock Tan, president and CEO of Broadcom Inc. (AVGO) , said, "This transaction represents an important building block as we create one of the world's leading infrastructure technology companies."
CA Technologies shareholders will receive $44.50 a share under the terms of the agreement, which both companies' boards have approved.
TheStreet's Eric Jhonsa reported that the move says a lot about how confident Tan and the rest of Broadcom's management team are about making a wide variety of tech acquisitions pay off if the valuation is reasonable and there are major cost savings to be had. Nonetheless, it's fair to wonder if Broadcom is putting itself too far outside its traditional wheelhouse this time around.
On Wednesday afternoon, a couple hours after The Wall Street Journal reported that a deal is close, acquisition-happy Broadcom announced that it's buying CA Technologies (CA - Get Report) for $44.50 per share, or $18.9 billion, in cash. The price represents a 19.5% premium to CA's Wednesday close, and is equal to 16 times CA's fiscal 2019 (ends in March 2019) EPS consensus of $2.77.
Papa John stock jumps
Despite his resignation as chairman of Papa John's International Inc. (PZZA - Get Report) , founder John Schnatter will remain on the company's board, according to a filing with the Securities and Exchange Commission.
"Mr. Schnatter will remain on the Board," the filing said. Schnatter owns 29% of Papa John's shares, according to Bloomberg data.
When considering why Schnatter was not removed from the board entirely, it's important to remember that shareholders pick directors, and shareholders have the power to remove directors, Professor Charles Elson, the director of the Center for Corporate Governance at the University of Delaware, told TheStreet in a phone interview. Notably, Schnatter is Papa John's largest shareholder with a 29.4% stake, according to FactSet.
Schnatter stepped down as chairman on Wednesday, July 11, after he allegedly used a racial slur on a conference call. Schnatter compared his comment to Colonel Sanders using the n-word and he complained that Colonel Sanders never faced backlash, Forbes reported.
"Directors can't remove directors," Elson said. "[Schnatter] didn't break the law; what he did was a bad thing—you're talking about rude and distasteful conduct, but nothing against the law."
TheStreet's Michelle Lodge reported that Schnatter owns a 29% stake in Papa John's, as of Thursday, July 12, according to Bloomberg data, and, as founder, he has deep know-how the Louisville, Ky.-company needs, Neil Saunders, managing director of GlobalRetail Data, told TheStreet.
"The board made a cosmetic move to show that they've punished him and are taking action,' Saunders added. "The board can benefit for his expertise, which I assume is why he was left on the board. That might also be why investors are happy."
On Wednesday after the news of the training sessions was made public, the pizza company's stock dropped 5% for the day and closed at $48.33. At Thursday's close, it was up 11% at 53.67.