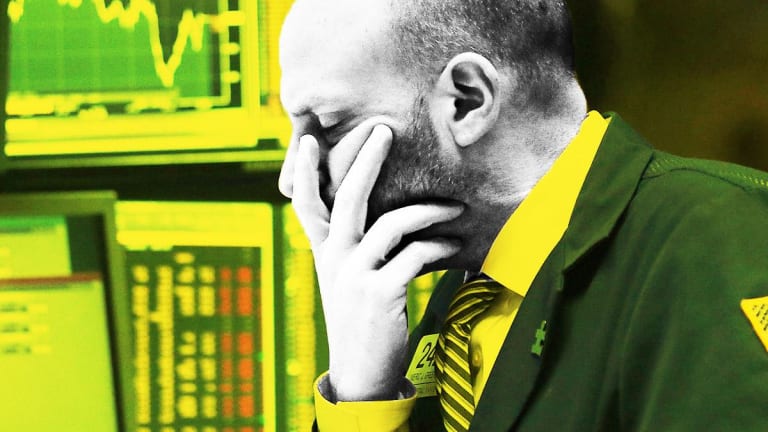 Throwback Thursday: It's Been an Emotional Day on Capitol Hill
Here's what you're missing on TheStreet.
It's almost Friday!
Let's jump right into it; it's been a long day.
The Fed's Hike's Causin' a Ruckus
Or so says TheStreet's Jacob Sonenshine. 
If you're looking to buy a home, you've missed the boat. Housing's outlook isn't so good at all now. The Federal Reserve hiked interest rates by 25 basis points Wednesday, which adds a significant headwind to a housing market that already has more headwinds than tailwinds.
Housing sales volumes have been way down this year, in part because the baby-boomer generation is holding onto its homes and not selling. Baby boomers currently hold the highest percentage of houses in the U.S., at more than 30%, a Deutsche Bank economist told Sonenshine. In May, existing home sales actually decreased 2.5% year over year. Housing starts haven't been strong either. Meanwhile, housing prices have actually risen some because of the low supply. Home sale prices increased 6.9% year over year in May, according to the Federal Housing Agency.
Side note: if you're looking for exposure to housing through the stock market, be wary. After the Fed hiked rates Wednesday, Toll Brothers Inc. (TOL - Get Report) , the luxury homebuilder, finished down 2.52%. Redfin Corp. (RDFN - Get Report) has declined almost 4% in the last five days. KBR Inc. (KBR - Get Report) , a construction company, fell more than 1% on Wednesday.
Not the Apple of My Eye
RealMoney contributor Stephen Guilfoyle isn't sold on Apple (AAPL) - Get Apple Inc. Report .
Now,"I'm already short a series of cascading AAPL put options that expire in November, but I really need to re-establish a core long position in the stock so that I can write call options against it. That strategy will add more revenue to my portfolio without increasing capital risk."
Yes, there are always plenty of reasons to worry about Apple in the short term. For instance, Qualcomm (QCOM - Get Report) recently claimed that Apple was stealing trade secrets and passing them on to Intel (INTC - Get Report) in an effort to do an end-run around Qualcomm's place as an Apple supplier. AAPL also recently had to juggle its order flow between Pegatron and Foxconn (HNHAF) after production on Apple's new iPhone XR production fell behind schedule.
"So why am I waiting to buy the stock at around $220? Well first, I don't really want to buy Apple (or any other stock) on a "up" day -- that's an amateur move. But more importantly, Apple's chart shows that the stock has adhered to a "pitchfork" pattern all year long."
The Ford, Kavanaugh Hearing
Oy vey.
I've been following this story all day. It's been a long day. Sorry for not being more spunky. 
Anyway, let's go over some of the hearing.
"I am here today not because I want to be. I am terrified. I am here because I believe it is my civic duty to tell you what happened to me while Brett Kavanaugh and I were in high school. I have described the events publicly before," Dr. Christine Blasey Ford began in her statement. "I summarized them in my letter to Ranking Member Feinstein, and again in my letter to Chairman Grassley. I understand and appreciate the importance of your hearing from me directly about what happened to me and the impact it has had on my life and on my family."
"I feel like I could be more helpful if that was the case," Ford told Sen. Sheldon Whitehouse. The Democratic senator had asked if Ford would feel comfortable if the FBI launched an investigation into her allegations against Kavanaugh.
The attorney hired by the Republican panel switched to a line of questioning about Ford's legal counsel and how she is paying for everything. After she answered that she knows people have been donating money to help pay for her counsel, her lawyers answered that they were working pro bono.
When it was his turn to answer questions, Kavanaugh said angrily: "My family and my name have been totally ... destroyed." 
"The behavior of several Democratic senators at my hearing a couple of weeks ago, the behavior was embarrassing," said Kavanaugh. He blamed the allegations for dragging his name through the mud despite that he had done "OK" in the hearing. He also blamed the Democrats for "planned" attacks on his name.
Kavanaigh defended his use of calendars when he was in high school. He attributed his calendar keeping to his dad. "He was a very organized guy," he said, in tears.
That's it for today. Happy it's almost Friday.