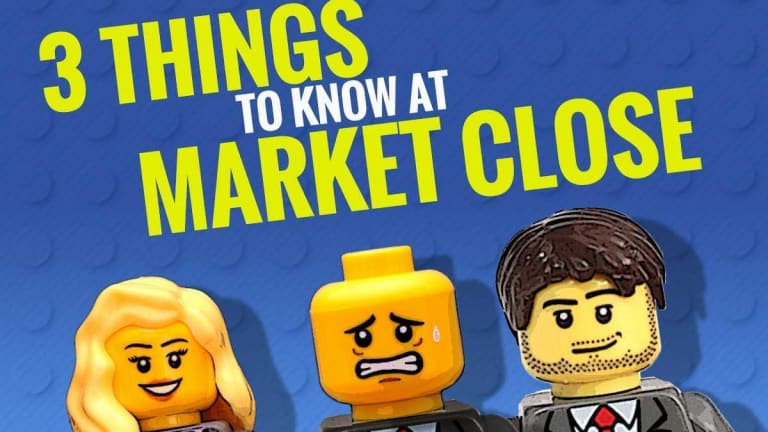 Throwback Thursday: Have No Fear, Cramer Is Here
Here's what you're missing on TheStreet.
Happy almost Friday!
Are you ready for the last of this week's major earnings?
Amazon (AMZN) - Get Amazon.com, Inc. Report and Alphabet (GOOGL) - Get Alphabet Inc. Class A Report both report after the bell. TheStreet's Eric Jhonsa will be running a live blog on Amazon's earnings call. I'll be live tweeting about both the Amazon earnings call and the Alphabet earnings call from TheStreet's Twitter account. So, no happy hour for me tonight, but that doesn't stop any of you!
In honor of that, I'll keep this short and sweet. 
Jim Cramer's Take on The Market
More specifically, his take on Union Pacific (UNP) - Get Union Pacific Corporation Report , Take-Two Interactive (TTWO) - Get Take-Two Interactive Software, Inc. Report , Amazon (AMZN) - Get Amazon.com, Inc. Report and Alphabet (GOOGL) - Get Alphabet Inc. Class A Report .
If you didn't know this by now, I talk to Cramer every morning on the floor of the New York Stock Exchange (truly a beautiful place!)
Cramer discussed his expectations from Amazon's and Alphabet's earnings.
Anyway, TheStreet has kicked off a new segment with Cramer called "Ask Jim" where Twitter users who have contacted me can send in questions. 
Today, I was able to geek out and ask Cramer about Take-Two Interactive Software, which is releasing "Red Dead Redemption 2" on Friday, Oct. 25. For video game players (like me!), it's pretty exciting. When asked whether or not he feels bullish on Take-Two, Cramer answered yes. 
And, finally, Cramer explained his reasoning for saying that Union Pacific was the earnings to watch for investors this week. 
Amazon's in Play
Real Money contributor Stephen Guilfoyle takes a look at Amazonn, which he says is still in play. 
In his breakdown, he gives four areas for investors to look at:
1) Amazon Web Services. Yes, Amazon is the cloud king of cloud kings. Top dog in the public domain. Q2 growth for this segment was 49% y/y, but the real question might be whether No. 2 Microsoft (MSFT - Get Report) is closing the gap. 
2) E-Commerce. Obviously, AMZN is the leader here, but is it capturing more retail market-share overall?
3) Prime membership. Nothing beats a captive audience. Nothing beats the subscription economy. Jeff Bezos understood this long before the rest of us, and is way ahead of any competition in driving this kind of revenue. On top of that, nothing beats actual hardware in your home that keeps you captive.
4) All of the above do what? Drive advertising for the firm overall. Oh, operating margin and cash flow are fundamentally important, but capturing advertising sales ... that's what folks care about right now.
Bye, Bye, Bye Cable
Have you cut the cord yet?
TheStreet contributor Jon Markman takes a look at how Apple (AAPL) - Get Apple Inc. (AAPL) Report and Disney (DIS) - Get Walt Disney Company Report are both taking down cable TV. 
Apple is reportedly set to launch a streaming TV service, according to an Oct. 23 report from The Information. The on-demand network will launch in 100 countries in the first half of next year, and it will give users the ability to purchase shows directly from content providers.
Apple plans to offer a service similar to Amazon's Channels. The idea is users can select the channels they want and pay a monthly fee. The company will bundle content from the likes of HBO, Showtime, AMC, CBS and others, plus throw in its shows as they come on stream.
It will be completely transparent, and backed by Apple customer service.
Long-term investors can buy all of the major technology companies to take advantage of this development. This is a big market. There will be many winners as customers are slowly weaned away from traditional cable providers.
However, the best way to play this trend might be Disney. In addition to theme parks and movie studios; Walt Disney, Pixar, Marvel and Lucasfilm, Disney is home to a growing network media empire.
This year, Disney finalized its $71.3-billion acquisition of most of the entertainment assets of 21st Century Fox (FOXA- Get Report) . The deal gives the company control of the country's third-largest movie studio, the Fox TV network (minus cable news), and cable networks FX and National Geographic.
The new House of Mouse will be the biggest media network ever assembled.
Alright, that's a wrap for today. Sit back and relax -- we're halfway through earnings season.