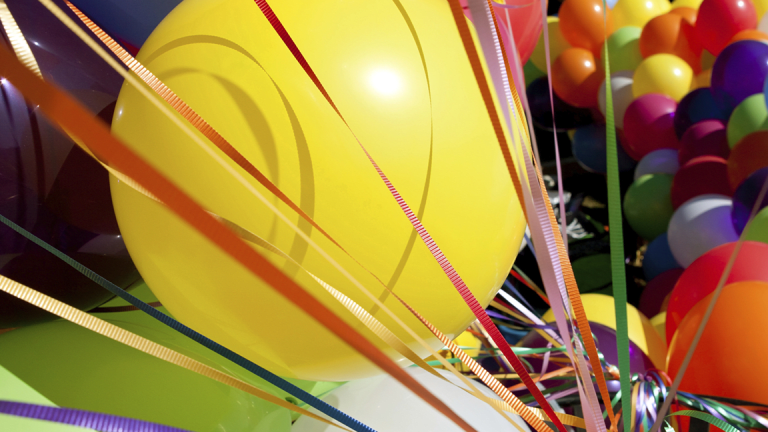 Throwback Thursday: Amazon Should Be Afraid of Walmart
Here's what you're missing on TheStreet.
One day closer to the holiday weekend. 
But before you get too excited, let's go over the top stories from Thursday, Aug. 30.
First and foremost, Thursday is Warren Buffett's birthday.
Apple's Hyping Up the iPhone Buzz
Are you ready?
Apple (AAPL) - Get Report hyped up the iPhone buzz by announcing that it plans to release a new iPhone in September. 
Though, I gotta say, it only feels like the iPhone X came out yesterday.
TheStreet's Annie Gaus thinks that there's more tricks up Apple's sleeve than just a new iPhone, however.
Not only did Apple announce on Thursday that it's dropping a new iPhone in mid-September, the company also made moves to make investors believe it may be taking a crack at smart-glasses technology.
Apple confirmed on Thursday that it purchased Akonia Holographics, a Colorado-based creator of "advanced optical technologies," according to its website. The startup focuses on making "thin, transparent smart glass lenses," leading to heightened speculation that Apple is working on an 'Apple Glasses' product that will deliver augmented reality experiences. In a note to clients, the well-known Apple analyst Ming-Chi Kuo of Hong Kong-based TF International Securities suggested that Apple's next lucrative frontier is AR and cars. Earlier this month, Apple became the first company to cross a $1 trillion market cap.
Apple executives have raved about augmented reality on several occasions. At Apple's WWDC event in June, Apple's head of software engineering, Craig Federighi, described the tech as "transformative," with Apple rolling out a new kit, ARKit2, to help developers build AR apps. And on Apple's latest earnings call, CEO Tim Cook talked up AR's "limitless potential" along with Apple's ability to drive the technology forward in all of its devices.
Although Apple stays strictly mum about what's coming at its regular fall events, much of the attention will likely focus on its new iPhones, Apple's flagship product and the source of more than 60% of its revenue. As for what's may be in store for the iPhone, rumors include an expanded set of sizes and prices—potentially including a cheaper entry-level phone in the $650 range—a dual-SIM slot, and a variety of cosmetic improvements.
Walmart's Momentum Should Have Amazon Shaking in its Boots
Move over, Amazon (AMZN) - Get Report .
Walmart (WMT) - Get Report didn't just beat Street-wide second-quarter earnings expectations, the retail titan trounced them. Not since 2007's "Great Recession" where Walmart last hit 40% e-commerce sales growth has the giant unleashed such stellar earnings.
Walmart International president and CEO Judith McKenna believes, "Walmart and Flipkart will achieve more together than each of us could accomplish separately to contribute to the economic growth of India, creating a strong local business powered by Walmart."
Guggenheim analyst Robert Drbul continues to cheer from Walmart's bullish camp, even more so after the earnings knockout. Of the over 4,800 analysts we cover on TipRanks, Drbul is ranked at an impressive #83.
"WMT's e-commerce operations are emerging as a true challenger to Amazon," Citi Research's Kate McShane asserted, adding: "We sat on the sideline with this name in '17, which proved to be a big mistake...we think there is even more to come..."
Ben Bienvenu of Stephens called Walmart's second-quarter earnings pop ahead of the print. The analyst predicted: "We think Walmart can deliver second-quarter results that keep the stock grinding higher."
Woop, woop, look at Walmart go.
Happy Birthday, Warren Buffett
TheStreet wishes market mogul Warren Buffett a happy 88th birthday.
But, let's dive into the tech sector, which has been a place that Buffett's been capitalizing on. TheStreet's Jacob Sonenshine looks into Buffett's tech investments.
Berkshire Hathaway (BRK.A - Get Report) upped its stake in tech king Apple (AAPL - Get Report) 55% by the end of June. Plus, he said Thursday morning he just bought "a little more" Apple stock on top of what he added in June. Berkshire also just invested in One97 Communications, an Indian tech company whose flagship brand is Paytm, a mobile payments service. Berkshire invested $356 million, as part of One97's latest capital raise. One97 is also backed by tech giants Alibaba (BABA - Get Report) , Ant Financial and SoftBank.
So it's interesting Buffett is making these tech investments as the sector has been in power-ahead mode. The tech-heavy Nasdaq's price-to-earnings ratio is a heady 23.96 times, slightly elevated compared to historical averages. As for Apple (AAPL- Get Report) , it's stock is up more than 29% this year (spurred in part by Buffett's investment), recently hit an all-time high, and became the first company to ever reach a $1 trillion market cap. Where's the value in buying a stock like Apple at ever higher prices?
"Apple is fairly valued, especially compared with other guys like Amazon (AMZN - Get Report) ," Jun Zhang, analyst at Rosenblatt Securities told TheStreet. Indeed, Apple is currently trading at 19.35 times trailing-12-month earnings, well below the broader tech space. In fact, Zhang thinks there's "less risk owning Apple," as "the long-term guys are not wanting to reduce their position."
"People are betting that India will be similar to China with mobile payment," Zhang, who formerly covered Chinese mobile payment companies, said. India is migrating from a 3G network to 4G, which increases the penetration rate of smartphones, Zhang pointed out. "There's a lot of attraction in the Indian mobile payments market," he added.
Phew, that's a lot of ground to cover. Thankfully, that's a wrap for today.
Stick with TheStreet through the rest of the week.