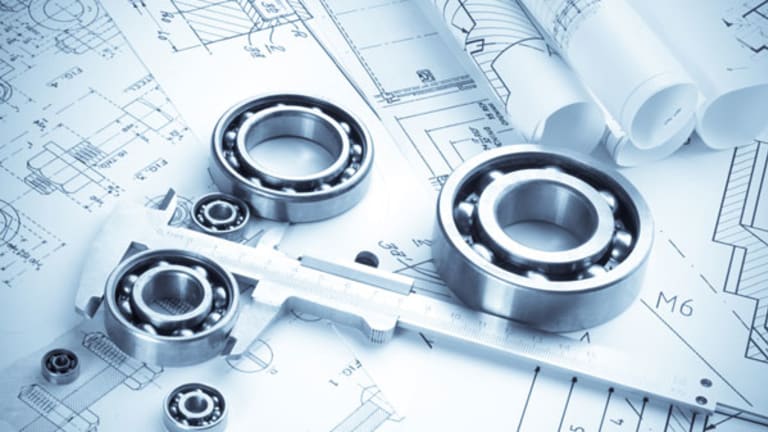 Three Stocks You Should Sell Now: Intuit, KAR Auction, Southwest Airlines
Picking the right stocks to invest in is half the battle, knowing when to exit is the other half. Shooting for the moon is fine in Vegas, but on Wall Street, only the smart profit.
Picking the right stocks to invest in is half the battle, knowing when to exit is the other half. Shooting for the moon is fine in Vegas, but on Wall Street, only the smart profit.
NEW YORK (TheStreet) -- It's impossible to know with certainty when to take profits off the table, however, there's no reason investors need to fly by the seat of their pants or use guess work either. Professional traders use technical analysis daily to predict the likely price movement of stocks in their focus and you can too.
For many stocks, just because you believe the price may decline doesn't necessarily mean you need to or even should sell. For long-term buy and hold investors, often the best strategy to exploit a strong name in your portfolio is to write covered calls.
Covered calls allow investors to collect an upfront payment to hold their position through time decay while also reducing risk of loss from a correction. If you own any of the names listed and are already looking for the exit, now may be an ideal time to ring the register and lock in profits.
For the more active and aggressive trader, I posted a Real Money Pro trading idea to exploit the current price action.
All of the stocks listed are performing well, and some are at 52 week highs. If not, they wouldn't be considered overbought.
KAR Auction Services (KAR) - Get Report provides vehicle auction services in North America. It operates in three segments: ADESA Auctions, IAA and AFC. KAR Auction Services trades an average of 1.7 million shares per day with a market cap of $4.3 billion.
Price To Book: 2.8
While KAR Auction Services beat the last earnings estimate, it has a mixed record of meeting or beating market expectations. The company pays a $1 annualized dividend for a yield of 3.35, making it attractive to yield seekers.
The yield may not be high enough to support the risk of a reduction. Indeed, the company doesn't have a long record of dividend payments to reassure shareholders and the current payout ratio exceeds 75% of earnings.
I don't think KAR's fundamentals are bad, but technically, the stock appears ready for a breakdown. A couple of weeks ago, the 200 day moving average was tested. The first test usually doesn't "stick", but they're usually followed by further price weakness and testing of the average. You don't want to be holding long when that happens.
On the daily chart, the shares are about to run into resistance and my own proprietary exhaustion point inspired by DeMark market timing indicators. Blue ellipses highlight both areas in the chart above.
Intuit (INTU) - Get Report provides business and financial management solutions for small businesses, consumers, accounting professionals and financial institutions primarily in the U.S., Canada, the United Kingdom, India, and Singapore. The company trades an average of 1.6 million shares per day with a market cap of $23 billion.
Price to Book: 7
I entered into a short position in Intuit through options on Tuesday based on a combination of the weekly and daily charts displaying one of my most attractive short setups I use in my own trading.
When both timeframes indicate an overbought status, I like to sell bear credit spreads for the option premium. A bear credit spread allows an investor to collect time premium and limits downside in the case of a large detrimental move.
It's a relatively conservative play that is as much a bet the share price won't continue higher as much as it's a bet the shares will decline. My objective is to earn option premium and have the clock run out before the stock appreciates further.
If the shares are at the same price level at the time option expiration arrives, the spread writer profits.
Southwest Airlines (LUV) - Get Report is a major domestic airline that provides primarily high-frequency, point-to-point, low-fare service. The company says it has the lowest operating cost structure in the domestic airline industry and consistently offers the lowest and simplest fares. The airline trades an average of 4.8 million shares per day with a market cap of $17.9 billion.
Price to Book: 2.48
I've flown hundreds of thousands of miles and I'm comfortable flying, however, airlines scare me from an investment perspective. They always appear one headline away from losing large amounts of money or share price.
Southwest Airlines is a notable exception to the standard bust and boom cycles of the large legacy carriers, and that's likely the reason the stock is becoming overheated.
Short interest remains very low at 2.1%. While it's bullish that the smart money isn't piling into the name to short it, it leaves very few to buy if the shares start moving lower rapidly. Short sellers covering are what shareholders count on to exit if things deteriorate quickly.
Southwest Airlines is what I consider a triple-play chart setup. It's extended on the monthly, weekly and daily charts. I've included the monthly chart for reference. The share price is approaching twice the 200-day moving average on the monthly chart; that often indicates investors aren't concerned with price or risk and want exposure at any cost.
It's a great airline, but the share price is gaining altitude faster than earnings. That said, the forward price-to-earnings multiple is low compared to the overall market, but not when compared to industry peers American Airlines (AAL) - Get Report, Delta Air Lines (DAL) - Get Report, and United Continental Holdings (UAL) - Get Report.
If you own shares and don't want to sell, consider selling some covered calls. Remember that bulls and bears make money, but pigs get slaughtered. The shares are up about 100% from about a year ago, and a 20% correction is reasonable even if the stock continues its upward trend.
I'm watching for a short entry via selling a bear credit spread as early as this week.
>>Read More: Pilgrim's Pride Bids $6.4B for Hillshire
>>Read More: Why Apple Will Stream Worldwide Developer Conference This Year
>>Read More: Where Twitter's Users Are Going to Come From
>>Read More: How Apple Will Use the iPhone to Crush Google, Samsung
At the time of publication, Weinstein is short INTU.
This article represents the opinion of a contributor and not necessarily that of TheStreet or its editorial staff.