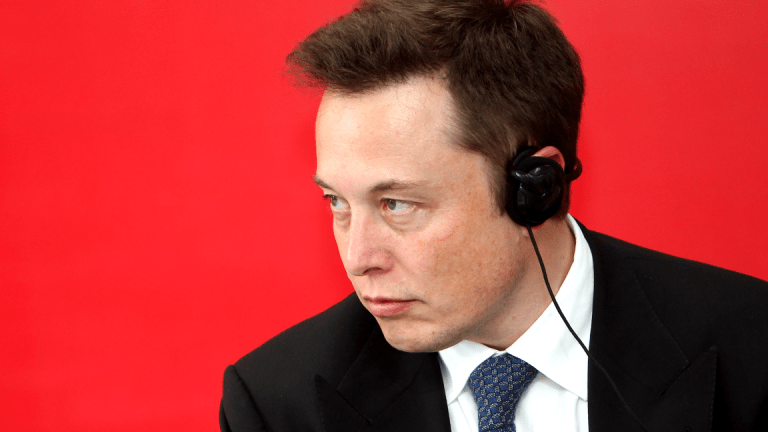 3 Glaring Mistakes Tesla CEO Elon Musk Made During His Wacky Earnings Call
Tesla CEO Elon Musk just gave one of the weirdest earnings calls perhaps in the history of Corporate America. In the process, he made three key mistakes.
Maybe Elon Musk wanted to be supremely weird on Tesla's (TSLA) - Get Tesla Inc Report first quarter earnings call to draw attention away from how much money the company lost.
If that was Musk's covert mission, then he pulled it off masterfully on Wednesday evening. Musk, known to hold rambling earnings calls four times a year, decided to rail against Wall Street analysts, day traders and Daimler's CEO (apparently be doesn't know physics like mighty Musk; Daimler didn't return an email request for comment).
The prickly Musk ripped journalists for penning stories about alleged Autopilot related accidents. Their stories are simply for the clicks, suggested Musk. He let a Tesla fanboy that lives on YouTube dominate the Q&A session normally reserved to analysts at institutions holding stock in the company. 
Amidst all of that, Musk was able to intertwine child-like giggles and an opening missive on something called a "fluffer bot." Apologies in advance to Sir Elon if that isn't the correct term, you sounded gargled on the call and we aren't award-winning engineers. 
"Investor feedback is that the performance shook confidence, which we'd argue is an important piece of the Tesla story," says RBC Capital Markets analyst Joseph Spak. "The results themselves probably did little to incrementally persuade bulls/bears either way. There is still healthy, and warranted, skepticism about Tesla's near-term production capabilities."
Shares fell 4% in pre-market trading on Thursday.
In the process of these theatrics, Musk made at least three critical errors that should cause existing shareholders to reaxmine their trust in the SpaceX expert.
Where Is the Semi Truck?
During one of the rare moments Musk allowed his executives to speak (at other times he undercut their authority), they uttered there have been about 2,000 orders for the Tesla Semi truck. The problem: Musk isn't even sure when, or where, the Semi will be made. Due to the lack of clarity on this, Musk may have opened the door to order cancellations. 
That's the last thing Tesla needs is to see deposit money flying out the door. What's more, Musk sent a signal to the market that entering the trucking industry remains a ways off...if Tesla even decides to get into the market altogether. The Tesla Semi lighting up Instagram feeds may be nothing more than a marketing mechanism. 
Rest easy Warren Buffett, your Burlington Northern railroads look to be in the clear for now. 
What Capital Raise?
Just as Musk was ever so slowly starting to claw back a tiny bit of credibility after delivering a pop in Model 3 production in late March, he squashed the goodwill with stating emphatically no desire to raise capital. Anyone crunching the numbers on Tesla could see the company will need a cash infusion to support Model 3 production and the building of new facilities in the U.S. and China (both of which were teased on the call). 
Until Musk could be bluntly honest with investors, Tesla's stock deserves to trade on a lower multiple to reflect possibilities of a dilutive capital raise.
It's really that cut and dry. 
Musk Uses the Word Restructuring
Golden rule number one in Corporate America: use the word "restructuring" sparingly, if at all. To say you are about to restructure the company, as Musk said will happen at Tesla in about a month, it hints at weaknesses in the business that Wall Street probably hasn't considered. Musk has hinted at them of late in there being too many random suppliers sucking from Tesla's cash spigot. 
Further, restructuring also signals the potential for asset write-downs that could make the cost of capital higher. 
It's likely to be a rough Thursday for Team Musk, in large part by his own doing.