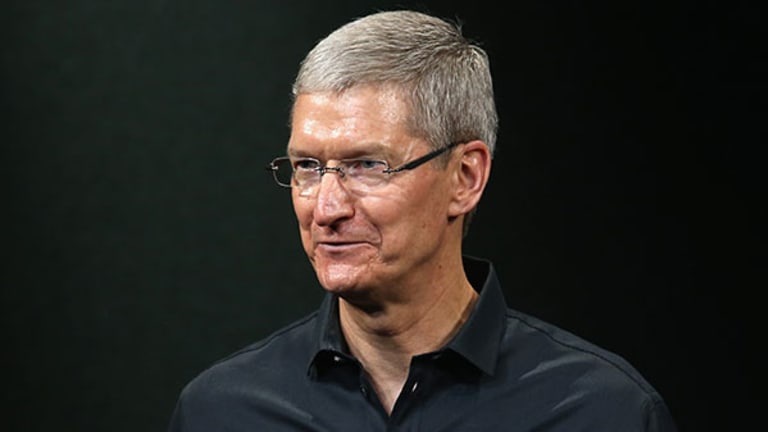 This Time It's For Real: Apple Has Killed Pandora
Between the Apple/Beats deal and Twitter's aggressive moves on music data, Pandora might as well not even exist.
NEW YORK (TheStreet) -- By now, you know all about Apple's (AAPL) - Get Apple Inc. (AAPL) Report buyout of Beats Electronics. Before and after the deal was official, I provided the definitive take.
Now it's time to assess what will wind up collateral damage of the move that made Apple Tim Cook's Apple, not Steve Jobs's Apple.
First on the list -- Pandora (P) . The company's finished. Prepare the cemetery plot. For a while, playing music and selling advertising against it was all Pandora needed to do. The company's hyper focus on that strategy paid off. But hyper focus has morphed into stubborn arrogance. The company is run by people not merely opposed to, but openly hostile to anything other than playing music -- and exploiting musicians in the process -- and selling advertising against it.
Lost in the noise of the Apple/Beats news is word that Apple will add an ESPN channel, not to mention 42 National Public Radio stations, to iTunes Radio.
Also lost in the media typhoon over Apple/Beats is word that Billboard and Twitter (TWTR) - Get Twitter, Inc. Report will partner to produce interactive real-time charts using Twitter's firehose of music data. The charts will focus on tracks that are trending and artists that are emerging not on a weekly or daily basis, but by the minute. McDonald's (MCD) - Get McDonald's Corporation (MCD) Report and Hollister will sponsor the charts:
"The Billboard Twitter Real-TimeCharts is a new standard for tracking and surfacing the conversation around music as it happens," said Ali Rowghani, Twitter Chief Operating Officer. "Now when artists share songs and engage with their audience on Twitter, the buzz they create will get surfaced to fans and industry decision makers in real time."
If you have read my work at all over the last few months, you know two things: One, the quote from the Twitter COO proves I'm prescient (!) and, two, I have been all over Pandora to not only diversify its offerings, but to do something -- anything -- with its data. Because the future doesn't lie in doing radio or playing music; it lies in the other things doing radio and playing music can facilitate. And there's no question that Twitter's beating Pandora at what should be its own game. Given the Beats' founders stated intention to use data to build artist platforms and inform the record industry, don't be surprised if you see Apple make similar moves.
Companies such as Twitter and Apple will keep the promise Pandora broke. And they'll make money in the process.
Pandora claimed it wanted to create a musician's middle class. However it has done very little to support those words with actions. If a musician's middle class exists as a result of Pandora's efforts, it must be out of sight and out of mind, sweeping floors in the mansions of Pandora's filthy rich executives. Or maybe they're doing construction work at Pandora's expanding offices that now stretch from coast to coast in the nation's most expensive real estate markets. Not too shabby for a company that claims it can't afford to do anything other than hawk advertising because of the royalties it must pay content creators.
Pandora sold out. Selling out will come back to haunt it. With Jimmy Iovine, Apple has the music industrial complex in its back pocket. And it will join Twitter (I would not be shocked to see Apple buy Twitter now) in taking the lead on data. As this process plays itself out, the market -- stock, consumer, advertising -- will realize there's no longer any good use for Pandora. That there's no need for it to exist.
--Written by Rocco Pendola in Santa Monica, Calif.
>>Read More:
Apple Preparing a Mystery Feast for Hungry Fans
Apple Buys Beats: What Wall Street's Saying
Costco's Secret Is In Plain Sight So Why Hasn't Anyone Copied It

WATCH: More tech videos on TheStreet TV | More videos from Debra Borchardt
Rocco Pendola is a full-time columnist for
TheStreet
. He lives in Santa Monica. Disclosure: TheStreet's editorial policy prohibits staff editors, reporters and analysts from holding positions in any individual stocks.