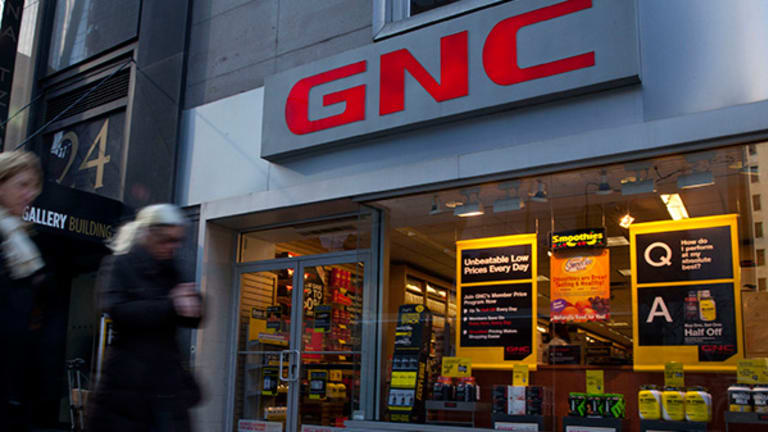 This Stock Will Be Your Next Big China Play
GNC Holdings, the world's largest provider of nutritional supplements, is tapping new growth by expanding into the world's most populous country.
Sure, China's annual gross domestic product growth has slowed to "only" 6.5%, but that's a rate that most countries would envy. Despite China's current challenges, you underestimate the relentless expansion of the country's consumer class at your peril.
The confluence of affluence and vanity in China is manna for GNC Holdings (GNC) - Get Free Report , which says it's the world's largest health retailer. It sells vitamin, mineral and herbal supplements in addition to other products. This company is forging a large and growing footprint in China, the world's second-largest economy and most populous country.
GNC data by YCharts
As such, GNC is tapping unstoppable trends that make it a reliable "buy-and-hold" stock for your long-term investment strategy. The stock's current dividend yield of 2.4% is just icing on the cake.
The world economy's slow and fitful return to economic health allows consumers to devote more discretionary income on personal health -- especially in China, where a rising middle class is eagerly adopting the fitness obsession of developed countries.
The boom in e-commerce is fueling the wellness craze, as fitness buffs flock online to scoop up the latest pills, powders and energy drinks that are supposed to be good for them.
With a market cap of $2.49 billion, Pittsburgh-based GNC (an abbreviation for General Nutrition Centers) operates more than 8,300 locations in 55 countries, including 6,200 retail stores in the U.S. and 2,190 Rite Aid franchise store-within-a-store locations. GNC also offers its products at GNC.com, LuckyVitamin.com, and drugstore.com.
GNC's product portfolio emphasizes high-margin nutritional products sold under a host of brands that are well-known to any gym rat: Ultra Mega, Mega Men, Total Lean, Pro Performance, Beyond Raw, and more. GNC also sells exercise equipment, beauty care items and fitness monitors, as well as products for sports nutrition and weight loss.
In the U.S., a brightening employment picture and rebounding household wealth are boosting consumer spending, resulting in greater demand for the pricey and discretionary wellness products that shoppers tend to forsake when money gets tight during a downturn.
Most of GNC's customers are weight lifters and exercise devotees under the age of 30. However, as they grow older, they also become susceptible to the allure of supplements that are designed to keep them healthier and feeling younger.
GNC is able to charge premium prices for its wellness products through the high recognition and customer loyalty it has developed for its brands over the years. And the company's market is exploding.
GNC's multichannel business model generates revenue from company-owned retail stores, domestic and international franchise outlets, third-party contract manufacturing, e-commerce and corporate partnerships.
GNC's diverse mix of revenue streams as well as its ability to charge premium prices in good times or bad makes the company a "defensive" consumer sector play that capitalizes on economic recovery without excessive reliance on it. That's why this stock is well suited for investment portfolios geared to the multiyear horizon.
Demand for wellness items is particularly strong in China, as the country's increasingly affluent citizens covet the brands that they associate with the sophisticated lifestyles in the West. Underscoring this trend is the Chinese government's policy of encouraging domestic consumption and transitioning away from the economy's historic reliance on exports.
How big is the health and wellness phenomenon in China? The country is by far the biggest and fastest-growing market in the field, accounting for at least $10 billion a year in revenue.
This huge growth opportunity is not lost on GNC. The company is expanding its e-commerce activity in China and also enhancing its bricks-and-mortar retail presence. The company plans to open 25 new standalone retail stores in China to complement the 60 store-within-a-store outlets it already operates in grocery and convenience venues throughout the country. These efforts are paying off on the bottom line.
GNC reported reported third-quarter 2015 adjusted earnings per share of 76 cents, up 1 cent from a year earlier. Revenue in the third quarter increased 2.4% year over year to $672.2 million.
Also heartening is the recent vote of confidence from the "smart money," in the form of hedge funds. As the fourth quarter gets underway, a total of 42 of the hedge funds tracked by
were bullish on GNC, a rise of 5% from the previous quarter.
The stock has been weighed down by concerns about China and about a lawsuit by Oregon's attorney general alleging the company sold supplements with illegal ingredients. Shares have fallen 36% year to date. That said, investors impressed by third-quarter earnings have pushed up the stock more than 5% the past five days. The stock's trailing-12-month price-to-earnings ratio is 11.4, a bargain in light of its five-year price/earnings growth (PEG) ratio of 1.16 and the trailing P/E of 21.2 for its main competitor CVS Health  (CVS) - Get Free Report and 21.87 for its industry.
GNC's premium brands, new product launches, growing presence in e-commerce and aggressive foray into China all indicate that this wellness powerhouse will continue to lift beyond its class.
Warning! Are you making the right moves for your retirement, or are you committing the all-too-common investment sins that could doom you to poverty? To make sure you'll have enough money to retire comfortably and with dignity, download a free copy of our new report: Your Ultimate Retirement Guide.
John Persinos is editorial manager and investment analyst at Investing Daily. At the time of publication, the author held no positions in the stocks mentioned.