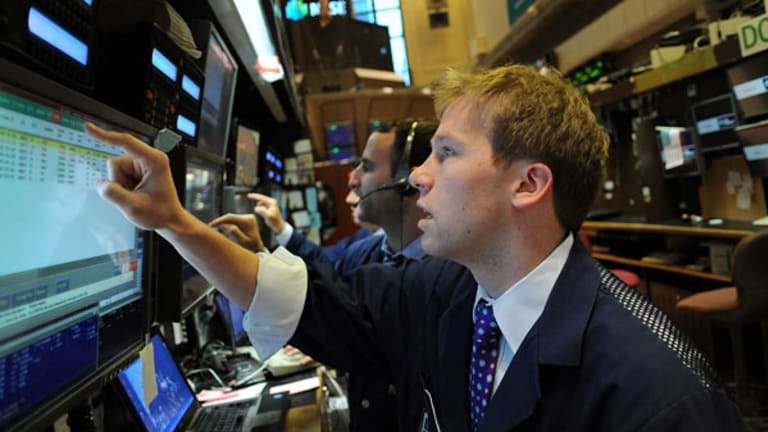 This Stock Market Is Not for Amateurs
This 2014 stock market is disfunctional. The indices are extremely volatile, with no clear direction.
NEW YORK (TheStreet) -- The stock market proved yet again that this year it is not for amateurs.
The DJIAI:DJI finished the trading week on Friday down 45.98 points to close at 16512.89. For the week, the DJIA was up 1%. The S&P 500undefined closed down 2.54 points at 1881.14, up 1% for the week. The NasdaqI:IXIC finished down 3.55 points at 4123.89, up 1.18% for the week, while the Russell 2000 undefined eked out a gain, finishing up 2.83 points on Friday at 1128.80 and up 0.5% on the week -- making it an overall laggard.
The S&P 500 Series ETF (SPY) - Get SPDR S&P 500 ETF Trust Report volume was once again on the low side with only 84 million shares traded, well below the 119 million share average volume.
As I mentioned in Thursday's article, we may be seeing the start of the market selloff that I have been looking for. According to my own algorithms, the DJIA, the S&P and the Nasdaq were all into overbought territory on Friday when the market was up.
The Russell 2000, however, is the only index that has been trading on its own. It has not been following the other three indices. That raises the question, what indices are correct in this dysfunctional marketplace?
We will know the answer to that question very soon. As a matter of fact. I expect to have that answer early next week. I believe that there is a big down day or two on the horizon.
Another interesting bit of information for those traders and investors out there is the fact that the S&P 500 and the Russell 2000 have been alternating up and down weeks since the week ending March 14. If this pattern holds true, next week should be a down week for those indices.
I have been very cautious in this stock market for a while now. The Nasdaq and Russell 2000 have been in Trend Bearish territory, while the DJIA and S&P have been in Trend Bullish territory. That makes trading very difficult because of the whipsaw action that the markets are delivering on a daily basis.  
I have been positioned for a market sell off recently, and I expect to see that happen as soon as early next week. There is not a lot of buying conviction under the surface of this market. Without much buying force to continually drive prices higher, the ultimate outcome will be a market that will collapse under its own weight.
My algorithm process predicting overbought and oversold signals has kept my subscribers at www.strategicstocktrades.com happy throughout this volatile stock market in 2014. By recognizing the overbought and oversold signals of individual stocks and indices, investors can make buy and sell decisions much more easily and with no emotion involved. That repeatable process is critical for stock trading and investing.
Once again, please be very careful in this stock market. The algo machines are in control and the rug can be pulled out from under this market very quickly.
On Thursday I purchased the ProShares Ultra VIX Short-Term Futures ETF (UVXY) - Get ProShares Ultra VIX Short-Term Futures ETF Report. I sold most of those shares at a 2.56% profit and a 1.59% profit. In addition, I shorted Cabot Oil& Gas  (COG) - Get Cabot Oil & Gas Corporation Report and covered that short with a 1.6% gain. This was all based on my internal algorithm process.
At the time of publication, the author held a long position in UVXY.
This article represents the opinion of a contributor and not necessarily that of TheStreet or its editorial staff.