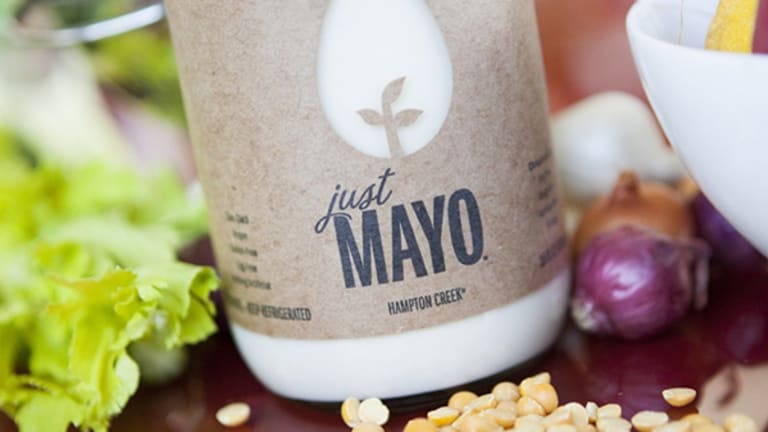 This Startup Wants You to Pass the (Eggless) Mayonnaise
Bill Gates is one board as Hampton Creek takes on food giants Kraft Foods and Unilever in the $1.9 billion mayonnaise industry.
Bill Gates is one board as Hampton Creek takes on food giants Kraft Foods and Unilever in the $1.9 billion mayonnaise industry.
NEW YORK (TheStreet) -- Hampton Creek -- a small, privately owned startup whose backers include Bill Gates -- is trying to shake up the $11.9 billion global mayonnaise industry that's dominated by Kraft Foods( KFT) and Unilever (UL) - Get Report in the U.S. 
Founded in 2011 by entrepreneur Josh Tetrick, Hampton Creek has created a mayonnaise product that doesn't include eggs. Instead the product -- "Just Mayo" -- relies on a formula that uses plants and other natural ingredients. 
The eggless mayonnaise is being sold in more than 4,000 stores, including Whole Foods Market (WFM) , Safeway (SWY) , Kroger (KR) - Get Report and Costco (COST) - Get Report. Hampton Creek's products are also sold by small natural-food retailers and are being offered by Amazon's (AMZN) - Get Report food-delivery service which is being tested on the West Coast.
The mayonnaise is also being sold overseas. Hampton Creek recently expanded into Hong Kong's leading grocery store, Park n Shop, through its ties with Asia's wealthiest man, Li Ka-shing, who has helped fund Hampton Creek, along with Gates, venture capitalist and PayPal co-founder Peter Thiel and Internet entrepreneur Jerry Yang, a co-founder and former CEO of Yahoo (YHOO) .
Hampton Creek has raised almost $30 million, including a $23 million round of funding announced in February.
In the U.S., Hellmann's and Best Foods, both owned by Unilever, control 45.5% of the mayonnaise market. Kraft, with its Kraft Mayo and Miracle Whip brands, controls another 39.4%. Together the four brands make up over 85% of mayonnaise sales.
Hampton Creek also has its eyes set on frozen cookie dough and the egg substitutes. The company will launch a frozen cookie product called Just Cookies and egg substitute called Just Scrambled, which will take on ConAgra Food's (CAG) - Get Report Egg Beaters line of egg substitutes. Hampton Creek already sells a product called Beyond Eggs to other food manufacturers.
Tetrick's long-term plans call for an IPO. He said that several companies have approached him about a buyout, but he said he will keep saying no to offers, even at valuations beyond $1 billion.
Here's What We Think We Know About the Next iPhone
Avoiding the 60-Day IRA Rollover Rule
The Trust About Rental Cars and Insurance
At the time of publication, the author held no positions in any of the stocks mentioned.
Follow Chris on Twitter @chriskatje
This article represents the opinion of a contributor and not necessarily that of TheStreet or its editorial staff.