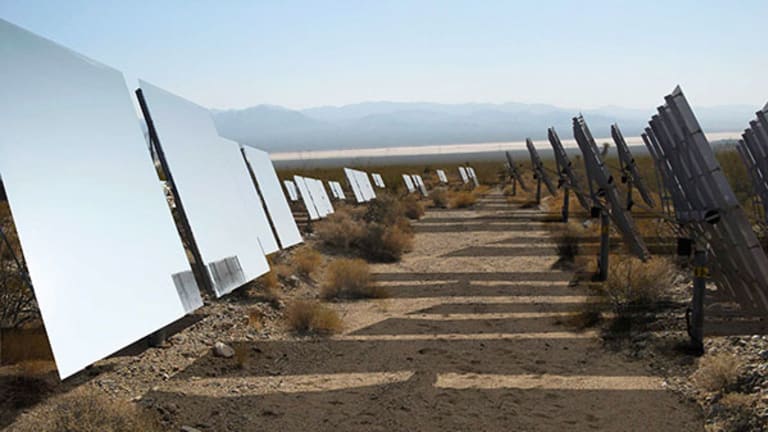 This Solar Stock Could Rise Nearly 75% in 2016
This low-cost solar component maker is expected by analysts to soar this year, regardless of the energy market's gyrations. New climate rules in Alberta will only fuel the company's rise.
Editor's pick: Originally published on Jan. 27.
Oil prices are plunging, yet solar power continues to thrive. This is not what the textbooks have taught us about the relationship between crude oil and solar. So what gives?
Call it the "Great Decoupling." The solar industry has not seen its fortunes diminish in the face of cheaper fossil fuels, because solar now moves along its own supply-and-demand dynamics. Solar power today boasts a well-developed infrastructure, greater efficiencies, money-making companies and a growing customer base. It doesn't matter if oil is dirt cheap right now. Solar's customers are increasingly dependent on cheap, reliable power from the sun and see no reason to switch.
Our favorite solar stock right now: Canadian Solar (CSIQ) - Get Report .
In November, Canadian Solar company reported third-quarter adjusted earnings per share of 53 cents, trouncing the average estimate from Wall Street analysts of 27 cents. The company's revenue of $849.8 million for the third quarter also surpassed the consensus estimate of $727 million.
Boosting the company's long-term fortunes: a new plan from the oil-rich province of Alberta to cap greenhouse emissions. While the rules will weigh heavily on the domestic oil sands industry in Canada, it will fuel the construction of more solar power throughout this vast country. Canadian Solar is among a group of high-tech small caps that should soar in 2016, regardless of the energy market's gyrations.
Although headquartered in Ontario, Canada, the company has based most of its manufacturing facilities in China, where costs are far cheaper. The company's dual presence allows low-cost manufacturing but avoids some of the obstacles of investing in a company that's officially located in China. 
Solar power is becoming more prevalent, bigger in scale and cheaper to produce. The average price of a solar panel is plummeting, and technological advances continue to dampen costs, a boon for solar stocks.
Canadian Solar provides the solar sector with ingots, wafers, cells, modules and complete power systems. With a market cap of $1.13 billion, this stock should have more room for growth than stocks with larger market caps, such as First Solar and SunPower.
The trends are certainly in Canadian Solar's favor, making it a smart high-tech play amid an uncertain broader market. The Earth Policy Institute finds that more countries are embracing solar power as costs come down and installations expand. More than 30 countries now boast capacity of more than 100 megawatts, a figure that the institute projects will double by 2018.
In addition to its sunnier prospects in the Great White North, Canadian Solar is now pursuing several large-scale projects, emphasizing new opportunities in energy-hungry markets such as Japan. The company also is making inroads in solar-friendly Europe, especially in the eurozone's economic engine of Germany, which recently renounced nuclear power and is aggressively adopting solar power to make up the difference.
Canadian Solar's shares are now trading around $20. The average 12-month price target of analysts who cover the stock is $34.50, which suggests the stock can gain about 72%. And yet the stock's trailing-12-month price-to-earnings ratio is only 6.3, vs. 11.6 for First Solar, 43 for SunPower and 20 for the solar power industry as a whole.
As we've just explained, Canadian Solar looks like a great small-cap technology stock right now. I've found another small-cap tech stock that has the potential to surge 100% or more in the coming months. This is a growth story with major momentum, so it's important to learn the full details as soon as possible. The stock is trading at under $8 a share, and its long-term prospects have never been better, making it a great value. I expect this rocket could take off soon, so be sure to click here now and learn more.
John Persinos is editorial manager and investment analyst at Investing Daily. At the time of publication, the author held no positions in the stocks mentioned.