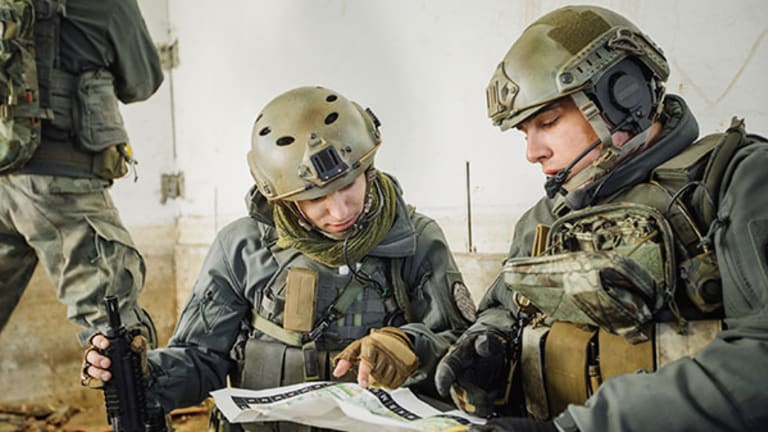 This Small-Cap Is Set to Climb Based on the Fight Against Terror
The mass shooting at a Florida nightclub is a reminder that terrorism is an unstoppable trend. This company is poised to meet the growing demand for terror-fighting electronics.
Sunday's deadly mass shooting at a nightclub in Orlando, Fla., which is being labeled an act of terrorism, is yet another reminder that the world remains a dangerous and often ugly place.
Accordingly, the U.S. defense budget will be robust into the foreseeable future, regardless of who wins the presidency in November.
When it comes to defense, investors tend to focus on the top mega-cap U.S.-based defense stocks, such as Boeing, General Dynamics, Lockheed Martin,Northrop Grumman or Raytheon.
Lockheed Martin is a holding in Jim Cramer's Action Alerts PLUS Charitable Trust Portfolio. See how Cramer rates the stock here. Want to be alerted before Cramer buys or sells LMT? Learn more now.
These companies are all solid investments, but they sport multi-billion-dollar valuations, and anticipated increases in defense spending are already baked into their share prices. These blue chips are stalwarts for any growth portfolio, but expecting them to rack up double-digit, market-thumping gains is unrealistic.
Here is a play on the multi-year rise in military spending that is small enough to provide outsized returns but big enough to mitigate risk: Astronics (ATRO) - Get Free Report . This small-capitalization rocket is a little-known gem that is poised for stellar growth.
First, let's look at the macro trends.
The U.S. Department of Defense's base budget of $523.9 billion includes an increase of $2.2 billion from the fiscal 2016 enacted budget of $521.7 billion. The Department of Defense's fiscal 2017 overseas contingency operations budget is $58.8 billion, nearly the same as the fiscal 2016 enacted level of $58.6 billion.
The combined request represents a total increase of $2.4 billion.
The increased fiscal 2017 budget reflects recent strategic threats in Asia and Europe, as well as counterinsurgency needs in the Middle East. It also emphasizes sophisticated high-technology products, to expedite the military's transformation to the electronic battlefield.
Military planners in the Pentagon are pivoting resources to combat the asymmetrical threats posed by guerrillas and terrorists.
Astronics excels at providing these electronic war-fighting tools, with an entrenched customer base among the country's military services and major original equipment manufacturers. With a market capitalization of $927.86 million, the company enjoys plenty of room for growth, making its undervalued shares a rare buying opportunity.
The company designs and manufactures products for the aerospace and defense industries around the world, operating through two divisions, aerospace and test systems.
The aerospace division offers lighting and safety systems, electrical power generation, aircraft structures, avionics products and other products. The test systems division provides automatic test systems, such as communications and weapons test systems, and training and simulation devices to aircraft OEMs.
As demand increases for the sophisticated electronics that guide and power military aircraft, Astronics should prosper in a year that is expected to be turbulent for the broader markets.
Shares of Astronics trade at about $36.
The median consensus analyst one-year price target for the stock is $44, which would represent a gain of 21%. On the high end, the price target is $52, for a gain of 43%.
And yet, shares are reasonably valued. The stock's trailing 12-month price-earnings ratio is 13.76, compared with the industry's 18.48.
---
Astronics is set to soar. But for those who want to avoid stocks altogether because of global turmoil, here is a way to make a guaranteed $67,548 over the next 12 months. In fact, this technique is so successful and simple, those who try it might want to give up stock investing forever. Click here to learn more.
John Persinos is an editorial manager and investment analyst at Investing Daily. At the time of publication, Persinos held stock in Boeing.