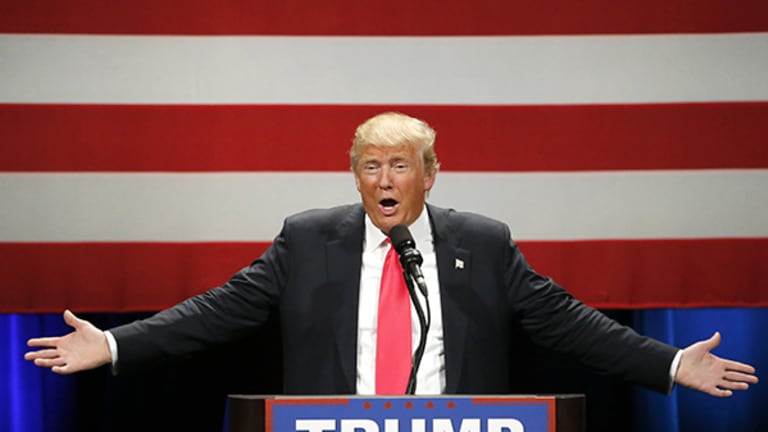 Publish date:
This Presidential Election Year May Defy Norm for Markets and Economy
Are the slump in China and falling oil prices likely to weigh heavily economically in 2016?
Are the slump in China and falling oil prices likely to weigh heavily economically in 2016?
Although election years usually bode well for the U.S. stock market and economy, 2016 could defy the norm, with the slump in China and falling oil prices likely weighing heavily.
Any major economic or political event in the United States, especially one that is recurring, is bound to be tested for its impact on the stock market, and as far as big events go, there are few as big and closely followed as the U.S. presidential election.
There has always existed a fairly evident cyclicality between the stock market's performance in the United States and its four-year presidential term.
Although each presidential cycle would typically have its own set of unique circumstances and economic indications, over the past 116 years, which is the period considered for analysis here, the latter part of a presidential term has been favorable for stocks.
Policy decisions necessary for improved economic activity and growth typically occur during the first half of a presidential term.
Although the net impact of these decisions are meant to be positive, they could still imply higher taxes, increased regulation and tighter controls. As such, they may not bode well for corporate profit expectations.
As a president approaches the latter part of the term, policies tend to favor the electorate, with harsher measures unlikely to be put in place
Historically, the second half of a president's four-year term has been stronger, with the Dow Jones Industrial Average returning on average, nearly 12% and 7% in years three and four, respectively, over the past 29 presidential terms.

The economy has also performed comparatively better on average during the last two years of presidencies, which reflects the impact of the measures that governments usually put in place during the first two years.
It is also worth noting that, historically, a majority of corporate tax increases have occurred during the first half of a presidential term, while a majority of the corporate tax cuts have occurred during the second half, as the charts below demonstrate.

Another interesting piece of information is that the U.S. stock market, in an election year, has gained on average the most when the incumbent president isn't running for a re-election. As shown in the chart below, this is the case this year, with President Barack Obama having already served his second term.
Of course, external global factors still play a role in determining which way the stock market moves. A case in point is the recent Great Recession, which, despite occurring during the last year of the Bush Administration, saw the Dow industrials lose 34%.
But this 2016 election year looks likely to break away from the trend. Although there are a few noteworthy common traits that suggest 2016 shouldn't stray from the norm, there are some clear emerging trends that show the opposite may be true.
It is also important to consider the effect of the January cycle. 
To extrapolate this hypothesis onto election years over the past 116 years, note that of the past 28 presidential cycles, there have been 14 instances when the Dow industrials saw a decline in January, and 65% of the time, the full-year returns were also negative, as seen below.
This year, the Dow industrials fell by more than 5% in January. Over the past 115 years, more than 60% of the time, January's performance has been an accurate indicator of how the entire year would shake out.
Although there have been a few trends in history that suggest this year will defy the norm, the fundamentally different global economic scenario that the election year is encountering could make a huge difference.
The biggest game-changing factor is China. The country's economy contributes almost 16% to global gross domestic product and is the second-largest in the world, after the United States.
The U.S. trade deficit with China has increased nearly five times over the past decade and a half alone. Therefore, China's rapid economic slowdown is likely to build pressure this year, as the charts below demonstrate.


The current oil price dynamic also has no precedent.
Oil prices have lost almost 70% of their value since mid-2014. As much as the tepid global economic growth scenario has a role to play, the continuing geopolitical crisis has exacerbated the fall.
Some might argue that $30 a barrel is pretty much the floor. Volatility on the way up could still keep U.S. markets on the edge this year.
Only three times in the past 116 years has the price of oil dropped as much or more in the year preceding an election year, as shown in the chart below.
Finally, the dollar has seen significant gains in the past 12 to 15 months and could also put some pressure on overall economic growth in the United States. A strong dollar makes U.S. goods more expensive in foreign markets, leading to a negative impact on the overall trade balance.
This year could also see a much more definitive move up in the federal funds rate, putting further pressure on U.S. equities.
Last year, the dollar index increased by almost 10%, among the highest gains seen going into an election year. Over the past 50 years, the dollar index and the Dow industrials have an inverse correlation of 48% (see below), suggesting that a strengthening dollar, going into this year, has a good chance of keeping the equity market in check.
Valuation doesn't seem to be in favor of the U.S. equity market either. The S&P 500, adjusted for inflation and cyclicality, is trading near all-time high levels, excluding the technology bubble seen at the start of the past decade, as shown below.
It looks like it would be unwise to position portfolios toward U.S. equities purely on the basis of the market's cyclicality in presidential election years. There are clearly more than a few factors that are likely to be headwinds for the market.
But the U.S. market's position as a safe haven and a lack of alternatives for equity investments elsewhere globally are two key factors that will likely extend support to the market.
The inferences and opinion in this report are solely of the author, Avinash G Singh, Sr. Manager at Investment Research & Analytics Practice at Aranca, a customized research and analytics services provider to global clients.
Aranca does not support or is in any way politically affiliated to any party or candidate running for the US presidential elections.
The information contained in this document is confidential and is solely for use of those persons to whom it is addressed and may not be reproduced, further distributed to any other person or published, in whole or in part, for any purpose.
This document is based on data sources that are publicly available and are thought to be reliable. Aranca may not have verified all of this information with third parties. Neither Aranca nor its advisors, directors or employees can guarantee the accuracy, reasonableness or completeness of the information received from any sources consulted for this publication, and neither Aranca nor its advisors, directors or employees accepts any liability whatsoever (in negligence or otherwise) for any loss howsoever arising from any use of this document or its contents or otherwise arising in connection with this document.
Further, this document is not an offer to buy or sell any security, commodity or currency. This document does not provide individually tailored investment advice. It has been prepared without regard to the individual financial circumstances and objectives of persons who receive it. The appropriateness of a particular investment or currency will depend on an investor's individual circumstances and objectives. The investments referred to in this document may not be suitable for all investors. This document is not to be relied upon and should not be used in substitution for the exercise of independent judgment.
This document may contain certain statements, estimates, and projections with respect to the anticipated future performance of securities, commodities or currencies suggested. Such statements, estimates, and projections are based on information that we consider reliable and may reflect various assumptions made concerning anticipated economic developments, which have not been independently verified and may or may not prove correct. No representation or warranty is made as to the accuracy of such statements, estimates, and projections or as to its fitness for the purpose intended and it should not be relied upon as such. Opinions expressed are our current opinions as of the date appearing on this material only and may change without notice.