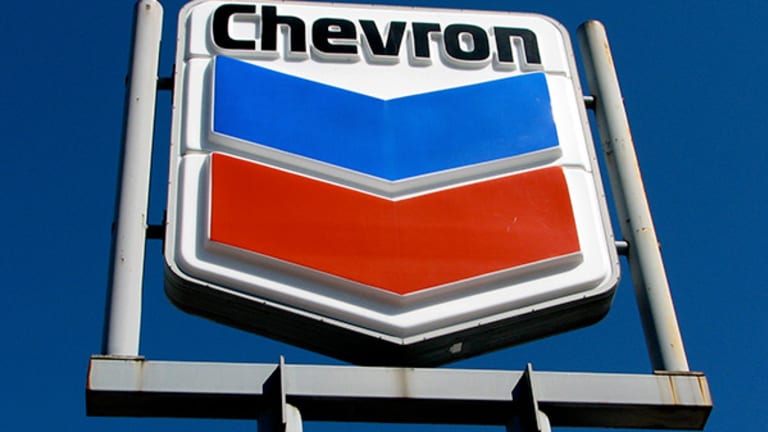 This Oil Giant Will Be a 'Survivor Stock' Amid the Coming Financial Storm
When Chevron reports second-quarter earnings on Friday, the oil giant is likely to show its sheer mettle and growth potential in a still struggling energy sector.
Today's headlines seem to conjure not the 21st century but the dark valley of the 1930s. Geopolitical risks are rising, in the form of angry right-wing nationalism, terrorist attacks, religious extremism, attempted coups, regional strife, and superpower tensions. At the same time, the international banking sector is grappling with record levels of debt and corporate earnings are declining.
Look at stock valuations, though, and everything seems just hunky-dory. This disconnect is a classic red flag for an imminent financial storm. Below, a blue-chip energy stock that should prove a safe and profitable harbor amid rough seas. 
Value investing guru Benjamin Graham once described "Mr. Market" as manic depressive and these days, we can see why. This month, despite a host of genuine risks, the broader indices have skyrocketed to new highs. The forward 12-month price-to-earnings (P/E) ratio of the S&P 500 is now about 17.1, higher than the five-year average (14.6) and the 10-year average (14.3). Small wonder that even some mainstream analysts are expecting a market crash this year, a bearish sentiment that has been pushing up gold prices and weighing on bond yields.
Consequently, you need to weed out the weakest stocks from your portfolio and focus on those with lasting inherent strengths. The energy sector is particularly dangerous right now, as oil prices seesaw and many once-thriving oil and gas players struggle with falling revenue and massive debt. Oil and gas producer Anadarko Petroleum and oilfield services firm Transocean come to mind as vulnerable energy companies poised for further declines.
Investors continue to wait for a lasting turnaround in energy, but it's been elusive. Indebted energy companies remain under pressure, as oil prices stubbornly hover below the $50-a-barrel threshold considered the "break even" price for energy companies. Benchmark United States crude yesterday fell 21 cents to close at $42.92 a barrel.
But one energy company stands out as a hardy survivor that's on the cusp of a breakout: Exploration and production giant Chevron (CVX) - Get Report , which is scheduled to release second-quarter operating results on Friday, July 29. We explain why CVX is among the strongest players in a still-struggling energy patch.
The average analyst expectation is that Chevron on Friday will report second-quarter earnings per share (EPS) of 32 cents, compared to 83 cents in the same quarter a year ago. For the third quarter, EPS is estimated at 70 cents, compared to $1.22 in the same year-ago quarter. For the full year, EPS is projected at $1.47, versus $3.38 last year. Earnings growth really kicks in next year, with estimated EPS of $4.88 for fiscal 2017.
Compared to the red ink that's inundating the energy sector's earnings reports this quarter, Chevron's profits are holding up comparatively well. That's because the company has been methodically pruning its portfolio, by sloughing off non-performing assets, cutting expenses and emphasizing its most profitable operations.
Chevron stands out for its diversification. With a market cap of $193.52 billion, the giant energy producer boasts a mix of assets, including liquefied natural gas (LNG), deepwater fields spread around the world, shale plays in North America, and downstream activities such as refining and retailing. The latter downstream assets confer high margins and somewhat buffer the company from oil price gyrations.
Chevron's productive capacity is well diversified (and vast) as well. The company currently produces about 724 million barrels of oil equivalent per day (mboe/d) from its North American assets; 695 mboe/d from Asia-Pacific; 612 mboe/d from Africa and Latin America; and 579 mboe/d from Europe and Eurasia.
Chevron's debt-to-equity now stands at 27.95, roughly in line with the industry's debt-to-equity of 25.1 and far below the staggering debt levels incurred by some of its peers. The stock's forward P/E is a reasonable 21.04, on a par with chief rival Exxon Mobil (XOM) - Get Report (20.21) but below that of ConocoPhillips (COP) - Get Report (55.12) and the industry (41.7).
Before the market opened on Wednesday, shares of Chevron traded at $102.77. The average analyst one-year price target for the stock is $110.84, for a gain of about 8%. Considering the dire straits of the energy sector, that's a reassuring level of capital appreciation and it should accelerate as EPS growth resumes next year. While you wait, you can enjoy the juicy dividend yield of 4.15%.
---
A crisis is coming. When it hits, weak companies and their investors will be washed away. Don't let that happen to you! I've found seven companies you should own no matter what the economy is doing. Each one of these powerful yet overlooked companies barely notices when the market tumbles. And they'll skyrocket when it rebounds. You can pick up all seven for pennies on the dollar right now. To get the names of these "seven survivor stocks," click here.
John Persinos is an editorial manager and investment analyst at Investing Daily. At the time of publication, the author held no positions in the stocks mentioned. Persinos is a regular commentator on the financial television show "Small Cap Nation." Follow him on Twitter.