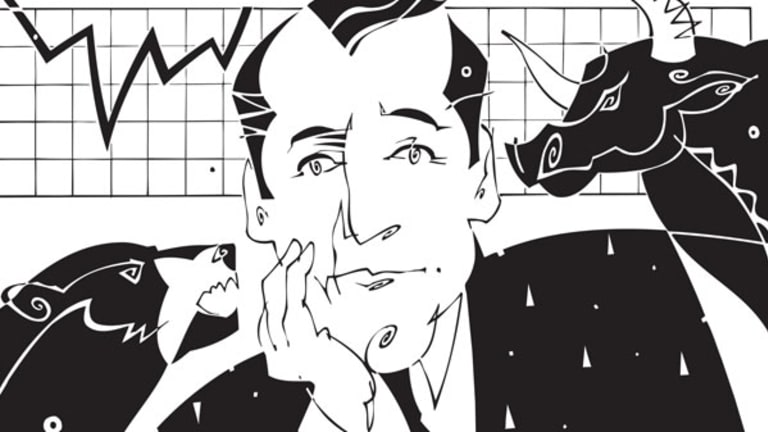 This Market Is Driving Everyone Crazy
Clues to look for to determine where this market is headed next
NEW YORK (TheStreet) -- This market has been anything but easy to navigate since the start of this year.
The first quarter is nearly over and the S&P 500 I:GSPC has gained just 1% this year after surging 30% in 2013. Last week, was full of noise from Crimea, the FOMC (Federal Open Market Committee) rate decision, bank stress test results, and quarterly options expiration. Adding the cacophony, Federal Chairman Janet Yellen hinted at a possible rate hike in six months, prompting a sell-off in Treasury bill, a course that only began to reverse by the end of the week.
Friday's market performance, or rather lack thereof, has left traders scratching their heads. The market opened, made new highs and then gave everything back and then some. The bleeding began with the biotech sector, iShares NASDAQ BiotechnologyIndex, (IBB) - Get Report, which took the NASDAQ down with it. The biotech's had already been showing signs of deterioration, but Senator Henry Waxman (who will be retiring at the end of this congressional session) apparently wants to garner a reputation for popping the biotech bubble on his way out. In case you missed it, he has sent a letter to Gilead Sciences (GILD) asking them to justify the suggested $84,000 price of their Hepatitis C vaccine, Sovaldi. Although I consider it just noise, it finally gave the market reason to begin selling off the froth in the biotech stocks.
There is no denying that things look to be deteriorating within our market. Look no further then the momentum stocks that are often looked upon by traders to determine risk appetite. Stocks such as Google (GOOG) - Get Report, Priceline (PCLN)  and Netflix (NFLX) - Get Report have been starting to give back recent gains. This should come as no surprise to anyone who has watched how far they have come in just a years time. At the start of this year, I wrote a piece about the potential for mean reversion to rear its ugly head among some momentum stocks that is particularly relevant now and you can read here.
Headed into next week the economic calendar is light and we will have the opportunity to determine if the high from Friday becomes a short-term top or not. With a flattening yield curve that may be underway due to the potential for rate hikes, financials may be the best barometer of where the market is headed. Moreover they may stand to benefit from the release next week by the Fed with a more detailed verdict on each firm's capitalization plans and possible dividend hikes.
For clues as to how next week will play out keep an eye on the CBOE Volatility Index,I:VIX and the sectors that look to be the beneficiary of rotation and leading the way, particularly the financials Financial Select Sector SPDR, (XLF) - Get Report, and semiconductors(Market Vectors Semiconductor, (SMH) - Get Report. The demand for US treasures and the high growth momentum stocks will also be a source of information for the near term.
Spy Weekly Open Interest Last Wednesday right before the FOMC decision there was a very large block order of the SPDR S&P 500 ETF Trust, SPY 190 calls. We have no way of knowing if this was a hedge or an outright bet. Regardless, I surmise that it was bought with regard to the outcome of the meeting and not about what is going to happen next week. We had a similar open interest on SPY earlier this year (first week of February) and those calls expired worthless. I do not think this can help us determine if we are going lower or higher next week, but I would say it is very likely we won't end above 190.
For more information about me please visit my site at www.sassyoptions.com and follow me on twitter at @Sassy_SPY. 
At the time of publication, the author held no positions in any of the stocks mentioned.
This article represents the opinion of a contributor and not necessarily that of TheStreet or its editorial staff.